2014
Welcome to Expat Insider 2014!
Expat Insider 2014 is the biggest expat survey worldwide, by number of participants. In June 2014, we asked nearly 14,000 expatriates from over 160 countries across the globe a variety of questions about their life abroad.
Our in-depth questionnaire touched upon various areas of expat living: general quality of life, working abroad, family life, leisure and making friends abroad, international romance and expat relationships, and personal finances. It was especially important to us to find out how satisfied our respondents are with all these different aspects of relocation and expatriate life.
Our country rankings are probably a good way of starting to delve into the survey results. But you can find far more information below – for example, detailed profiles of selected destinations, as well as a copy of the entire survey report to download. Come and have a look at the world through expat eyes!
Expat Destinations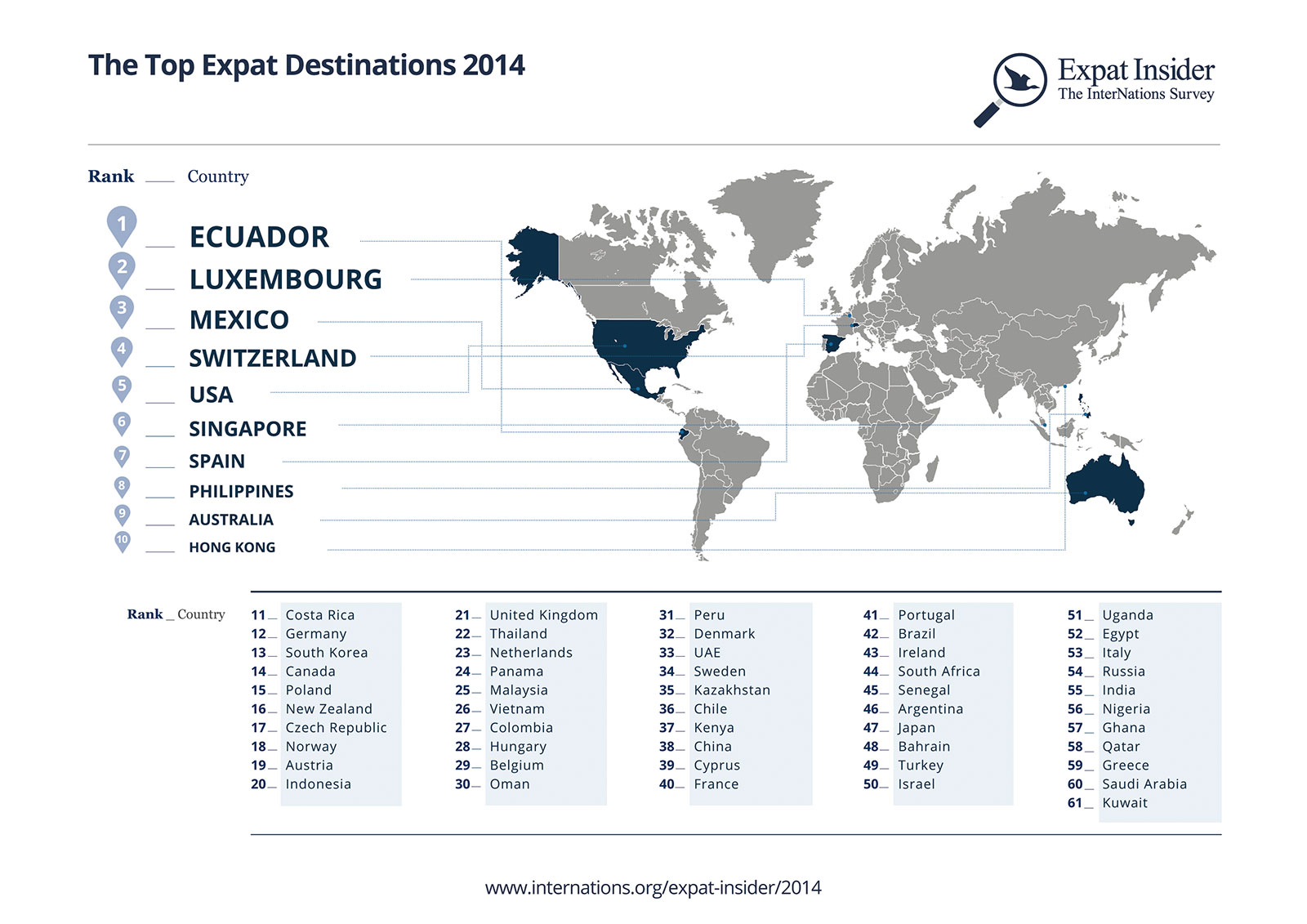 Embed this image on your website:
Expat Insights and Impressions
Have you ever wondered where the happiest expats live? Which countries offer the best career prospects to expatriates? Or where it's especially easy to meet new people and make friends?
Our country rankings rate the most (and least) popular destinations all over the world. They cover a wide range of topics, as indicated by the name of each ranking. Moreover, the General Quality of Life Index, the Ease of Settling In Index, the Working Abroad Index, the Family Life Index, as well as the Personal Finance Index, all contributed to our overall ranking of more than 60 countries of residence.
In addition to these country rankings, the topical reports linked below provide you with further insiders into several areas of expatriate life, from work-life balance abroad to education options for expat kids. For even more of such topical coverage, please download our comprehensive survey report.
Show more
Your Country Through Expat Eyes
As mentioned above, our survey received responses from almost 14,000 expats living in more than 160 countries spread all over the world. Out of the various destinations, 61 had enough respondents to be listed in our country rankings, and 37 countries even boasted between 100 and 1,000 survey participants.
For the most popular countries of residence, with the highest numbers of resident expats participating in our survey, we provide ten compact country reports. Find the most important data for your country of choice at a glance, and find out what expat life in this destination is really like!
Simply click on the images to below to find a succinct profile of our top destinations, from East Asia (China) over the Middle East (UAE) and various European nations to the USA. For further country reports – including such expat hotspots as Australia, Canada, Singapore, or Thailand – just download our exhaustive survey report.
Show more
Infographics
You want to see some global results at a single glance? Our infographics visualize both the people moving around the globe and the countries they settle in. "Your Country through Expat Eyes" focuses on psychological perceptions, describing how foreign residents see their local neighbors and how they'd characterize their new home.
"Expat Types Roaming the World", on the other hand, presents the various kinds of expatriates we have discovered through our data: From the foreign assignee over the globe-trotter to the romantic, these profiles represent all possible reasons for moving abroad.
Download
Press Contact
Global Expat Guide