Belgium Report
Pulse of the European Union
At an overall rank of 29 out of 61, Belgium is not a country of extremes; such universality is fitting for the seat of the EU's power and politics.
It appears that most expats move to Belgium for work, both in the public and private sectors. Over half of them (53%) give a work-related reason as the most important factor for their move to Belgium. Moreover, they are well supported by their employers in doing so: half receive assistance with relocation costs (48%), two in five with housing (40%), and a third with visas (31%) and language or intercultural training (29%).
The global average of our survey participants working for an international company or organization is 66%; in Belgium it's 87%. Furthermore, expats in Belgium are highly educated: Almost two-thirds (65%) hold a masters or PhD, globally the figure is just over half (51%). All these components are likely representative of the large expat population working for the EU, NATO, and the UN in Brussels, Bruges, and Mons.
Expat Statistics Belgium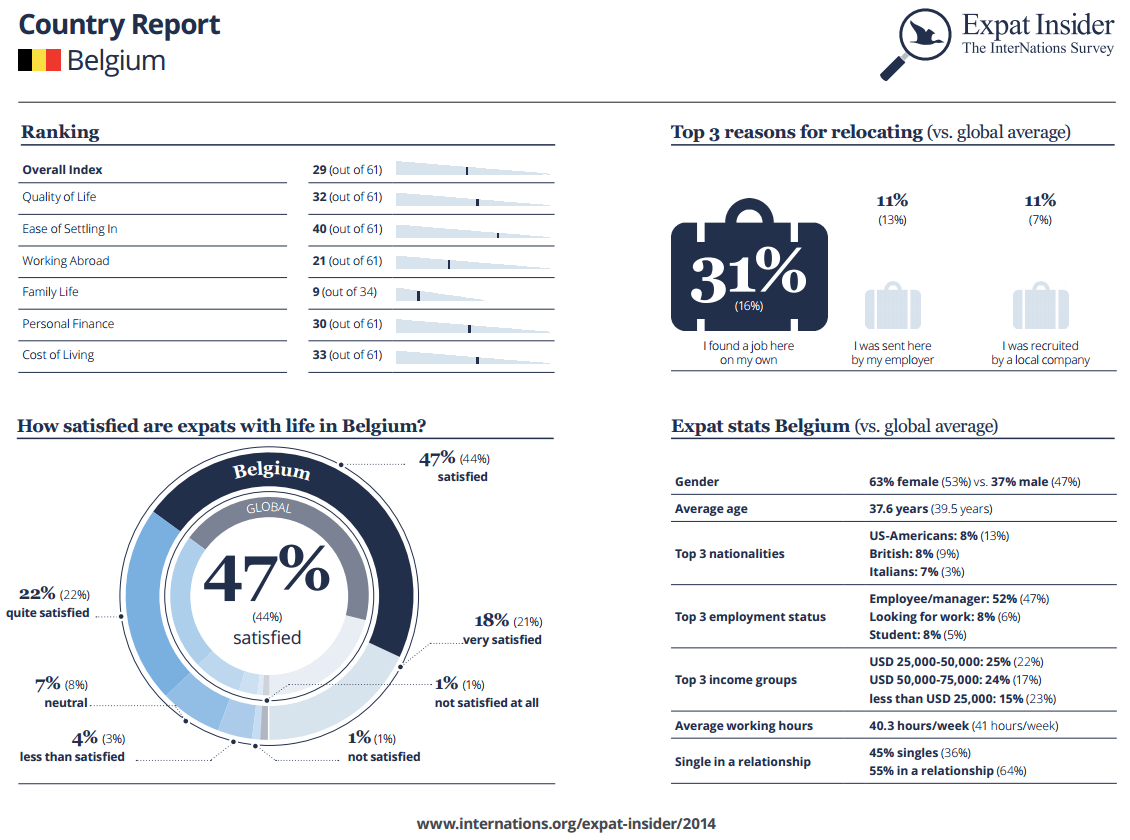 Embed this image on your website:
European Crossroads
Belgium's geographical location, in the middle of Western Europe between France, Germany, and the Netherlands, benefits not only the EU, but expats as well. Three out of five survey respondents in Belgium (61%) are particularly happy with how easy it is to travel. A global average of only 47% assess the "opportunity to travel" in their new-found homes so highly.
It is fortunate that one can venture abroad so easily, as the weather and climate in Belgium are rated negatively by almost half its expat residents (47%). This differs significantly from the global average of 20% who say the same about their foreign country of residence.
Culture Confusion
If, in fact, weather affects mood, then it might explain why only one in five of our expat respondents (19%) find the Belgians to be "very friendly" towards foreigners when a quarter of their global colleagues say the same of their hosts. Although, given that only 17% of the results suggest Belgians are "very friendly" in general, compared to a global average of 27%, it may have nothing to do with being a foreigner.
As such, expats in Belgium seem to have trouble making local friends: Only 16% find it easy compared to 27% worldwide. This problem doesn't seem to be a language-barrier issue either. Over half the respondents (55%) believe it is easy enough to live in Belgium without speaking any of the three local languages. A global average of 40% indicates that it is more difficult in other countries to do the same.
Nevertheless, only about a third of our expats (33%) really feel at home in the local culture, compared to an average of slightly less than half around the world (44%).
Clever Kids
Belgium ranks 3rd out of 34 countries for its quality of education. Around two-thirds of the survey participants (65%) rate it highly compared to less than half (46%) worldwide. Moreover, half of our respondents agree or strongly agree that education is easily affordable in Belgium, which is an impressive improvement on the global average of 29%.
The availability (55%) and affordability (52%) of childcare, however, rate only slightly above the global averages (49% and 46% respectively). Nonetheless, with all factors combined, Belgium comes out with a family-friendly ranking of 9th, which puts it in the top-third of the 34 countries on the Family Life Index.
Download
Press Contact
Global Expat Guide