Education Around the World
Education Around the World
International schools are the most popular choice in Asia and the Middle East. Expat parents in North America and Europe prefer local state schools.
Overall, the highest percentage of expat parents (35%) choose an international school for their children. This result is closely followed by parents who decide to send their children to a local state school (30%). About two in ten parents (19%) enroll their children in local private schools.
Only 7% of parents send their children to a national school, such as a Deutsche Schule or an École française. Homeschooling is an option chosen by just 3% of the survey participants with school-age children.
Local state schools are chosen most often in North America and Europe. In several South American countries, as well as in South Africa, the Philippines, and Turkey, local private schools are the most popular option. In Asia and the Middle East, most expat parents prefer to send their children to international schools.
Languages & Education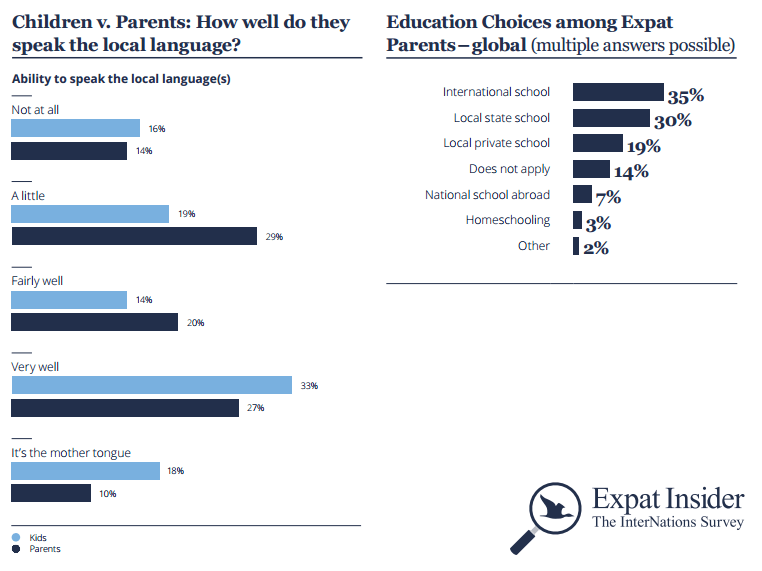 Embed this image on your website:
Quality of Education
Four out of the five top countries in the category "quality of education" are located in Europe. Switzerland ranks first in this category. Here a majority of children (53%) attend local state schools. About one quarter (27%) are enrolled in international schools.
Singapore, the only non-European country in the top five, comes in second place in this category. Here, more children attend international schools (51%) than state schools (22%).
Belgium, Germany, and the Netherlands occupy the third, fourth, and fifth places for quality of education. They all have the highest percentage of children attending local state schools, ranging from 45% for the Netherlands to 53% for Belgium. Of these three countries, Germany has the lowest number of children attending international schools (28%) and the Netherlands has the highest (39%).
Availability of Schools
To get the countries in this category, participants were asked if they agreed that educational options were numerous and easily available in their country of residence. Only one European country, Sweden, made the top five. Indeed, it has one of the highest percentages of expat parents satisfied with the educational options available for their children.
The other winners in this category are countries in North America or Asia. Canada and the USA both have the majority of expat children attending local state schools. In Canada this percentage is very high (75%), while in the USA it's a bit lower (60%).
The Philippines and Singapore are also found in the top five. In the Philippines, the highest percentage of expat children (37%) attend local private schools, followed by international schools (29%) and local state schools (16%).
Cost of Education
European countries are the clear winners when it comes to the cost of education. The top five countries in this category are Sweden, Norway, Denmark, France, and Germany.
In all of these countries, a fairly high number of parents decide to send their children to local state schools. The percentages range from 41% (Denmark) to 68% (Norway).
Local schools in these countries are chosen much more often than the global average of 30%. This is probably due to the fact that state schools are free or nearly free in these countries.
The bottom five countries in terms of cost of education are all located in Asia and South America. Expat parents are least satisfied with the cost of education in Hong Kong, followed by Qatar, China, Chile, and Brazil. As international and private schools are the most popular options in these countries, parents have high tuition fees to pay.
Download
Press Contact
Global Expat Guide
Want to take a look
at other years' results?
Check out the Expat Insider 2022!