USA Report
Hit the Ground Running
Ranking 5th overall and no lower than 31st in any of our main indices, the United States presents a fun and convenient choice for expats.
Our respondents seem to have little trouble starting their expatriate lives in the United States of America. The country ranks 4th in terms of settling in, which may have a lot to do with the 29% of resident expats who completely agree that it is easy to get used to the American culture. In comparison, just 17% of our global respondents feel similarly.
Expatriates in the States also find the Americans quite friendly. Only 3% rate the general friendliness negatively, four times less than the global average (12%). However, more than half (55%) agree that not speaking the local language makes living in the US difficult, which just a third of participants worldwide (33%) say about their countries of residence. Luckily, seven in ten US-based respondents (71%) consider the language easy to learn.
Expat Statistics USA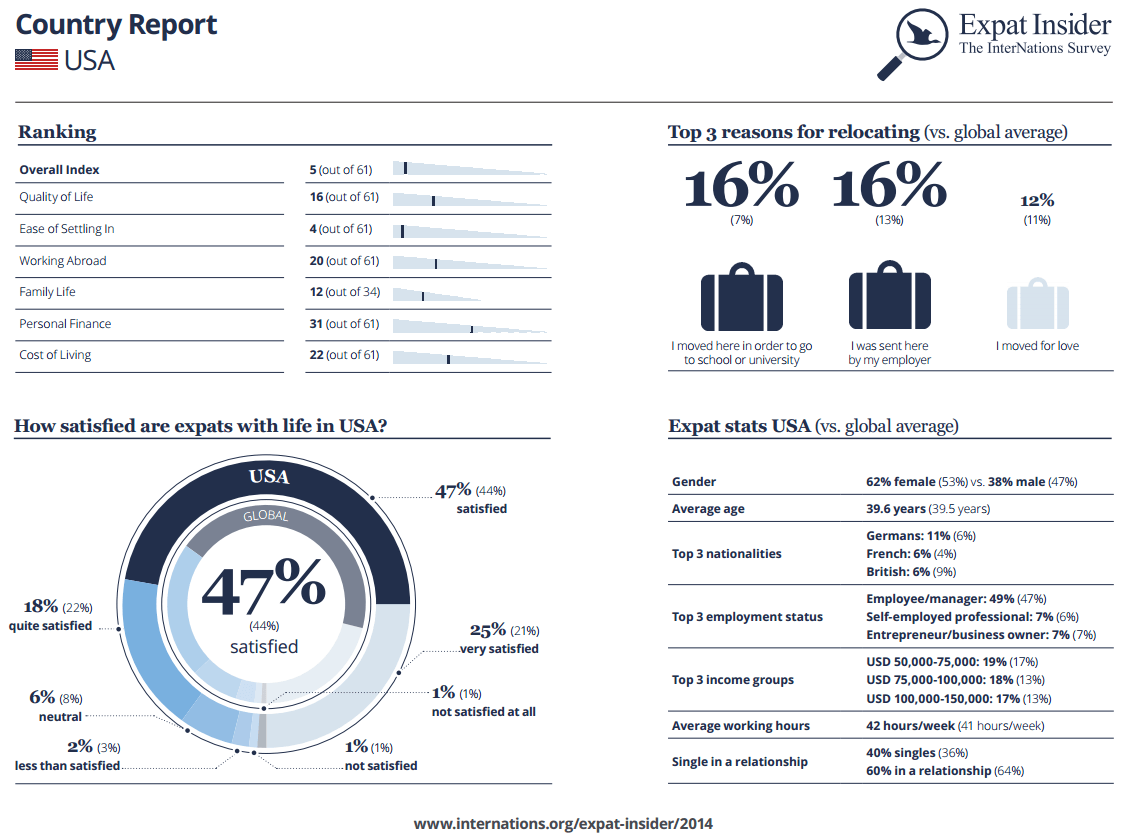 Embed this image on your website:
Good Quality of Life
The USA ranks 16th out of 61 when it comes to quality of life. Among the factors that keep the country outside the top ten is transport. Only one in five (20%) is very happy with the country's transport infrastructure, which is noticeably lower than the average of one in three worldwide (31%).
The USA can, however, make up for this with its 4th rank in our Leisure Options sub-ranking. From impressive national parks to a supreme movie and theater scene, the country seems to have resident expatriates excited about their spare time. As such, more than half (55%) rate the available leisure activities as excellent. On a worldwide basis, just a third of respondents (34%) think so of their new homes abroad.
Plenty of Career Opportunities
Close to one quarter of our respondents in the US (23%) indicate that they are completely satisfied with their career prospects. Just 15% of our global participants feel the same way, and the US ranks behind only Senegal in our Job and Career sub-ranking.
In terms of work-life balance, the USA comes in just below average at rank 37 out of 61, the country's lowest ranking in any of our main or sub-indices. The foremost factor for this seems to be working hours, where a slightly smaller portion of respondents in the US (21%) are completely satisfied than worldwide (23%).
When it comes to personal finance, expats in the US seem to have no more qualms than the global average. For instance, more than two out of five (43%) are pleased or even very pleased with their general living expenses. Worldwide, just over a third of respondents (35%) express similar contentment.
Despite such outliers as New York City and San Francisco, which are well known for their high costs of accommodation, housing in the USA is generally considered fairly affordable by respondents as well: six in ten (60%) are of this opinion, compared to five in ten (50%) globally.
Excellent Education
Expats in the USA do, however, seem to regard childcare as especially expensive. While only one in twenty (5%) completely agrees that it is easily affordable, 22% do not agree with this sentiment at all. The corresponding numbers on a global scale paint a significantly better picture with 14% and 12% respectively.
On the other hand, the United States of America comes in at 5th out of 34 in our Availability of Childcare and Education sub-ranking. In particular, resident participants (55%) are more content with the options for education compared to the global average (32%). Additionally, one in three expats in the States (33%) regards the quality of education as very good. Just one in five respondents globally (22%) says the same.
The satisfaction with American education might be one reason why almost two in five (38%) are completely satisfied with their general family life. This compares favorably to the 29% on a global basis.
Download
Press Contact
USA Guide
Global Expat Guide
Want to take a look
at other years' results?
Check out the Expat Insider 2022!