Spain Report
The Bright Side of Life
Ranking 7th overall, Spain brings sun, friendly people and leisure to the table, but cannot keep up when it comes to economics and job prospects.
In Spain, expats know how to enjoy life. Except for Switzerland, it tops all other countries on the Quality of Life Index. To start off, less than 1% of participants describe the climate as bad, and just 2% have negative sentiments towards their personal safety. An impressive 91% are content with available leisure activities, which correlates well with Spain's rank at number three in the Leisure Options subcategory of our Quality of Life Index.
Expat Statistics Spain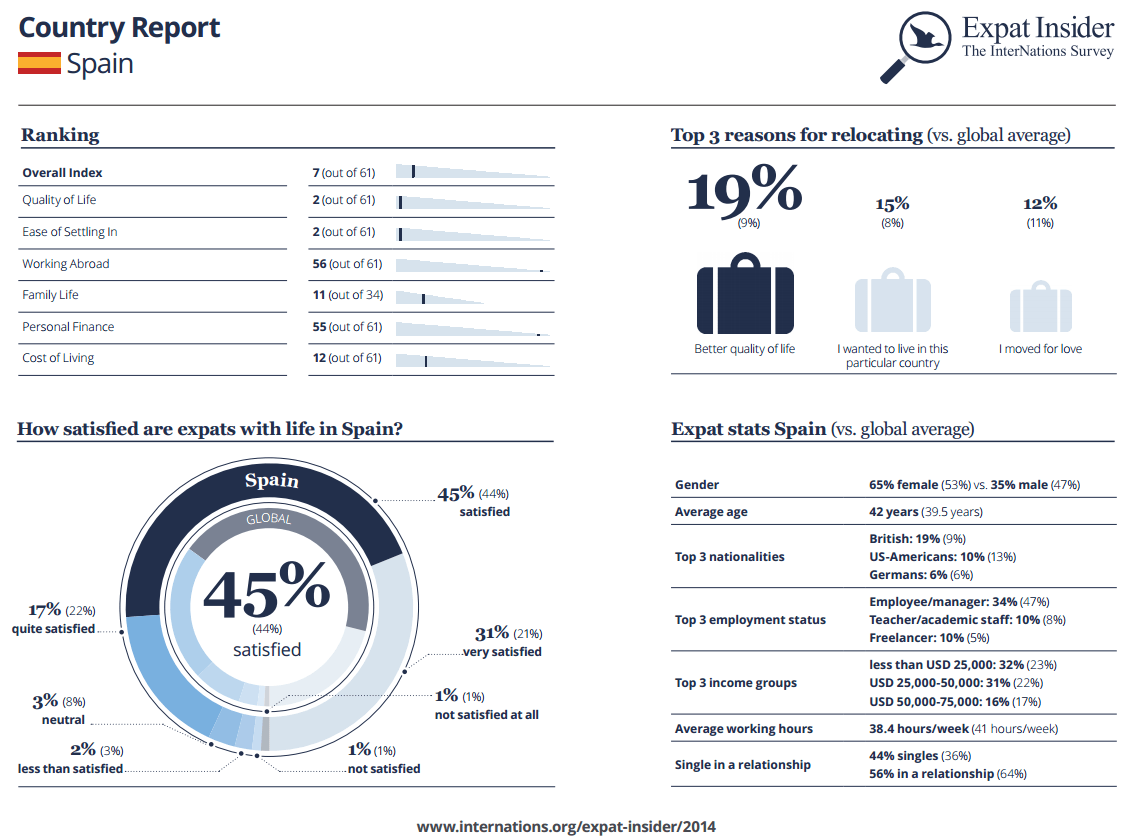 Embed this image on your website:
Where to Next?
Keeping up with the trend of European nations, Spain offers decent transport options. Only 5% claim to be unhappy with the local transport infrastructure. In comparison, one-fifth of participants globally find transport infrastructure to be poor.
Opportunities to travel abound as well; 94% of expats in Spain consider their opportunity to travel positively, compared to 85% of expats worldwide who agree.
Safety First
Medical care is also rated highly with just 6% of expats having complaints, compared to the global average of 16%. General satisfaction with Spain's political stability and peacefulness is only separated from the global average by one percentage point (79% and 78%). Moreover, the majority of respondents (94%) are confident in their personal safety. Globally, 85% feel the same way.
Let's Be Friends
Spain also ranks second in the Ease of Settling In Index, edged out for number one by Mexico. The majority of respondents (82%) agree to feeling "at home" in the local culture. This is a drastic increase from the global average of 63%. Furthermore, just 9% find it difficult to settle down in this country, which is less than half compared to respondents worldwide (20%).
Spaniards seem to exude friendliness, as 88% of respondents describe the welcoming nature of the Spanish population positively. Just one in twenty expats (5%) find that there is an unfriendly attitude towards foreign residents, far below the global average of 13%.
Expats also find that it is relatively easy to get used to the culture in Spain (82%) and to learn the local language (71%), exceeding the global averages by twenty and thirty-two percentage points, respectively.
Complicated Job Search
However, Spain ranks on the other side of the spectrum in the Working Abroad Index (56th of 61). The survey results indicate that this is mostly due to the unacceptable state of the local economy. More than half (55%) consider it to be bad while globally only 17% feel the same way about the state of the economy in their respective host country.
Career prospects also play a role in Spain's low ranking in the Working Abroad Index. Just 44% of respondents are satisfied with their career prospects. About two-thirds of their colleagues worldwide (59%) feel the same.
Cash Flow
Spain stumbles equally as much in the Personal Finance Index, ranking 55th out of 61. Respondents tend to be more unsatisfied (24%) with their financial situation than the global average (17%). For instance, only one in ten participants (12%) consider their disposable income more than enough to cover daily costs. Worldwide, more than one-fifth (21%) say the same.
However, woes over personal finance are not limitless. Globally, three times the percentage of expats claim their cost of living to be bad compared to those residing in Spain (30% to 10%). Housing is also considered to be fairly affordable with 72% of participants agreeing to this statement, whereas, on a global scale, only 50% say the same.
Strollers and Pacifiers
Though finances shatter the fairytale illusion of sunny Spain, it is still described as a decent place for families. Only 1% of respondents have experienced an unfriendly attitude towards families with children.
Furthermore, only 2% of participants in Spain view the state of children's health and safety to be in danger. This deviates heavily from the 11% of respondents globally who believe this to be the case in their countries of residence.
Download
Press Contact
Global Expat Guide
Want to take a look
at other years' results?
Check out the Expat Insider 2022!