Germany Report
Germany for Work, Life, and Travel
As the world's new land of opportunity and the engine driving the European Union, Germany has more to offer expats than just pretzels and beer.
Decades of political cooperation, clever fiscal policy, infrastructure development, and prosperity have resulted in Germany becoming a world economic force and a desired destination for many an expat1. Our expat survey results rank it at 12th overall, and in the top five on each of the Quality of Life, Working Abroad, and Family Life Indices.
Expat Statistics Germany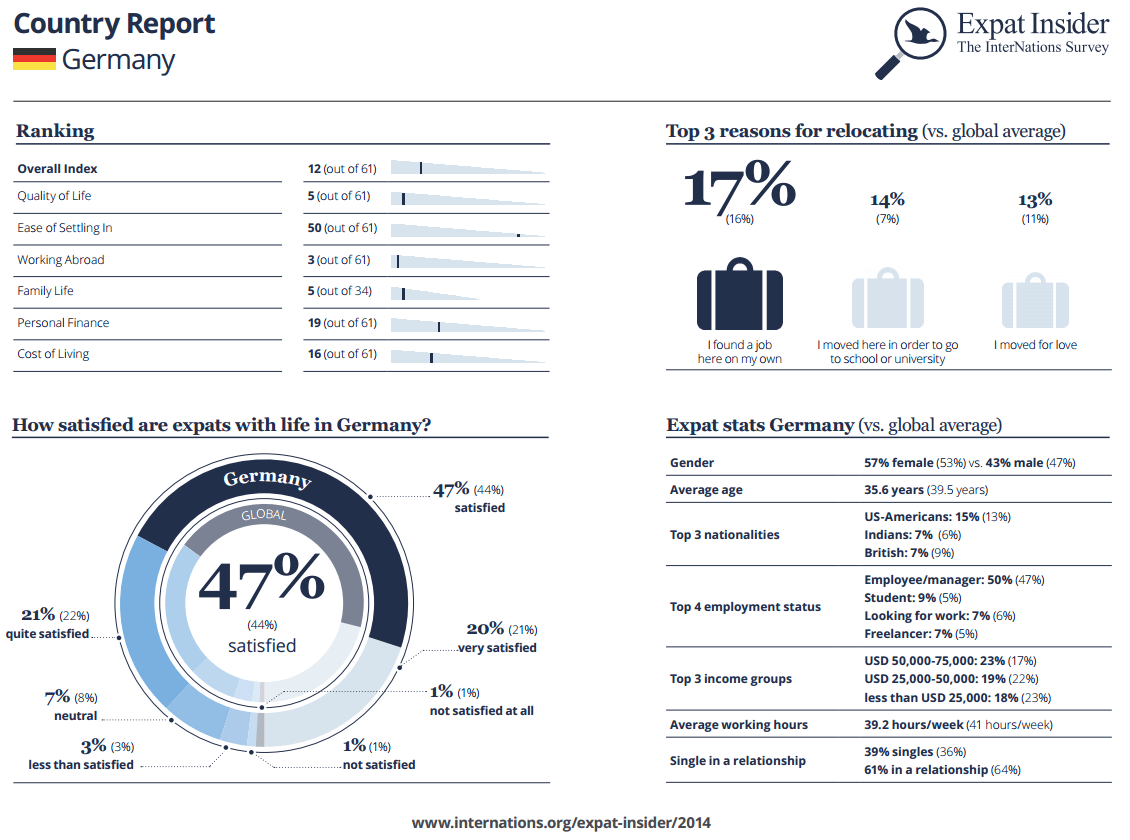 Embed this image on your website:
Peace, Productivity, and Play
About nine out of ten of our expat respondents rate Germany's political stability and peacefulness (92%) and the state of its economy (87%) as good or excellent. In comparison, the global averages for these factors are 65% and 51% respectively.
And although our expats are not entirely happy with the weather and climate – only one in ten thinks they are excellent, compared to about a quarter globally (23%) – nine out of ten rate the availability of leisure activities positively. Moreover, it seems a weekend abroad is not difficult: Almost all the survey participants living in Germany (96%) grade the opportunity to travel favorably.
Making Inroads
The transport infrastructure within Germany, as well, is considered excellent by almost two-thirds of its expat population (65%), a figure which is more than double the global average (31%). Wherever they are in Germany, however, three-fifths of our respondents (59%) find it difficult to learn the language – noticeably more than expats across the globe (43%). Nevertheless, over three in five (63%) say they speak German at least fairly well.
Nevertheless, this does not seem to favorably impact their opinion of German friendliness. Globally, one in four expats considers the residents of their host country to be "very friendly" towards foreigners; in Germany, that drops to just over one in ten (13%), which may affect our participants' Ease of Settling In – a category in which Germany places a very low 50th out of 61 countries.
Only 5% of the survey participants found it "very easy" to make local friends in Germany; globally, the average is more than double that (12%). Nonetheless, seven in ten of the respondents (69%) say their friends and acquaintances include both Germans and expats, or mostly Germans.
The Land of Poets and Thinkers
It also appears that Germany is a popular destination for students. About one in seven expats surveyed (14%) moved to Germany in order to go to school or university, making this the second most popular reason for relocating. Taking a closer look at our survey results, it is not difficult to see why.
The percentage of those who rate the quality of German education as excellent (44%) is double the global average (22%). This places Germany at 4th out of 34 countries in the Quality of Education sub-ranking, behind only Switzerland, Singapore, and Belgium.
Moreover, six in ten (58%) either agree or completely agree that a German education is easy to afford. On average, only three in ten expats around the world (29%) profess the same. It also appears that our respondents take advantage of the free state schooling in Germany: Half of those with kids send them to such an institution.
Safe as Houses, Healthy as a Horse
Another system that is well-received in Germany is that of healthcare. If expats in Germany require medical attention, eight in ten (79%) are confident that the quality of German medical care is good or excellent. On average, only about half of the expats worldwide (53%) share that same confidence about their host country.
Further, it seems our expats in Germany don't worry too much about their personal safety; barely any negative ratings (less than 0.5%) are given! In fact, seven in ten survey respondents in Germany (69%) feel completely safe. Fewer than five in ten (46%) are similarly confident the world over.
In the same vein, Germany receives negligible negative ratings for "children's health and safety" (less than 0.8%). Three in five of our respondents (58%) even consider it excellent compared to an average of around a third globally (34%). As to their children's general well-being, four out of five expat parents in Germany (79%) are very or completely satisfied. These two factors, amongst others including education and childcare, elevate Germany to a child-friendly Family Life Index ranking of 5th out of 34 countries.
Download
Press Contact
Germany Guide
Global Expat Guide
Want to take a look
at other years' results?
Check out the Expat Insider 2022!