China Report
China: Work Rather than Pleasure
China is a great place to work, but can it feel like home? Results suggest that it is neither easy to settle in nor great for expat families.
An economic hub, people go to China for business and work, as well as to benefit from the country's comparatively low cost of living. However, although China ranks 4th in Personal Finance and 19th of 61 in the Working Abroad Index, it faces sharp criticism in regards to the general quality of life.
Only 14% of expats in China are completely satisfied with their life abroad, which lags behind the global average of 21%. Moreover, survey participants also indicate a marked dissatisfaction with the country's medical facilities; only 32% agree the system is good compared to the global average of 53%.
Expat Statistics China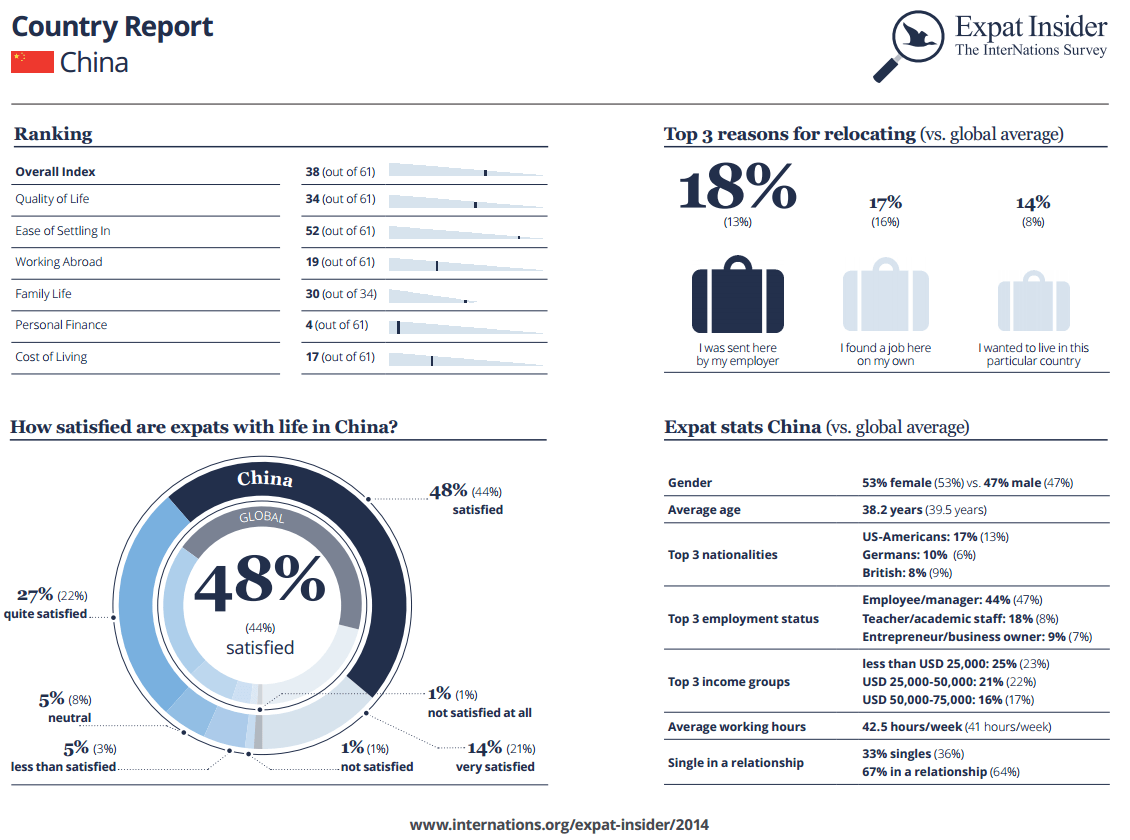 Embed this image on your website:
Small Cost in Big China
The low living costs in China makes it a beacon of value in an expensive world. While only one in three (35%) expats the world over find their local cost of living to be either good or very good, China excels with nearly half of the respondents living there agreeing to the same (48%).
The comparatively low cost of living is complemented by a greater disposable income, as 59% of expats in China agree that their income easily covers everyday expenditures, in contrast to the worldwide average of 45%.
Companies seem to be trying their best to attract expats to China, too. Four of five respondents (83%) say they received help from their employer with attaining a work visa and two in five (42%) say they were provided housing by their companies. This overshadows the global averages of 65% and 29% respectively. It also helps explain why the most frequently cited reason for expatriation to China is work; 18% say they were sent by an employer and 17% found work there themselves.
Finding Ying and Yang
China plummets down the overall country index when one takes the Ease of Settling In into account, however, where it ranks 52nd out of 61. Famed for the affability of its people, the survey results highlight how expats experience a chasm between politeness and formulating friendships. Although three-quarters of respondents (76%) agree that they work with very few expats, they are less likely to have friends who are local residents. Rather, 45% say they usually meet people at expat events, whereas this figure is just 36% worldwide
However, this could ultimately be due to the culture gap between expats and the local culture. Although 43% of participants profess to the ability of being able to speak Mandarin, just one in five (23%) agree that it is easy to get used to the local culture compared to the global average of two in five (41%). As such, only one in ten (12%) expats in China feel completely at home.
Homeschooling Anyone?
Further dragging China down is its poor display on the Family Life Index, where it comes just 4th from the bottom (30th out of 34). However, this is mainly due to its education system, for the country remains on par with the global averages for most aspects of childcare and general family life.
Expats in China are, with 16%, half as likely to agree that education choices were numerous and readily available compared to the worldwide average of 32%. Thus, respondents in China are more likely to send their children to an international school than their compatriots elsewhere (45% against the global 35%) and as a result find education to be very expensive.
However, according to the survey results, one of the grimmest aspects of life in China is the atmosphere it presents for children. One fourth of participants (25%) are not happy in regard to their children's health and safety there. On a global scale, only 11% feel this way.
Download
Press Contact
China Guide
Global Expat Guide
Want to take a look
at other years' results?
Check out the Expat Insider 2022!