UAE Report
The UAE: Gold or Silver?
Although Dubai, the City of Gold, is part of the UAE, expats are unsure of what carat the country is, landing it about halfway down our survey.
Rich in history and oil, expats find the United Arab Emirates is neither a bad nor a great country to relocate to. Continually finding a place in the low upper half of our survey, a poor display in the Personal Finance Index brings the country down to the 33rd position (of 61) in the overall country ranking.
However, ranking reasonably high in our Quality of Life Index at 19th position, expats indicate they enjoy living there. Among the top survey results speaking for a move to the UAE is a strong sense of personal safety, which 90% rate to be either good or very good, and a stable political situation of which 69% agree is excellent. Moreover, three in five participants (68%) also find the availability of leisure activities to be good, making the UAE not just a safe place to live but a fun one.
Expat Statistics UAE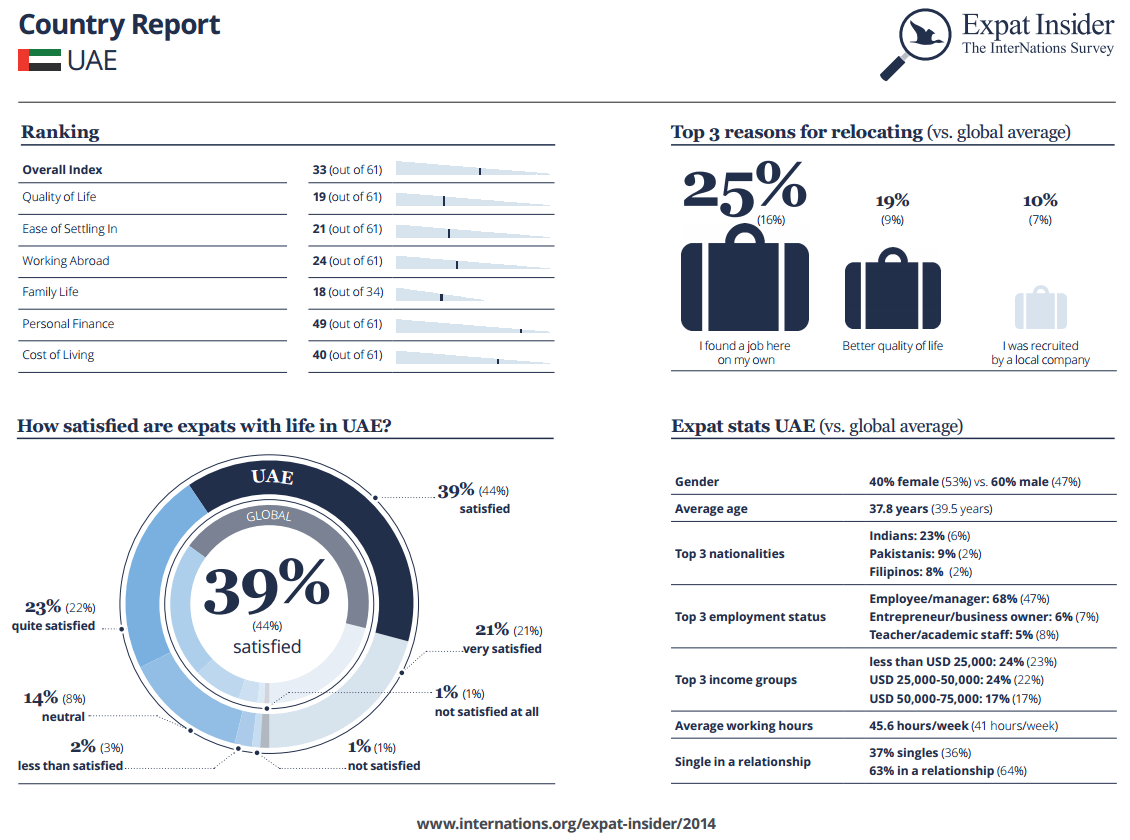 Embed this image on your website:
United in Making it Easy
In one of the UAE's better categories, it ranks 21st of 61 for Ease of Settling In. Over three-fifths of respondents (63%) agree that the resident population is friendly to expats. However, for participants, it seems that it is the friendliness of their foreign peers that makes the UAE something of a social hub.
Over three-fifths of expats in the UAE (67%) say their social group mainly consists of expats and only 1% report it consists mainly of local people (comparative world averages are 35% and 17%, respectively). However, this may have something to do with where respondents are going and the size of the expat community, which 83% identify to be large. Furthermore, 42% find they work alongside mostly expats and over four-fifths (82%) say they mainly meet people at work.
Moreover, despite the fact that expats in the UAE consider it slightly more difficult to adjust to the local culture than the global average, they find it somewhat easier to create a new home. Respondents are more inclined to completely agree that they found it easy to settle down compared to expats worldwide (23% versus the global average of 17%). Furthermore, over half of expats in the UAE (61%) also agree that they found a sense of home in their host country.
Work and Finance
The UAE falls sharply behind global averages for all aspects of personal finance and the country places 49th of 61 in this index. Expats find it to be expensive and only 26% rate the affordability of housing to be good, just over half the worldwide average of 50%. Moreover, only about two in five (38%) view the cost of living to be in any way good, while on a global scale this is one in two (54%).
The country also falls short in terms of work life. It seems that in the UAE it is all work and no play with only 55% finding satisfaction in their work-life balance, notably below the global average of 63%. With just 15% of participants in the UAE finding complete satisfaction in their careers, it seems the country's redeeming factor is the strength of its economy, which over half (52%) rate to be very good. Thus, the UAE ranks 24th out of 61 in the Working Abroad Index.
Education
At 18th of 34 on the Family Life Index, the UAE is often minimally ahead of global averages in the aspects of childcare, family life in general and education. What brings the country down is the expensiveness of the latter. Only 16% of respondents consider it affordable, less than one-quarter of the global average of 42%.
However, this seems mainly due to the type of facility parents are sending their children to, as less expats in the UAE are sending their children to local state schools compared to the global average (2% against the worldwide 30%). Instead, 66% opt for international schools.
Nevertheless, expats also argue that the UAE provides a good environment in which to raise a child; 82% feel there is a friendly attitude towards families and 81% believe that their children are safe and healthy in the UAE.
Download
Press Contact
UAE Guide
Global Expat Guide
Want to take a look
at other years' results?
Check out the Expat Insider 2022!