Munich
Munich Is among the Top 10 Worldwide for Work & Quality of Life
Expats are enjoying life in the "Weltstadt mit Herz". However, with distant locals, high costs, and an extremely competitive housing market, things are far from perfect.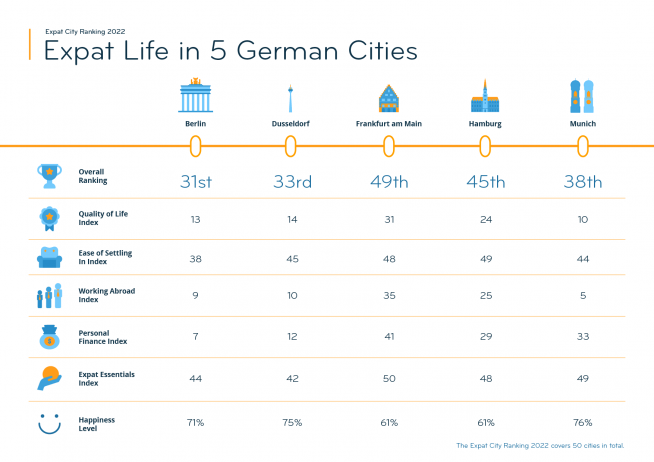 Munich ranks 38th out of 50 cities in the ranking and 5th in the Working Abroad Index. In the latter, it performs best among the five German cities featured in the survey. Munich ranks first for job security (81% happy vs. 59% globally) and third for its local job market (76% vs. 47% globally). Out of all the German cities, Munich offers the best career prospects (6th): close to three-quarters (73%) say moving to Munich has improved their careers (vs. 60% globally), and 95% rate the state of the local economy positively (vs. 64% globally). One in four expats in Munich (25%) earns 75,000–100,000 USD per year (vs. 11% globally), and 66% feel paid fairly for their work (vs. 62% globally). Munich also does best among the five German cities in the Work & Leisure Subcategory (5th): expats work 40.7 hours full time per week, over two hours fewer than the global average (43.3 hours).
Munich also has the best result in Germany for its Quality of Life (10th). Expats appreciate the urban environment (90% happy vs. 67% globally), the natural environment (95% vs. 83% globally), and the high air quality (83% vs. 65% globally). They are also satisfied with the availability of green goods and services (80% happy vs. 64% globally). Munich is also Germany's best-rated city in the Safety & Security Subcategory (6th). More than nine in ten appreciate both the political stability (91% happy vs. 64% globally) and their personal safety (96% vs. 81% globally). They also find it easy and safe to get around Munich by foot and/or bike (95% happy vs. 77% globally), and 92% rate the infrastructure for cars positively (vs. 75% globally). "I live in a clean, safe city with excellent public transport, historic buildings, large parks and scenic countryside nearby. There is also a lot of art and culture," explains a British expat.
The only real lowlight in the Quality of Life Index is the affordability of public transportation (44th). In fact, Munich comes in 41st place for the general cost of living, a significantly worse result than in the other German cities (Frankfurt 35th, Hamburg 26th, Dusseldorf 23rd, Berlin 8th). Still, 51% of expats in Munich find their disposable household income is more than enough to lead a comfortable life (vs. 45% globally), which might have to do with their above-average incomes. In the end, Munich lands in an average 33rd place for Personal Finance.
Similar to the other German cities, Munich does poorly in the Expat Essentials Index (49th) and even ranks last worldwide in the Housing Subcategory (50th). Expats really struggle to find an apartment or house in Munich (75% unhappy vs. 27% globally) and to afford it (83% vs. 43% globally). On top of that, 41% find it hard to live in Munich without speaking the local language (vs. 32% globally), and 52% struggle with the local bureaucracy (vs. 39% globally).
Another negative aspect of expat life in Munich is the struggle with settling in and making friends. Close to three in five (59%) say it is difficult to make local friends (vs. 37% globally). Munich also ranks worst out of all German cities in the Local Friendliness Subcategory (47th). Expats find the people in Munich unfriendly in general (30% unhappy vs. 17% globally) and unfriendly towards foreign residents in particular (25% vs. 18% globally). All this is reflected in the city's 44th place in the Ease of Settling In Index.
Further Reading
Download
Press Contact
Want to take a look
at other years' results?
Check out the Expat Insider 2021!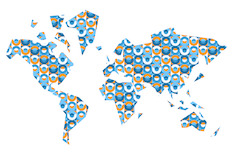 Selected Countries
Selected Cities