Berlin
Berlin: Cheap, Great for Work, and with a High Quality of Life
Berlin receives the best results among the German cities featured in the Expat City Ranking 2022, but a lack of digitalization continues to be problematic.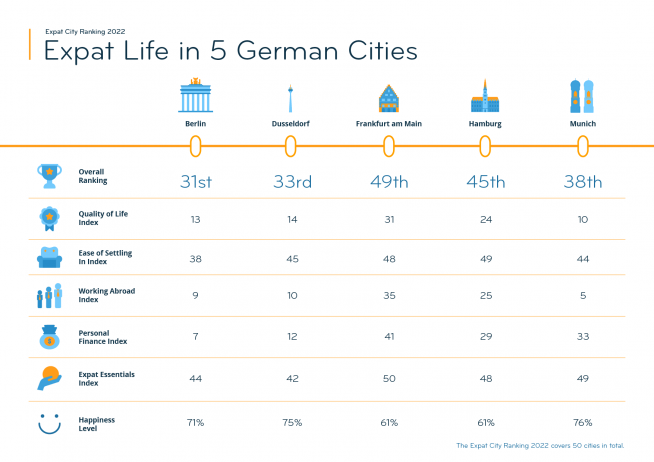 Berlin ranks 31st out of 50 cities in the Expat City Ranking 2022 and is the only German city to make it into the top 10 of the Personal Finance Index (7th). Expats find life in Germany's capital affordable. Only 17% rate the general cost of living negatively, less than half the global average (35%).
It might help that 93% also view the state of the economy favorably (vs. 64% globally). In fact, Berlin features among the top 10 of the Working Abroad Index (9th), the second-best result for Germany after Munich (5th). Seven in ten (70%) appreciate the local job market (vs. 47% globally), and the German capital ranks tenth for Career Prospects. "Berlin offers nice job opportunities and a good standard of living including good healthcare," says an Indian expat.
Working life aside, expats also enjoy a high Quality of Life (13th), with Berlin doing second best among the German cities after Munich (10th). Expats love the Leisure Options (10th), especially the culture and nightlife (92% happy vs. 67% globally). More than nine in ten (91%) also appreciate the political stability (vs. 64% globally). "I love Berlin's stability, culture, nature, and international environment," says a Mexican expat. In fact, 89% are happy with the urban environment, such as green spaces, noise levels, and eco-friendly architecture, compared to 67% globally. Expats also agree that the government supports policies to protect the environment (86% happy vs. 61% globally) and that green goods and services are widely available (91% vs. 64% globally). Berlin even ranks first in the world for the latter factor.
On the downside, Berlin receives a below-average ranking in the Ease of Settling In Index (38th), even though it is the only German city that does not land in the bottom 10 worldwide. Nonetheless, only 55% feel at home in Germany's capital (vs. 62% globally), and 31% find the local residents unfriendly (vs. 17% globally).
When it comes to the Expat Essentials Index (44th), the situation is even worse. Expats in Berlin struggle with Germany's lack of digitalization, as 32% find it hard to get high-speed internet access at home (vs. 11% globally), and 35% struggle to pay without cash (vs. 8% globally). What is more, close to three in five expats describe housing in Berlin as unaffordable (59% unhappy vs. 43% globally) and hard to find in the first place (58% vs. 27% globally).
Further Reading
Download
Press Contact
Want to take a look
at other years' results?
Check out the Expat Insider 2021!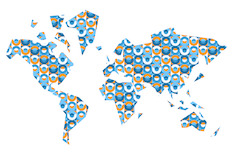 Selected Countries
Selected Cities