Dubai
Dubai Is Great for Both Work & Leisure
Expats feel welcome in Dubai, enjoy improved career prospects, and don't have to fight a lot of red tape. It's not all good news, though.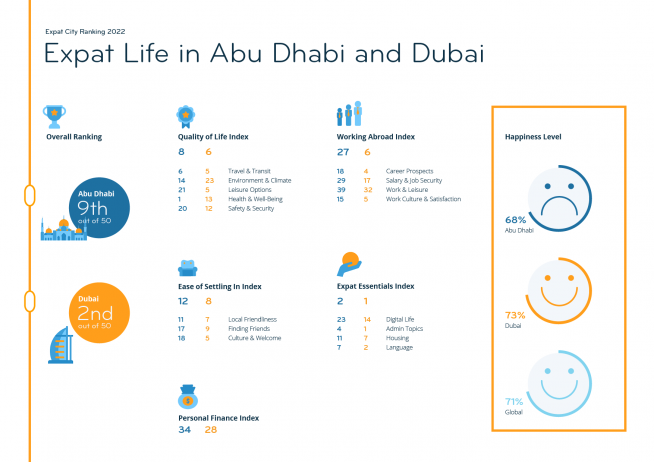 Dubai ranks 2nd out of 50 in the Expat City Ranking 2022, even coming first worldwide in the Expat Essentials Index. The Admin Topics Subcategory (1st) is a particular highlight, since almost two in three expats (66%) report that it is easy to deal with the local bureaucracy/authorities, compared to only 40% globally. This could be due in part to the fact that most expats (88%) are happy with the availability of administrative/government services online (vs. 61% globally). "The basic things can be taken care of, you do not have to struggle for them," shares an Indian expat. However, nearly one in five expats (18%) are unhappy with the access they have to online services (such as social media), more than double the global average (7%). In fact, both Dubai and Abu Dhabi rank in the bottom 5 for this factor (46th and 48th, respectively).
The Ease of Settling In Index (8th) is another highlight for Dubai, and the city lands among the top 10 in all three subcategories of the index. Expats are happy with their social life (68% happy vs. 56% globally) and feel welcome there (81% vs. 66% globally). Expats are similarly pleased with the Quality of Life Index (6th), and Dubai comes in fifth place for both the Travel & Transit and the Leisure Options Subcategories. Nearly all expats (95%) are satisfied with the infrastructure for cars (vs. 75% globally), and 80% are even very satisfied with this factor (vs. 43% globally). It seems like there are many reasons to make use of this infrastructure, since Dubai ranks fifth for culture and nightlife, as well as third for culinary variety and dining options.
Aside from the great leisure opportunities, expats are also pleased with their working life, with Dubai coming sixth in the Working Abroad Index. It ranks fifth in the Work Culture & Satisfaction Subcategory, since 70% of expats are happy with their jobs (vs. 64% globally) and 78% report that the local business culture encourages creativity (vs. 51% globally). More than four in five (82%) also feel that moving to Dubai has improved their career prospects (vs. 60% globally). Despite their overall job satisfaction, their income may not be sufficient: over one in three expats (34%) say that their disposable household income is not enough to lead a comfortable life there (vs. 28% globally). This is one of the factors that lead to Dubai's mediocre performance in the Personal Finance Index (28th).
Further Reading
Download
Press Contact
Selected Countries
Selected Cities