The Dutch Abroad
Dutch Expats Abroad: Easy-Going Cosmopolites
Expatriates from the Netherlands are well traveled and multilingual, which helps them to feel at home abroad.
Dutch expats appear to be rather amorous folk, according to the survey, as 30% of them list love as their single most significant motive for relocation. Moving to their partner's home country was mentioned as the most important reason by 15% while another 15% say they primarily moved for their significant other's job or education. On average, romance isn't quite as important in most expats' lives, as globally speaking, the factors mentioned above are listed as the most important causes for relocating merely by 10% and 9%, respectively.
Otherwise the reasons for moving do not deviate much from the worldwide averages, although the Dutch seem to be somewhat more entrepreneurial than most: 11% state that starting a business in their host country was one of the factors behind their relocation (vs. the global 7%), and 5% say it was the most important one (global average: 3%).
Expat Statistics 2015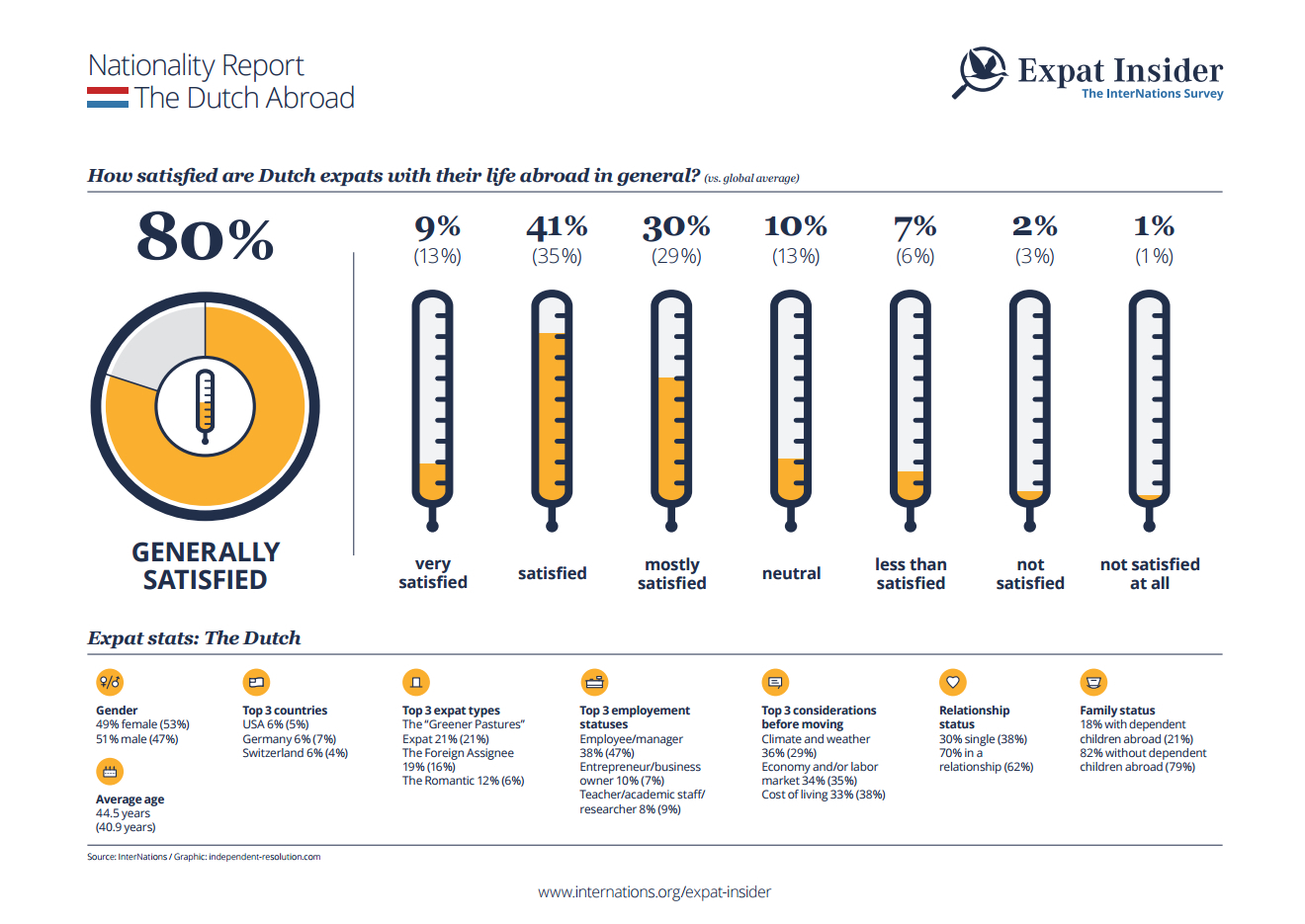 Embed this image on your website:
Citizens of the World
Living abroad is nothing new to most Dutch expats, as 61% say they have prior experience of living in two or more different countries, excluding the Netherlands and their current country of residence; globally only 49% can say the same. Also, 14% of the Dutch respondents even report having lived in five or more foreign countries before.
The Dutch do seem to have a knack for foreign languages as well. More than six out of ten (61%) are able to speak four or more languages, something which on average is achieved by just over 30% of expats. Almost all of the Dutch expats (99%) know at least one foreign language in addition to their own. Furthermore, 63% can speak the local language fairly or very well. The language barrier is an issue for only 16% of the Dutch respondents, while it causes problems for 26% of all survey participants in general.
With their linguistic skills and wide travel experience it's no wonder that 71% of the Dutch feel more or less at home in the local culture of their host countries. A vast majority of them (80%) are also relatively happy with their lives abroad. Around the globe the averages are not quite as good, the respective percentages being 61% and 77%.
Nothing Ventured, Nothing Gained
As mentioned earlier, Dutch expats tend to have more entrepreneurs among them than the worldwide average. One in ten states that they are currently a business owner or an entrepreneur, while globally only around 7% say so. Perhaps their entrepreneurial spirit also pays off: the Dutch respondents include an above-average percentage of expats with a top-end income, with one-third of them having an annual gross household income of 100,000 USD or more. Worldwide, only 23% of expats belong to these high income groups.
Dutch employees and managers have also acquired prestigious positions in the organizations they work for - 39% are in middle or top management careers - which may partially explain their hefty incomes, too.
Flexible Lovey-Doveys
As might be expected considering their motives for relocation, the Dutch respondents who are in a relationship often have a partner from their host country (41% vs. 32% globally). In general, an above-average share of Dutch expats are in a committed relationship: 70% mention having a spouse or partner. Worldwide, the average percentage of expats in a relationship is 62%.
Further, Dutch expats demonstrate an excellent ability to blend in among the local population: more than one in five (23%) say their social circle consists mostly of locals, while only 29% socialize mainly with other expats. On average, other expatriates are not quite as adaptable as the global percentages are 16% and 34%, respectively.
Further Reading
Download
Press Contact
Related Topics
Want to take a look
at other years' results?
Check out the Expat Insider 2022!