Switzerland Report
Switzerland: The Country of Opposites
Switzerland ranks among the top ten countries worldwide in terms of quality of life and work, but not everything is that great in the Alpine country.
Safe and Sound
Switzerland ranks 5th out of 64 countries in the Health, Safety & Well-Being subcategory of the Quality of Life Index. Personal safety, political stability, peacefulness, and the quality of the environment in Switzerland are, with 96% or more, all evaluated positively by the vast majority of expats.
Furthermore, 98% of expats in Switzerland enjoy the transport infrastructure, and 94% rate the opportunity to travel positively. Overall, the Alpine nation is positioned 2nd out of 64 countries in the Travel & Transport subcategory of the Quality of Life Index, beaten only by Singapore.
When taking a look at available leisure activities, 86% of survey participants find them sufficient, with 38% even rating them as very good. In total, four out of five expats in Switzerland (81%) claim to be generally happy with their life.
Expat Statistics 2015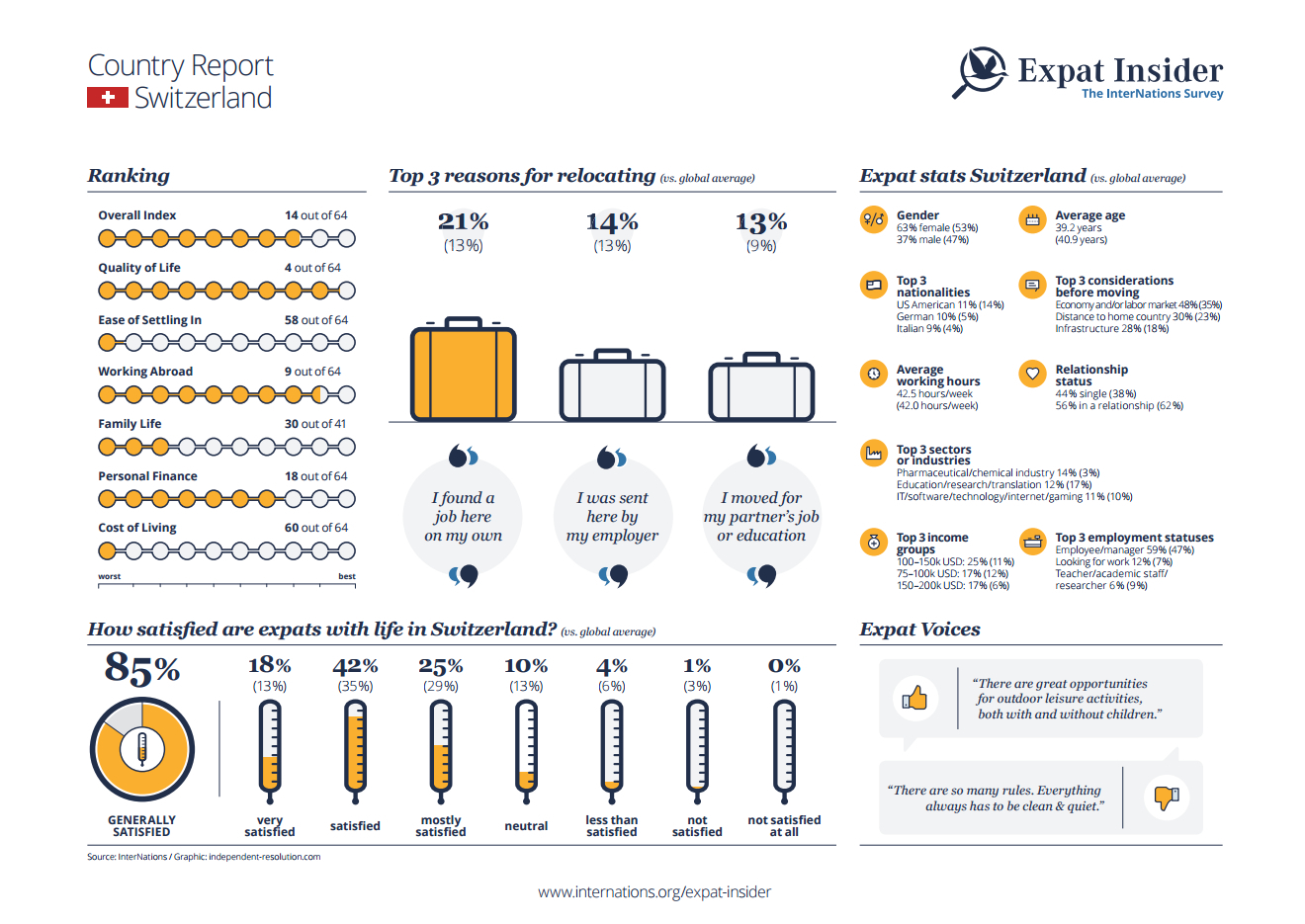 Embed this image on your website:
Becoming Accustomed
Nevertheless, Switzerland is not particularly known for its warm-heartedness, ranking 58th out of 64 countries in the Ease of Settling In Index. Among all expats living in the Alpine country, 54% consider the Swiss population generally friendly, while only a little over two-fifths (43%) appreciate the friendliness of the local population towards foreign residents. Around the globe, much larger portions of participants feel the same way about the local population in their host countries (72% and 67%, respectively).
Correspondingly, making local friends is seen as difficult by 60% of respondents in Switzerland, while worldwide less than two-fifths (38%) criticize this factor in their individual country. Similarly, one-third (32%) finds getting used to the local culture hard.
While more than half of the survey participants in Switzerland (52%) consider learning the local language challenging, 45% claim that living in Switzerland is not difficult even if you don't speak the local language.
Great Jobs, High Expenses
With its 9th place in the Working Abroad Index, Switzerland is among the best destinations for the career-minded. Out of all expats working in the country, 70% are generally satisfied with their jobs, 64% are content with their working hours, and 61% find their career prospects appealing.
While these factors only rank somewhat better than the global average, others are much more striking. The Job Security subcategory of the Working Abroad Index stands out in particular, with Switzerland ranking 3rd out of 64 countries, just behind Luxembourg and Germany. The state of the Swiss economy is regarded favorably by 97% of respondents and 65% even describe it as very good. Around the world, only one-fourth of expats say the same for their respective country of residence.
Overall, 73% of survey participants in Switzerland are generally satisfied with their financial situation. Still, the country ranks 60th in the (reverse) Cost of Living Index. This doesn't come as a surprise, when close to double the global average regard living in Switzerland as expensive (63% vs. 33%).
Childcare and Education
Expenses become even greater for those expatriates with kids. Looking at the Costs of Childcare & Education subcategory of the Family Life Index, Switzerland is found in the bottom ten - ranking 35th out of 41 countries. Childcare is seen as affordable by only 7% of expat parents in Switzerland, while 42% of parents around the world find childcare easy to afford. Education is considered less difficult to pay for, but 34% of expat parents in Switzerland still disapprove of education costs.
The flip side is that Switzerland ranks 5th out of 41 countries when it comes to the quality of education. As a matter of fact, over four out of five respondents with kids in Switzerland (82%) approve of it (globally only 65% do so). Additionally, close to three-fourths of expat parents in Switzerland (73%) find the options for their children's education generally appealing, although only a little over half (52%) confirm that they are numerous and easily available.
Childcare seems to be more problematic than education in Switzerland. Three out of seven expat parents (43%) are generally dissatisfied with the childcare options, and 64% are unhappy with their availability. As a result, Switzerland was voted the least attractive country when it comes to childcare options in general.
The Swiss Family Life
Altogether, 86% of expat parents in Switzerland are overall satisfied with their family life in general and close to nine out of ten (89%) rate their children's general well-being favorably. Not a single expat parent shows any concerns about their children's health and safety - 62% even rate it as very good, while only 33% do so globally. Last but not least, almost nine-tenths of expat parents (88%) appreciate the available leisure activities for kids in Switzerland.
Further Reading
Download
Press Contact
Related Topics
Want to take a look
at other years' results?
Check out the Expat Insider 2022!