Qatar Report
Qatar: No Pain, No Gain
Qatar's booming economy attracts expats from all over the world, but relocating there has its drawbacks as well.
The small monarchy in the Arabian Peninsula has managed to achieve the highest GDP per capita in the world, mostly due to its immense oil resources. Unfortunately, the economic prosperity is not always reflected in expats' lives: the country ranks 54th in the overall country ranking and 56th in the Quality of Life Index. Also, expat incomes can vary widely: While 23% of respondents say their annual gross household income is 100,000 USD or more, for a fifth it's less than 12,000 USD a year.
Expat Statistics 2015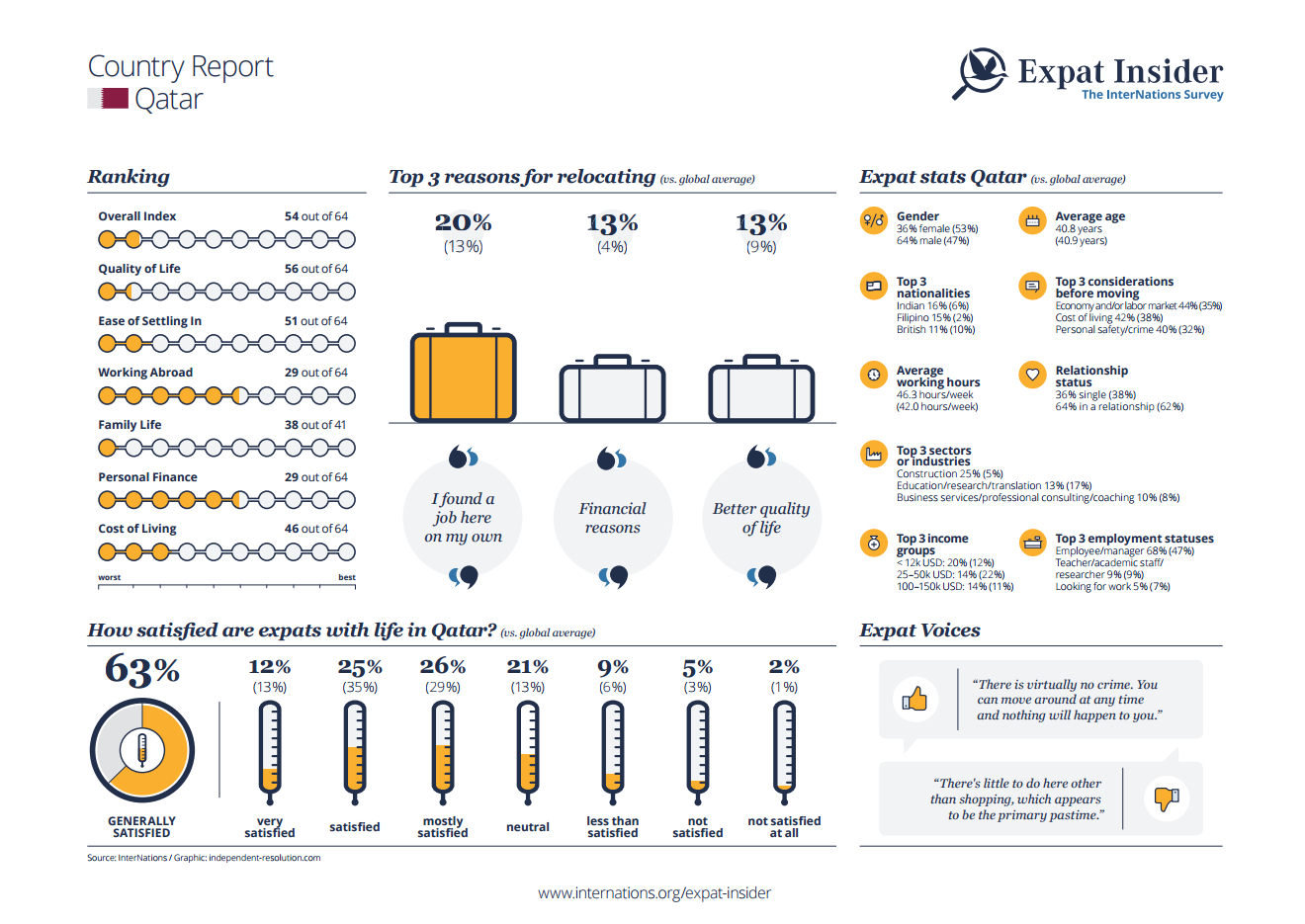 Embed this image on your website:
Peaceful but Boring
A lack of decent leisure activities is likely one reason for the poor performance in the Quality of Life Index. Less than half of the expats in Qatar (46%) consider available leisure activities to be overall good, while globally three out of four expats regard that aspect in their host countries positively. Further, Qatar's transportation infrastructure is anything but perfect, with close to half of the respondents (46%) expressing their disappointment here, twice as many as the respective global percentage of 23%.
Furthermore, expats in Qatar seem to struggle with the heat, as over a third (34%) finds the local weather and climate to be bad, an opinion shared by a mere 22% of their worldwide peers. It's not all doom and gloom in Qatar, though: over half of the respondents (52%) find the peacefulness in the country to be very good, and 82% give the political stability a favorable review.
Feeling Unwelcome
Settling in in the country may turn out to be a considerable challenge, though, as two in five expats in Qatar experienced trouble with this. Getting used to the local culture is not easy (36% report difficulties here vs. the worldwide average of 24%) and apparently expats don't really feel at home in the country either: only 43% feel that way compared to the global average of 61%.
The local population is regarded to be rather unfriendly by the respondents, which probably does not make settling in any easier. Only 49% describe local citizens as friendly - worldwide, not quite three-fourths of survey participants (72%) do so. All in all, Qatar's rankings in the Feeling Welcome and the Friendliness subcategories of the Ease of Settling In Index are 59th and 58th out of 64, respectively.
Fortunately expats do not have much trouble with languages in Qatar. Almost two-thirds (65%) say the language barrier is not a problem for them, even if learning the local language is considered a challenge by 58% of respondents in Qatar.
Nose to the Grindstone
Workaholics will enjoy their stay in Qatar, as the working hours in the country are among the highest in the world. While on average expats work 42.0 hours a week, respondents in Qatar spend 46.3 hours weekly at their jobs. Still, even though the overall job satisfaction is below the worldwide average, most expats in Qatar are generally happy with their positions (55% vs. the global 64%).
The state of the economy in the country is praised highly by the respondents. Well over half of them (56%) consider it to be very good, an opinion only 25% of expats worldwide share about their host countries. And just 2% of the participants regard Qatar's economy negatively.
High Costs, Questionable Quality
Living in Qatar is not cheap, though. Only 33% of expats are overall pleased with the country's cost of living, while worldwide 51% of the respondents express their happiness with this factor in their respective host countries. Still, for those with high incomes, these clearly compensate for some of the high living costs, and 80% of the participants consider their household income to be about - or even more than - enough for their daily lives.
Family life in Qatar, on the other hand, is mediocre at best. Childcare and education options are somewhat below the average, with 49% and 51% of expat parents, respectively overall happy with them, next to global averages of 60% and 70%. The quality of education is nothing to write home about, either, as Qatar ranks 26th out of 41 in this regard. The costs of education also meet the country's standards by being rather high: 73% of expat parents in Qatar are displeased with the affordability of education.
Further Reading
Download
Press Contact
Related Topics
Want to take a look
at other years' results?
Check out the Expat Insider 2022!