London
London Offers Expats Great Career Opportunities, but the Price Is High
London ranks 40th out of 50 cities in the Expat City Ranking 2022, performing best for working abroad and worst for personal finance.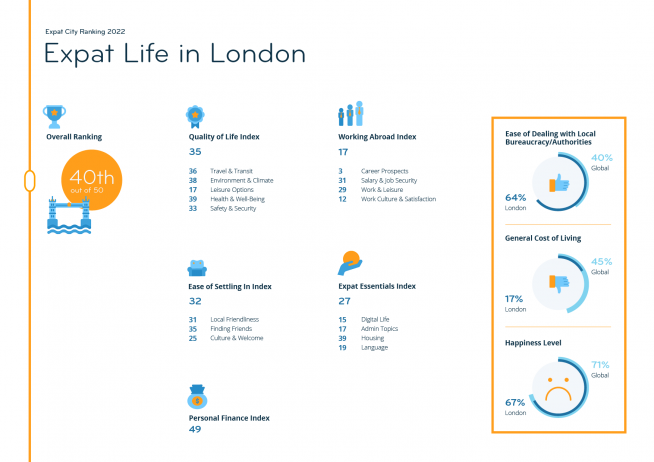 Coming 40th out of 50 in the Expat City Ranking 2022, London narrowly escapes the bottom 10. On the plus side, it ranks 17th in the Working Abroad Index and is even among the top 3 for Career Prospects (3rd): 73% of expats in London rate their career opportunities positively (vs. 58% globally), while 78% have improved their career prospects by moving there (vs. 60% globally). "Here, I have better opportunities to achieve my goals," says a Kenyan expat. However, though most respondents view their jobs as secure (66% happy vs. 59% globally), only 56% feel paid fairly (vs. 62% globally).
Monetary concerns are generally a big issue, with London coming second to last in the Personal Finance Index (49th). Only Vancouver (50th) does worse. Seven out of ten expats in London (70%) consider the cost of living too high, twice the global average (35%), and 38% say their disposable income is not enough for a comfortable life (vs. 28% globally).
The financial aspect also affects London's results in the Housing Subcategory (39th) of the Expat Essentials Index (27th): 80% consider housing in London to be unaffordable (vs. 43% globally). However, the city does well for Digital Life (15th) and Admin Topics (17th). For example, 80% are satisfied with the availability of government services online (vs. 61% globally), and 64% consider it easy to deal with the local authorities (vs. 40% globally).
In the Ease of Settling In Index (32nd), London gets a slightly below-average result. On the one hand, it is not too hard for expats to get used to the local culture (21st). On the other hand, 30% are unhappy with their social life (vs. 26% globally). Lastly, London also gets sub-par results for many factors in the Quality of Life Index (35th). Those in the Leisure Options Subcategory (17th) are among the exceptions. However, 16% rate their personal safety negatively (vs. 9% globally), 34% describe public transportation as too expensive (vs. 15% globally), and 35% are unhappy with the air quality (vs. 19% globally). "I do not like the pollution and certain restrictions to NHS services," says a German expat. In fact, London features among the bottom 10 for both the availability (45th) and the quality (44th) of healthcare.
Further Reading
Download
Press Contact
Selected Countries
Selected Cities