Austria
An Exceptional Quality of Life in Austria, with an Unfriendly Population
The country receives stellar results in the Quality of Life Index but other factors, especially those related to settling in, impact its placement.
In the Expat Insider 2022 ranking, Austria lands in an average 24th place out of 52. In the Quality of Life Index in particular, though, it comes in third. It owes its top place in this index, right after Spain (1st) and Taiwan (2nd), mainly to its great results in three subcategories: Travel & Transit (2nd), Health & Well-Being (3rd), and Environment & Climate (5th).
More than nine in ten expats in Austria (94%) appreciate their travel opportunities (vs. 82% globally). "I love Austria's history, architecture, and culture, as well as the ease of travel and the excellent public transportation," says an Australian expat. In fact, 91% are satisfied with the availability of public transportation (vs. 73% globally), while 85% approve of its affordability (vs. 70% globally).
Speaking of affordability and availability: 83% of expats describe healthcare in Austria as affordable (vs. 61% worldwide), and more than three-quarters (77%) confirm they can access all the healthcare services they need (vs. 67% globally).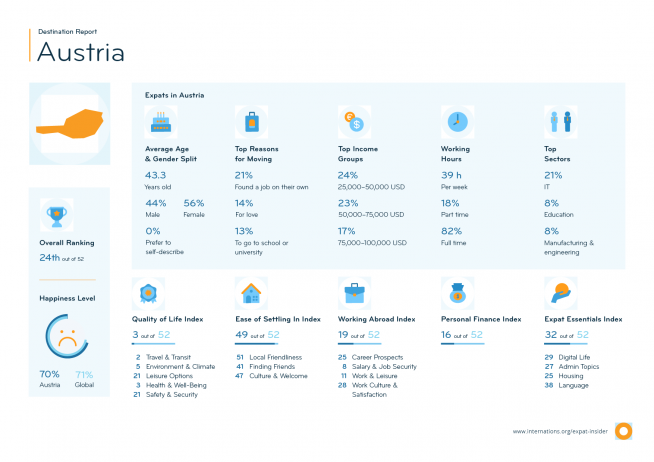 Clean & Many Options to Work Out
A clean environment is also a major part of a healthy life — and Austria does not disappoint here. Expats give positive ratings to both the natural (96% happy vs. 83% globally) and the urban environment (85% happy vs. 67% globally). And 84% judge the availability of green goods and services favorably as well, compared to 64% globally.
The results in the Leisure Options Subcategory (21st) are just slightly above average. For example, only 67% rate the local culture and nightlife positively, which is the same as the global average. However, close to nine in ten (88%) are happy with the opportunities for recreational sports (vs. 75% globally), and 47% are even completely satisfied (vs. 38% globally).
Solid in Terms of Work & Finance
Despite the high quality of life, Austria does not seem to be too expensive. It ranks 16th out of 52 in the Personal Finance Index. Slightly more than half (53%) rate the cost of living positively (vs. 45% globally), and 64% are happy with their financial situation (vs. 60% globally).
Its 19th place in the Working Abroad Index is equally solid but far from outstanding. Expats are satisfied with several key aspects: 68% give their job security a good rating (vs. 59% globally), and 85% describe the state of the local economy positively (vs. 64% globally). However, only 62% believe that they are paid fairly based on their industry, qualifications, and role, which is just the same as the global average.
Ample leisure time might make up for a slight dissatisfaction with salaries: 72% are happy with their working hours (vs. 63% globally). But expats are a bit more critical of the Career Prospects (25th) and the Work Culture & Satisfaction (28th) Subcategories: 35% believe the local business culture stifles creativity and unconventional thinking (vs. 26% globally), and 26% are unhappy with their career prospects (vs. 22% globally). "The international job market is very small and limited to specific positions," an expat from Italy comments.
Affordable Housing — Lack of Cashless Payments
The Expat Essentials Index is the first topic where Austria's ranking drops below the global average (32nd). The results in three of its subcategories are rather mediocre: Housing (25th), Admin Topics (27th), and Digital Life (29th). However, a closer look reveals that Austria does quite well for some of the factors and quite badly for a few others.
For example, 93% of expats appreciate the unrestricted access to online services (vs. 82% globally), and 47% consider local housing affordable (vs. 39% globally). On the other hand, 14% find it hard to pay without cash (vs. 8% globally), and 31% of those who needed a visa struggled with getting one (vs. 24% globally).
Moreover, Austria only ranks 38th in the Language Subcategory. Expats find it neither easy to live there without speaking the local language (39th) nor to learn it (31st). "Fluent German would be a huge benefit, but I do not see myself achieving this," a British expat states.
One of the Unfriendliest Destinations Worldwide
Placing 49th in the Ease of Settling In Index, Austria ends up among the worst-rated destinations worldwide. It also ranks among the bottom 10 in two subcategories, coming 51st for Local Friendliness and 47th for Culture & Welcome. Austria does just a little better in the Finding Friends Subcategory (41st).
Expats in Austria find it hard to make local friends (52% unhappy vs. 37% worldwide). "It takes such a long time to make local friends here," a respondent from Chile remarks. Another 41% also describe the local population as unfriendly towards foreign residents, more than twice the global average (18%). Moreover, 34% find it hard to get used to the local culture (vs. 19% globally), while 28% do not feel welcome (vs. 16% globally).
Further Reading
Download
Press Contact
Selected Countries
Selected Cities