Abu Dhabi
Abu Dhabi Offers Excellent Healthcare & Worry-Free Bureaucracy
Expats in Abu Dhabi face little red tape, have an easy time settling in, and enjoy a high quality of life.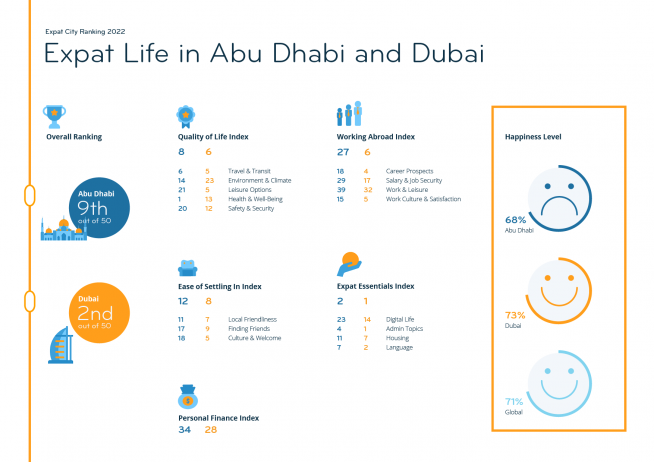 Abu Dhabi ranks 9th out of 50 in the Expat City Ranking 2022. The capital city performs best in the Expat Essentials Index (2nd), placing just behind Dubai. Like in Dubai, expats are especially happy with the Admin Topics Subcategory (4th): expats find it easy to open a local bank account (74% happy vs. 64% globally) and deal with local bureaucracy (53% vs. 40% globally). What is more, 72% say that it is easy for expats to find housing (vs. 54% globally).
However, while Dubai (6th) excels in the Working Abroad Index, Abu Dhabi only ranks midfield (27th). While three in four expats in Abu Dhabi (75%) feel that moving there has improved their career prospects (vs. 60% globally), 31% feel paid unfairly for their work (vs. 20% globally). Perhaps it could also be connected to the perceived low pay that the city places in the bottom 10 for expats' satisfaction with their financial situation (43rd), leading to a below-average ranking in the Personal Finance Index (34th).
Expats are quite pleased when it comes to the Ease of Settling In Index (12th). Around three in four (72%) describe the local population as being friendly towards foreign residents (vs. 65% globally). "The local Emiratis are welcoming, helpful, and friendly," shares a British expat. After getting settled in, expats find a great Quality of Life (8th) in Abu Dhabi. The city claims first place for both the availability of healthcare and the quality of medical care in the Health & Well-Being Subcategory (1st), compared to Dubai's 13th place rank in this subcategory. While the capital city ranks much lower than Dubai for Leisure Options (21st vs. 5th, respectively), both Abu Dhabi and Dubai perform very well for personal safety (3rd and 2nd, respectively).
Further Reading
Download
Press Contact
Want to take a look
at other years' results?
Check out the Expat Insider 2021!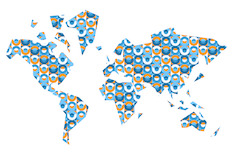 Selected Countries
Selected Cities