Brazil Report
Expat Life in Brazil — Unsafe and Uninspiring?
Brazil offers poor results across the board, ranking in the bottom 10 for three out of the five indices, and safety and security remains a huge problem for expats.
Friendly locals are not enough to boost Brazil past the halfway mark: it ranks 37th out of 64 countries for ease of settling in.
Brazil offers little in the way of a good family life.
Expensive healthcare and poor safety provisions leave quality of life lacking.
A substandard economy can leave expats struggling to afford the cost of living.
19% are unhappier after moving abroad (vs. 16% globally).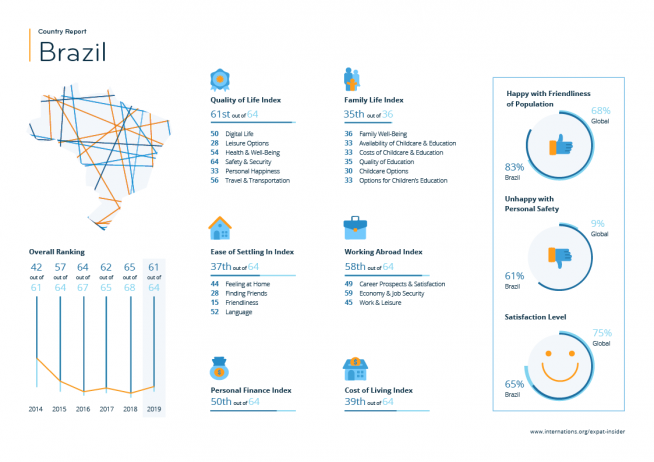 Language Holds the Key to Finding Friends
Expats seem to have mixed feelings about life in Brazil when it comes to the ease of settling in, with the country ranking a below-average 37th place in the respective index. The majority (56%) agrees that making new friends is easy — but this is only two percentage points above the global average (54%). Nevertheless, over three-quarters of expats (77%) agree that locals in Brazil have a friendly attitude towards foreign residents (vs. 65% globally), while just over eight in ten (83%) are happy with the general friendliness of the population (vs. 68% globally). Over two in five (41%) even give the best possible rating here.
Without knowing the language, you cannot connect with people as much.
Looking at the results surrounding language, knowing the local language seems to be the key to making friends in Brazil. Not counting native speakers, over nine in ten expats (94%) say they can speak the local language at least a little (vs. 75% globally), and 45% even say they speak it very well (vs. 28%). Additionally, 56% of respondents agree that making local friends is easy (vs. 42% globally), with 49% stating that their friends and acquaintances are mostly made up of local residents (vs. 19% globally). One Indian expat explains that "without knowing the language, you cannot connect with people as much".
Families Shaken by Poor Safety
Life in Brazil does not seem to offer up much for expat families. The country disappoints expat parents when it comes to the availability and cost of childcare and education, ranking 33rd out of 36 countries in both subcategories: just 26% of expats raising children agree that childcare in Brazil is easy to afford (vs. 43% globally), while merely 19% are satisfied with the affordability of education (vs. 49% globally). Expat parents also do not seem to be getting what they pay for, as just over two in five (43%) are happy with the quality of education in Brazil (vs. 69% globally).
Despite ranking last for family well-being in general, expat parents in Brazil do appreciate the friendly attitude towards families with children: 85% of expats raising children are satisfied with this factor (vs. 81% globally). However, less than two-thirds of expat parents (64%) are happy with family life in general; noticeably below the global average of 79%. Brazil also lands in second-to-last place for children's safety, with just 35% satisfied, a huge 46 percentage points less than the global average of 81%.
Poor Prospects Just Not Enough
Brazil fails to impress in the Working Abroad Index, ranking just 58th out of 64 countries. Despite a 15-place increase, Brazil still only comes 46th for job security (vs. 61st out of 68 in 2018): just 55% rate this factor positively, compared to nearly three in five globally (59%).
Expats seem to be even less happy with the state of the economy: just 16% are satisfied, which is a huge contrast to the global average of 63%. Since the recession in 2015, Brazil's economy has been recovering at a very slow pace of roughly 1.1% a year, and economists don't see it improving any time soon. The unemployment rate in Brazil has nearly doubled since 2012, while the official unemployment survey shows that 28.3 million people are being underutilized — either not working or working less than they could be.
The corporate world does not give you many opportunities when you are a foreigner.
Of those respondents who are overall unhappy with their life in Brazil, around a third (32%) say that being unable to find a job is one reason for their unhappiness (vs. 22% globally). One Congolese expat states that "the corporate world, in general, does not give you many opportunities when you are a foreigner", a view that seems to be echoed by the 25% of expats who rated their career prospects negatively.
Climbing Costs Disappoint Expats
Expats seem to struggle with their personal finances in Brazil, with the country ranking 50th in the respective index. In part, this could be due to the high costs of living: 43% of respondents express being unhappy with costs (vs. 34% globally).
Meanwhile, over one-quarter (26%) are dissatisfied with their financial situation in Brazil, compared to 18% worldwide, ranking the country a poor 58th place for this factor. While the same share of expats globally and in Brazil (49%) express that their disposable household income is more than enough to cover their daily costs, 17% of expats working in Brazil also say that their income is a lot lower than it would be in their home country (vs. 9% globally).
Personal Safety Still an Issue
Brazil also places poorly for quality of life, ranking 61st in this index. It finds itself once again at the bottom of the heap regarding safety and security (64th place), something that seems to be an issue for expats before even arriving in Brazil: 58% recall that this was a major concern before moving (vs. 12% globally). A shocking 61% even rate their personal safety badly, compared to just 9% globally. "Personal safety in public is an ongoing concern," shares one US American expat in Brazil. Similarly, just 38% give Brazil's peacefulness a positive rating, forty percentage points less than the global average (78%).
Personal safety in public is an ongoing concern.
However, Brazil doesn't just lose out because of safety and security: the country ranks just 54th in the Health & Well-Being subcategory. A below average 56% rate the quality of Brazilian medical care positively (vs. 65% globally), and just 36% agree that healthcare is affordable (vs. 55% globally).
Further Reading
Download
Press Contact
Want to take a look
at other years' results?
Check out the Expat Insider 2022!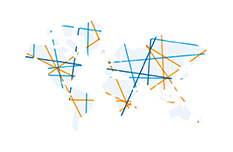 Selected Countries
Selected Cities