Italy Report
Italy: Of Pasta and Problems
The cradle of European culture still offers la dolce vita in the form of a pleasant climate and low working hours. Otherwise, Italy's current situation leaves a lot to be desired.
Italy's struggle with the economic crisis in recent years has also left its impression on expat life. In the Personal Finance Index the country ranks 61st, the fourth lowest of all countries surveyed. This obviously also plays a role in Italy's poor overall ranking at 58th place.
Living in Italy isn't all doom and gloom, though, as the country ranks a solid 32nd out of 64 in the Quality of Life Index, performing averagely in all the relevant subcategories. Expatriates in Italy seem to be relatively happy, too, despite the economy; almost four-fifths (79%) are more or less pleased with their lives.
Expat Statistics 2015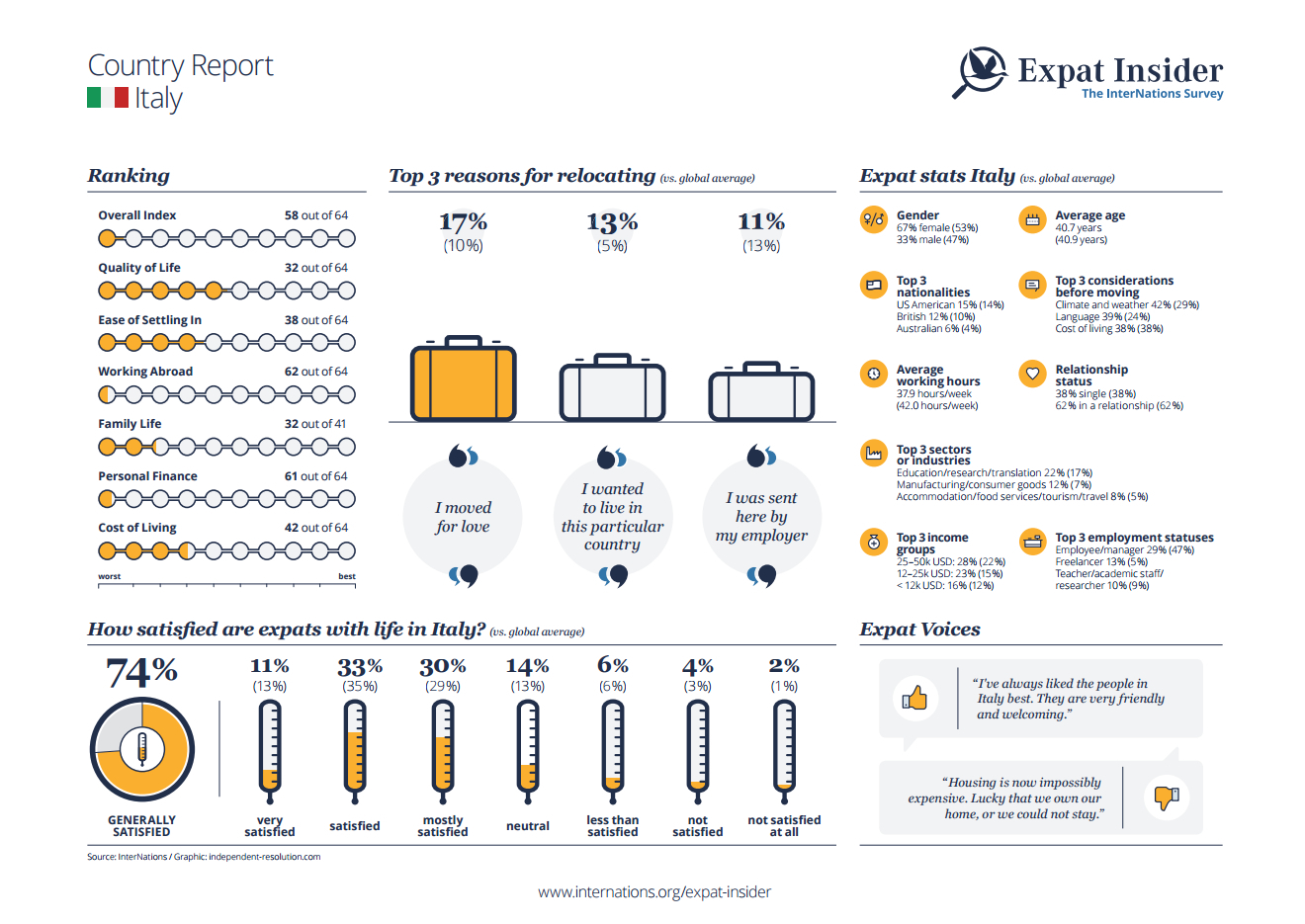 Embed this image on your website:
A Warm Welcome
Expatriates do not generally have difficulties with the Italian culture: two-thirds of them say they feel at home in Italy and the local population is found to be pleasant company, as 75% rate the Italians' friendliness positively. Similarly, getting used to the local culture is regarded to be painless by 67% of the respondents, as opposed to a global 60%.
The Italian language is rather simple to learn, at least according to the survey participants; 54% consider learning the local language more or less easy. Worldwide this opinion on a host country's tongue is shared by only a little more than a third (37%). On the other hand, expats might encounter some challenges if they do not know Italian; two-thirds say that it is difficult to live in the country without speaking the language.
Career Prospects in a Tailspin
As mentioned before, Italy's economy has definitely seen better days, as its state is considered to be poor by over three-fifths of respondents (62%). In global comparison this result is particularly striking, since the worldwide percentage of expats with an unfavorable view of their respective country's economy is a mere 21%. There is also a huge difference in employment and incomes between the industrialized north and the agricultural south.
Expats in Italy do not have particularly high expectations for their careers, either. Only 37% say they are overall happy with the career prospects in the country as compared to the worldwide average of 56%. Also, job security is seen as sub-par and regarded negatively by two-fifths of the participants in Italy, while globally only 22% have such concerns.
Overall, these factors result in Italy ranking 62nd in the Working Abroad Index, succeeded only by Portugal (63rd) and Greece (64th).
Empty Piggy Banks
With the employment situation being what it is, it should come as no surprise that expats in Italy have reason to complain about their finances, too. Almost a third of the participants in Italy (32%) say that their disposable household income is not quite sufficient for their daily lives, resulting in the fourth lowest position in the Personal Finance Index. In the Cost of Living Index, the country does a little better, although the 42nd position (a lower ranking indicates a higher cost of living) is definitely nothing to write home about, either.
Averageness in Education
Family life in Italy is not believed to be in quite as deplorable a state as the country's economy. However, ranking 32nd out of 41 countries in the Family Life Index, Italy does not really shine in any of the related subcategories, either.
Children's education is found to be rather more affordable than childcare; while the former is considered to be not too pricey by 43% of respondents, only 24% say the same about the latter. Globally the respective percentages are 41% and 42%. In part, this might have something to do with the choice of education: over half of expat parents in Italy (53%) have sent their kids to a local state school, compared to a global average of just 30%.
The quality of education is given a favorable score by a little over half of the parents (57%), which is somewhat below the worldwide average of 65%. Nevertheless, overall, expat families in Italy seem to be doing alright, since the majority (86%) rates family life in general as positive.
Further Reading
Download
Press Contact
Related Topics
Want to take a look
at other years' results?
Check out the Expat Insider 2022!