Valencia
Valencia: Livable, Friendly & Affordable
Valencia comes 1st out of 50 cities worldwide in the Expat City Ranking 2022. Expats love the quality of life and ease of settling in — they are less enthusiastic about working abroad in Valencia, though.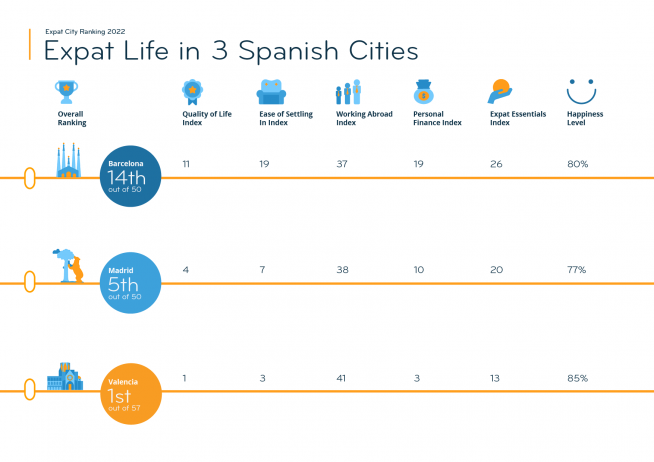 Valencia not only ranks first overall, it is also the best city in the Quality of Life Index. Expats love the infrastructure for Travel & Transit (3rd): 85% describe public transportation as affordable (vs. 70% globally). Valencia also offers great opportunities for recreational sports (92% happy vs. 75% globally), among other leisure activities. "I love the opportunity to do activities in the outdoors regularly," says a UK expat. Moreover, the city ranks highly for Health & Well-Being (4th), due to affordable healthcare (2nd) and easy access to medical services (7th). Lastly, 92% of expats feel safe there (vs. 81% globally).
Valencia comes third in the Ease of Settling In Index: 74% of expats feel at home there (vs. 62% worldwide), ranking the city second for this factor. Only Mexico City does better in this regard. Expats describe the local residents as friendly (85% vs. 66% globally) and are happy with their social life (72% vs. 56% globally). The city ranks 3rd out of 50 in the Personal Finance Index, even placing 1st for cost of living: 83% of expats rate it positively, compared to 45% worldwide. About two-thirds (67%) are also happy with their financial situation (vs. 60% globally) — 38% are even completely satisfied with this factor (vs. 22% globally).
However, Valencia receives slightly mixed results in the Expat Essentials Index (13th). It does very well in the Housing Subcategory (3rd), even ranking first for affordable housing. But the local bureaucracy is not that easy to deal with: 52% of expats rate this factor negatively (vs. 39% globally). "The government processes are pretty inefficient," says a New Zealand expat.
The Working Abroad Index (41st) is by far Valencia's weakest point. In fact, it places last for Career Prospects (50th): 50% of expats rate the local job market negatively (vs. 27% globally), and 30% judge their own career opportunities unfavorably (vs. 22% globally). Overall, just 56% are happy with their job in general, which is below the global average (64%). However, it should be noted that only 8% of respondents actually moved there for work-related reasons, compared to 36% globally. The most popular reasons for moving to Valencia are a better quality of life (23% vs. 7% globally) and the plan to retire abroad (23% vs. 3% globally).
Further Reading
Download
Press Contact
Want to take a look
at other years' results?
Check out the Expat Insider 2021!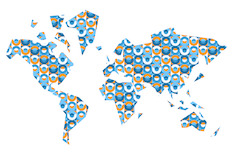 Selected Countries
Selected Cities