Sydney
Sydney Is a City Full of Opportunities
Sydney comes 13th out of 50 cities in the Expat City Ranking 2022. While expats worry about costs, they enjoy a relatively high quality of life.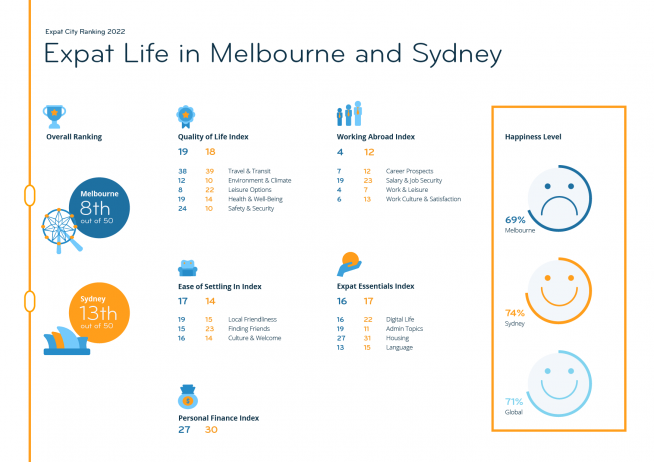 In the Expat City Ranking 2022, Sydney places 13th. Like Melbourne, it does best in the Working Abroad Index (12th). Here, too, expats appreciate their working hours (75% vs. 63% globally), the job market (71% vs. 47% globally), and fair pay (68% vs. 62% globally). They also agree that the business culture supports flexibility (78% vs. 60% globally), independent work (62% vs. 45% globally), and creativity (61% vs. 51% globally).
Sydney ranks 14th in the Ease of Settling In Index. Expats not only find it easy to get used to the local culture (78% vs. 62% globally). They also describe the local population as generally friendly (71% happy vs. 66% globally) and friendly towards foreign residents (70% vs. 65% globally). About two in three expats (65%) have a personal support network in Sydney (vs. 59% globally).
In the Expat Essentials Index (17th), Sydney ranks first for the ease of opening a local bank account. Similar to Melbourne, expats find it easy to deal with the local bureaucracy (67% happy vs. 40% globally), but it was hard to get a visa to relocate there (42% unhappy vs. 24% globally). They also like the availability of government services online (74% vs. 61% globally). However, the housing market seems even worse than in Melbourne: 77% consider housing in Sydney unaffordable (vs. 59% in Melbourne and 43% globally). More generally speaking, the Personal Finance Index (30th) is Sydney's weakest point. Nearly three in five expats (59%) think that the local cost of living is too high (vs. 35% globally).
Respondents at least get to enjoy a relatively high Quality of Life in Sydney, which ranks 18th in this index. Expats love the natural environment (7th), the climate and weather (10th), and the freedom to openly express themselves and their opinions (9th). Sydney offers even better opportunities for recreational sports than Melbourne (91% happy vs. 86% in Melbourne and 75% globally). However, expats are less enthusiastic about the culture and nightlife (66% happy vs. 83% in Melbourne and 67% globally). Still: "Not only are there plenty of work and educational opportunities, but the overall quality of life is outstanding," says an expat from the UK.
Further Reading
Download
Press Contact
Want to take a look
at other years' results?
Check out the Expat Insider 2021!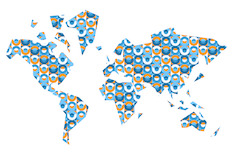 Selected Countries
Selected Cities