Rome
Expats Feel at Home in Rome despite a Low Quality of Life
Rome only ranks 41st out of 50 cities in the Expat City Ranking 2022 due to a complicated bureaucracy, dissatisfying healthcare system, and a lack of career opportunities.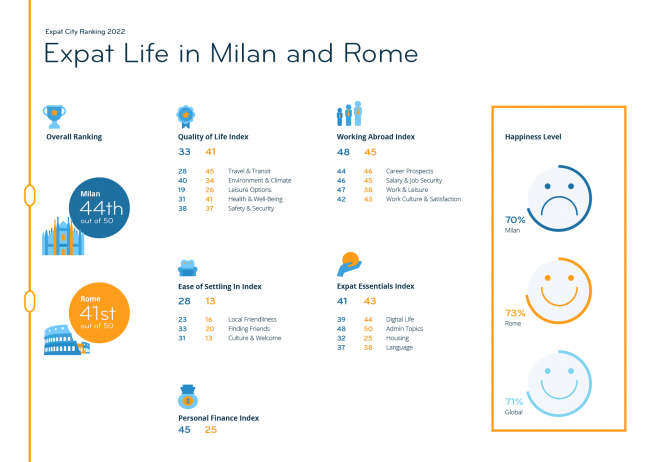 Rome lands in the bottom 10 of the Working Abroad Index (45th). It performs especially poorly in the Career Prospects Subcategory (46th). Expats there are unhappy with the local job market (38% unhappy vs. 27% globally), and 24% feel that moving there has not improved their career prospects (vs. 18% globally). The city also performs poorly in the Work Culture & Satisfaction (43rd) and Salary & Job Security (45th) Subcategories. More than one-third (34%) are concerned about the state of the economy (vs. 17% globally): "Italy's biggest problem is the economy," shares an Iranian expat.
The city does not fare much better in the Expat Essentials Index (43rd). In fact, it ranks last worldwide in the Admin Topics Subcategory (50th). Expats feel that it is difficult to get a visa to move there (35% unhappy vs. 24% globally), to open a local bank account (46% vs. 21% globally), and to deal with local bureaucracy and the authorities (73% vs. 39% globally). This may be partly due to the lack of administrative and government services online (50% negative ratings vs. 21% globally), with Rome ranking last worldwide (50th) for this factor.
Rome also ends up among the bottom 10 in the Quality of Life Index (41st). Getting around is a major issue for expats. They are unhappy with the availability of public transportation (38% unhappy vs. 17% globally) and the infrastructure for cars (36% vs. 13% globally). They are also dissatisfied with both the quality (43rd) and the availability (48th) of healthcare, and 28% report that it is difficult to access all the kinds of healthcare services that they need (vs. 17% globally).
On the positive side, the city performs well in the Ease of Settling In Index (13th). Three in four expats (75%) feel at home in Rome (vs. 62% globally), and 69% have a personal support network there (vs. 59% globally). Lastly, Rome ranks midfield in the Personal Finance Index (25th), which is mainly due to the satisfaction with the general cost of living (56% happy vs. 45% globally). Still, 42% feel that their disposable household income is not enough to lead a comfortable life in Rome (vs. 28% globally).
Further Reading
Download
Press Contact
Want to take a look
at other years' results?
Check out the Expat Insider 2021!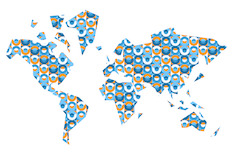 Selected Countries
Selected Cities