Oman
Oman Welcomes Expats with Open Arms
Housing is easy to find and to afford in Oman, and expats don't struggle to settle in.
Expats find it very easy to find their footing in Oman, as the country ranks 5th out of 52 in the Ease of Settling In Index. In fact, nearly four in five expats in Oman (79%) feel welcome there (vs. 66% globally). "There is a good, accommodating culture here," says a Pakistani expat.
The country ranks third in the Local Friendliness Subcategory, with 89% describing the Omanis as generally friendly towards foreign residents (vs. 65% globally). A British expat notes that "the local people are very friendly and make you feel very welcome in the relaxed atmosphere". In fact, Oman ranks second worldwide for the general friendliness towards foreign residents, only beaten by Mexico.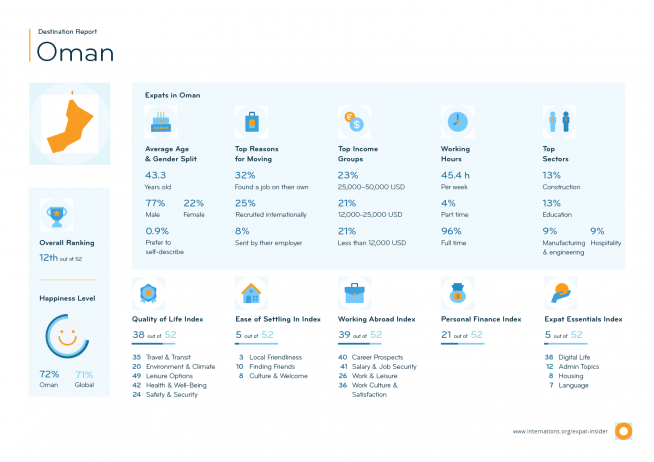 Supported &Connected Expats
With a friendly and welcoming culture, Finding Friends is also a high point. Oman ranks tenth in this subcategory. Nearly two in three expats in Oman (65%) find it easy to make local friends (vs. 42% globally). Close to two-thirds of expats (63%) have a personal support network in Oman (vs. 59% globally), and 73% find it easy to get used to the local culture (vs. 62% globally). More than one-third (34%) even find it very easy, compared to 24% globally.
The Basics of Life in Oman
Oman also excels in the Expat Essentials Index (5th), ranking in the top 10 in both the Housing (8th) and Language (7th) Subcategories. Expats say that housing is easy to find (79% vs. 54% globally) and to afford (57% vs. 39% globally) in Oman. Additionally, it is easy to live in Oman without speaking the local language (75% vs. 51% globally). However, expat life in Oman is not completely free: 13% of expats feel that their access to online services, such as social media, is restricted, nearly twice the global average (7%).
Disappointing Job Prospects
Expats rate Oman rather poorly when it comes to Working Abroad (39th). The majority of expats in Oman (53%) is unhappy with the local job market, nearly double the global average (27%). Oman even ends up in the bottom 10 for personal career opportunities (46th). Accordingly, nearly one in three expats (31%) are unhappy with this factor (vs. 22% globally). An Indian expat feels that "there are no career opportunities for women".
Mixed Results for Work Culture
Salary is another low point for Oman, as about one in four expats (26%) feel that they are not paid fairly for their work (vs. 20% globally). What is more, 36% are also worried about their job security, compared to 20% globally. Only 45% feel that the work culture in Oman supports flexibility (vs. 60% globally), which makes the country fall behind today's increasingly modern world of business. Still, 66% are happy with their work-life balance (vs. 62% globally).
Difficulty Getting Out & About
Oman falls short when it comes to Leisure Options (46th): over one in three expats (34%) are unhappy with the culture and nightlife (vs. 16% globally), and 15% are not satisfied with the opportunities for recreational sports (vs. 11% globally). A Syrian expat explains that "there is a lack of activities outside the capital".
It also seems hard to get to the activities, since the country ranks in the bottom 10 for both the affordability (46th) and the availability (52nd) of public transportation. While 73% of expats find it easy to get around on foot and/or by bicycle (vs. 77% globally), they are happiest with the infrastructure for cars (91% vs. 75% globally).
Clean Air but No Green Goods
Expats are generally satisfied with the Environment & Climate (20th). Especially in regards to air quality, Oman only narrowly misses out on the top 10 (11th). While the respondents find that the government supports policies to protect the environment (70% vs. 61% globally), they are disappointed with the availability of green goods and services (30% unhappy vs. 17% globally).
Further Reading
Download
Press Contact
Selected Countries
Selected Cities