New York City
New York City Is Expensive but Offers Great Work Opportunities
With New York City coming in 16th place overall, the working there is a major highlight for expats.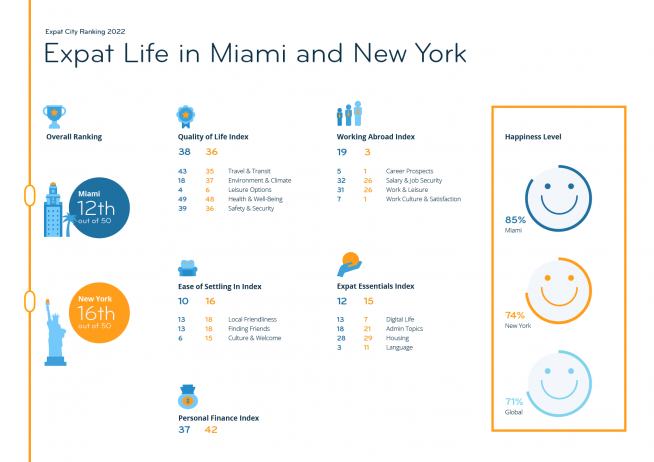 New York City makes it into the top 3 in the Working Abroad Index (3rd). They rank the city first worldwide in both the Career Prospects and Work Culture & Satisfaction Subcategories. About four in five expats (79%) are happy with the local job market (vs. 47% globally), and 84% are satisfied with their personal career opportunities (vs. 58% globally). "There are many opportunities for anyone who is prepared to work," says a South African expat.
New York City also ranks well in both the Ease of Settling In (16th) and the Expat Essentials (15th) Indices. The Digital Life Subcategory (7th) is another positive point for expats: for example, 87% are happy with the ease of getting high-speed internet access at home (vs. 79% globally). On the downside, expats encounter difficulties in the Personal Finance Index (42nd). In fact, 58% of expats in New York City are unhappy with the cost of living, compared to only 35% globally. "It is expensive, you need big savings to live here," shares a Philippine expat.
In the Quality of Life Index (36th), the city receives mixed results. Like Miami (49th), New York City (48th) does not please expats in the Health & Well-Being Subcategory. Over one in four (26%) say that it is difficult to access all the kinds of healthcare services that they need (vs. 17% globally). Another 15% are concerned about their personal safety (vs. 9% globally). However, while Miami ranks last (50th) for the availability of public transportation, New York City performs much better (31st). Additionally, New York City satisfies expats with great culinary & dining options (6th) and its culture & nightlife (8th).
Further Reading
Download
Press Contact
Want to take a look
at other years' results?
Check out the Expat Insider 2021!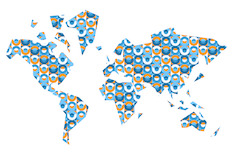 Selected Countries
Selected Cities