Miami
Miami: Welcoming but Hard to Get Around
Miami only just misses a spot in the top 10 overall. Expats are particularly happy with the ease of settling in and getting the basics organized. There are also some topics they struggle with, though.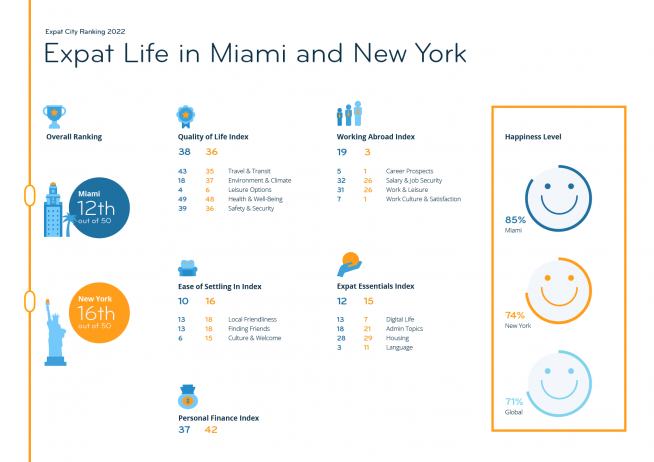 Miami ranks 12th out of 50 cities in the Expat City Ranking 2022 and performs best in the Ease of Settling In Index (10th). Expats rank the city sixth in the Culture & Welcome Subcategory, where 89% find it easy to get used to the local culture (vs. 62% globally). Only Mexico City (1st) performs better for this factor. The city also performs well in the Expat Essentials Index (12th). Expats report that it is easy to get high-speed internet access at home (4th), pay without cash (6th), and open a local bank account (5th).
The city ranks midfield in the Working Abroad Index (19th), performing best in the Career Prospects (5th) and Work Culture & Satisfaction (7th) Subcategories. Expats are particularly happy with their personal career opportunities (75% vs. 58% globally) and feel that the local business culture encourages creativity / thinking outside of the box (75% vs. 51% globally). However, about one in four (24%) are unhappy with their working hours (vs. 17% globally).
Lastly, Miami does not do well in the Personal Finance (37th) and Quality of Life (38th) Indices. The city lands in the bottom 10 of the Travel & Transit Subcategory (43rd). In fact, Miami ranks last worldwide for the availability of public transportation (50th) — 57% of expats are dissatisfied with this factor, more than three times the global average (17%). The Health & Well-Being Subcategory (49th) is another major lowlight for Miami; only Dublin (50th) performs worse. "The health system and insecurity make me crazy," a Spanish expat shares. In fact, expats find healthcare unaffordable (60% unhappy vs. 21% globally) and unavailable (25% vs. 13% globally).
Further Reading
Download
Press Contact
Selected Countries
Selected Cities