Madrid
Madrid Offers Great Leisure Activities & a Welcoming Culture
Madrid (5th) is the second Spanish city in the global top 10. Expats love the quality of life and comparatively low cost of living — but not everything's great.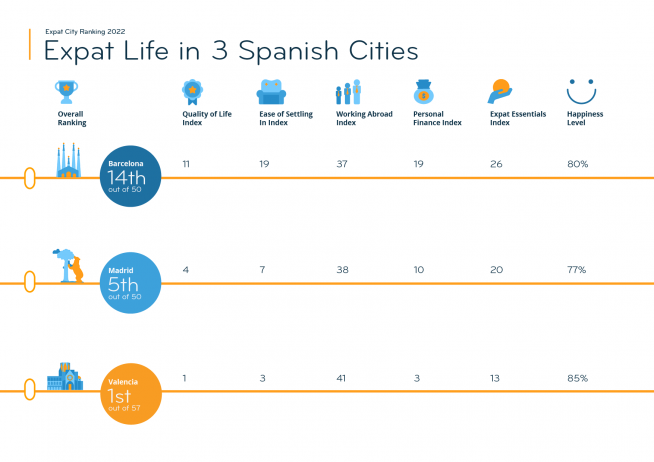 In the Expat City Ranking 2022, Madrid places 5th out of 50. It performs best in the Quality of Life Index (4th). Expats love the climate and weather (88% happy vs. 62% globally) and their travel opportunities (95% vs. 82% globally). Madrid places third for Leisure Options, where expats are particularly happy with the available culture and nightlife (90% happy vs. 67% globally) and the culinary variety and dining options (92% vs. 77% globally).
In the Ease of Settling In Index (7th), Madrid also shines, particularly in the Culture & Welcome Subcategory (4th). Expats find it easy to get used to the local culture (77% happy vs. 62% globally) and feel welcome (77% vs. 66% globally). Moreover, 71% have a personal support network in Madrid (vs. 59% globally). "It was so easy to get integrated and be a part of local life!" a French expat comments. The city makes it into the top 10 of the Personal Finance Index (10th) as well. This is mainly due to the cost of living (7th), rated positively by 69% (vs. 45% globally). However, only 74% say that their household income is enough or more than enough for a comfortable life, about the same as the global average (72%).
Madrid comes in an above-average 20th place in the Expat Essentials Index. It does really well for some factors, such as affordable housing (45% happy vs. 39% globally) or high-speed internet access (89% vs. 79% globally). But expats are more critical of some other aspects, for example, the availability of government services online (29% unhappy vs. 21% globally).
Like all the Spanish cities in this ranking, Madrid performs worst in the Working Abroad Index (38th). Among other things, expats disagree that the local business culture promotes flat hierarchies (36% unhappy vs. 28% globally) and are worried about their job security (27% vs. 20% globally). "The economy does not allow for many work opportunities here," an expat from Canada shares. In fact, 22% find that moving to the city has not improved their career prospects (vs. 18% globally).
Further Reading
Download
Press Contact
Selected Countries
Selected Cities