Lausanne
Lausanne Offers a High Quality of Life, but It's Hard to Make Friends
With its 18th place out of 50 cities, Lausanne receives a respectable results in the Expat City Ranking 2022 — even if it can't quite compete with Basel (7th).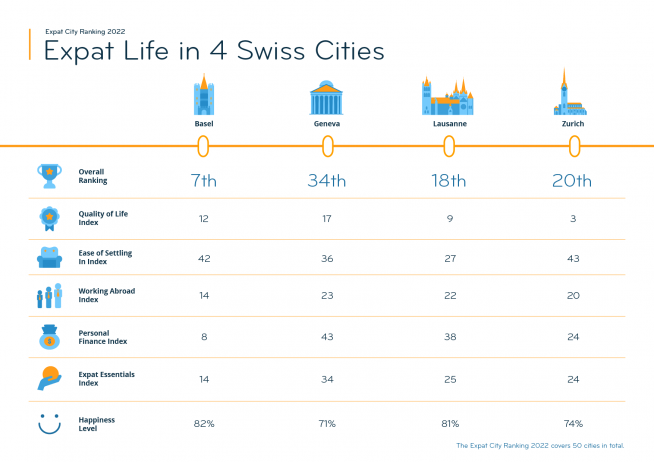 Lausanne performs best in the Quality of Life Index (9th), even ranking first worldwide in the Environment & Climate Subcategory. Expats appreciate the natural environment (1st) and the great air quality (2nd). They are also very happy with the availability of green goods and services (89% happy vs. 64% globally), and 83% agree that the government supports policies to protect the environment (vs. 61% globally). Expats also feel generally safe in Lausanne (94% happy vs. 81% globally) and find it easy and safe to get around the city by foot and/or bicycle (97% vs. 77% globally). The only real lowlights in this index are the culinary variety and dining options (48th) and the affordability of healthcare (47th).
Expats generally consider the local cost of living too high (45th): 72% rate this factor negatively, more than twice the global average (35%). Still, 67% are satisfied with their financial situation (vs. 60% globally), and the city lands in a mediocre 38th place in the Personal Finance Index. However, 75% do feel paid fairly for their work, compared to 62% globally. The city ranks 7th for this factor, 2nd for the state of the economy, and 22nd in the Working Abroad Index overall. In fact, expats are happy with their personal career opportunities (66% happy vs. 58% globally) in Lausanne and are satisfied with their job in general (73% vs. 64% globally).
In the Expat Essentials Index (25th), Lausanne features among both the top 10 and the bottom 10 cities, depending on the subcategory. It ranks eighth for Digital Life — for example, 97% find it easy to pay without cash (vs. 84% globally) — and tenth for Admin Topics: expats find it easy to open a local bank account (83% happy vs. 64% globally) and to deal with the local bureaucracy/authorities (55% vs. 40% globally). But the city ranks 41st in the Housing Subcategory since 54% of expats say it is hard to find housing in Lausanne (vs. 27% globally).
While Lausanne has the best performance out of the Swiss cities featured in the Ease of Settling In Index, it is still only in a mediocre 27th place. Expats feel at home in Lausanne (72% happy vs. 62% globally) and have a personal support network there (64% vs. 59% globally), but 48% find it hard to make local friends (vs. 37% globally).
Further Reading
Download
Press Contact
Want to take a look
at other years' results?
Check out the Expat Insider 2021!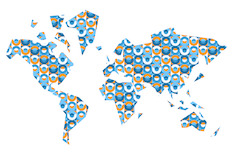 Selected Countries
Selected Cities