Hong Kong
Expats Struggle with Hong Kong's Demanding Working Life
Hong Kong ranks 46th out of 50 cities in the Expat City Ranking 2022, due to a low quality of life and tough working conditions.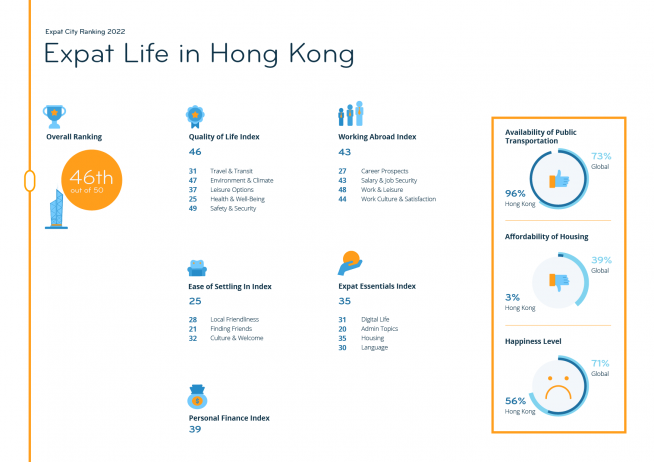 Hong Kong ranks 46th out of 50 cities in the Expat City Ranking 2022. It is the city where expats are overall unhappiest with their life abroad: 32% are generally unhappy, compared to 13% globally. One reason for this could be the low Quality of Life, with Hong Kong ranking 46th in this index. Expats find it to be lacking when it comes to the Environment & Climate (47th). Over half (56%) are unhappy with the city's air quality, nearly three times the global average (19%). "There are all kinds of pollution," reports a Taiwanese expat. The city even ranks last worldwide (50th) when it comes to the availability of green goods and services, such as renewable energy, organic food, and sustainable products. Additionally, 42% of expats feel that the government does not support policies to protect the environment (vs. 18% globally). Expats also rank Hong Kong last worldwide (50th) for its political stability, and only 28% feel that they can openly express themselves and their opinions, less than half the global average (64%).
On the positive side, not one respondent is unhappy with the availability of public transportation (vs. 17% globally), while 76% are very satisfied with this factor (vs. 43% globally). "There are excellent public transportation options," notes an expat from the United States. Expats also rank the city fifth for the affordability of public transportation (93% happy vs. 70% globally).
The Working Abroad Index (43rd) is a low point for Hong Kong. Expats are especially disappointed with the Work & Leisure Subcategory (48th). The city ranks second to last (49th) for working hours — only Istanbul (50th) performs worse for this factor — and 48th for work-life balance. Hong Kong also ranks among the bottom 10 in the Salary & Job Security (43rd) and Work Culture & Satisfaction (44th) Subcategories: nearly three in ten expats (28%) feel that the business culture does not encourage flexibility (vs. 19% globally), and 46% say that it does not encourage creativity (vs. 26% globally).
The city ranks midfield in the Ease of Settling In Index (25th). A particular highlight in this index: over two in three expats (68%) feel that they have a personal support network in Hong Kong (vs. 59% globally), which places the city fourth for this factor. Lastly, Hong Kong receives mixed results in the Expat Essentials Index (35th). While 60% of expats say that the local language is difficult to learn (vs. 38% globally), 86% of expats agree that it is easy to live in Hong Kong without speaking it (vs. 51% globally). While nearly two in three (66%) consider it easy for expats to find housing (vs. 54% globally), 89% find it unaffordable (vs. 43% globally). Affordability seems to be a general problem, as the city ranks 46th for general cost of living. Accordingly, Hong Kong only places 39th in the Personal Finance Index.
Further Reading
Download
Press Contact
Want to take a look
at other years' results?
Check out the Expat Insider 2021!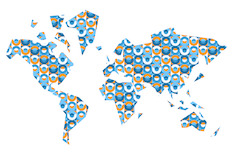 Selected Countries
Selected Cities