China
Expats in China Struggle with the Local Business Culture
Expats are happy with their personal finances but dissatisfied with the digital life and business culture.
Ranking 33rd in the Expat Insider 2022 survey overall, China performs best in the Personal Finance Index (9th). Expats are happy with their financial situation (70% satisfied vs. 60% globally), and 86% report that their disposable household income is enough or more than enough to lead a comfortable life (vs. 72% globally). This places China second for this factor, just behind Vietnam (1st). Moreover, 53% of expats are satisfied with the general cost of living in China, compared to a global average of 45%. "Everything is extremely affordable and easily accessible in China," says an expat from Zimbabwe.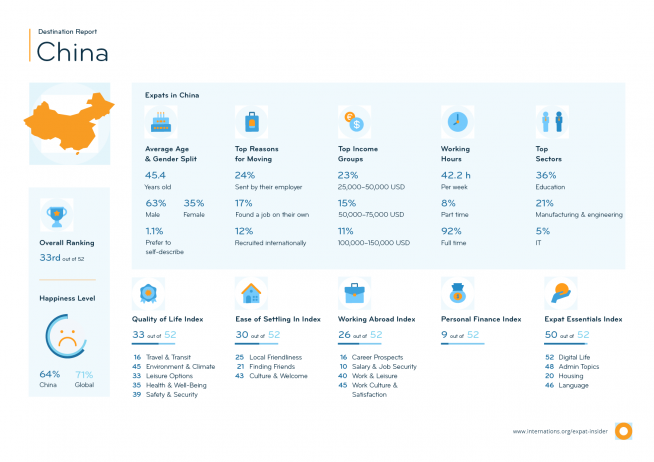 Easy to Get Around
China also ranks well in the Travel & Transit Subcategory (16th). It is one of the countries where expats find public transportation the most affordable (3rd), only beaten by Luxembourg (1st) and Estonia (2nd). Almost all expats are happy with both the affordability (95% vs. 70% globally) and the availability (93% vs. 73% globally). They also feel safe when getting around by foot and/or by bicycle (92% vs. 77% globally). However, 28% of expats are unhappy with their travel opportunities, more than triple the global average (8%).
The Natural Environment Is Lacking
In the end, China only ranks 33rd in the Quality of Life Index, which is partly due to its bottom 10 spot in the Environment & Climate Subcategory (45th). More than one in four expats (26%) rate the country's natural environment negatively, compared to only 8% globally. Expats also struggle with the availability of green goods in China (45th) — about one in three (34%) are unhappy with this factor (vs. 17% globally). The air quality (43rd) is another topic that China places in the bottom 10 for. "I know we will not have a clear sky, and I worry about how this will affect my health," says a Belgian expat.
Good Salaries & Job Security
In terms of Working Abroad (26th), China's performance is mixed. The country ranks very well in the Salary & Job Security Subcategory (10th): three in four expats working in China (75%) feel that they are paid fairly in accordance with their industry or field of work (vs. 62% globally). Expats are also happy with the state of the economy in China (78% vs. 64% globally) and their job security (64% vs. 59% globally).
A Poor Working Culture
When it comes to Work Culture & Satisfaction (45th), the country has its downsides. More than half the expats in China (52%) believe that the work culture does not encourage creativity (vs. 26% globally), and 44% find that it does not support flexibility (vs. 19% globally). In addition, 50% say that the business culture does not promote independent work / flat hierarchies, either, compared to only 28% globally. Interestingly, China still performs well in terms of expats seeing a purpose in their work (10th) and expressing overall job satisfaction (9th) — 71% of expats in China are happy with their job in general, compared to 64% globally.
Expats Struggle to Feel at Home
Expats have mixed views of China when it comes to the Ease of Settling In Index (30th). Nearly three in four expats (73%) have a personal support network (vs. 59% globally), ranking the country third for this factor. On the other hand, expats vote China among the bottom 10 in the Culture & Welcome Subcategory (43rd). About one in five expats (19%) do not feel welcome in China (vs. 16% globally), and 26% do not feel at home there (vs. 21% globally). Additionally, 31% find it difficult to get used to the local culture, compared to 18% globally.
The Worst-Rated Destination for Digital Life
In the Expat Essentials Index, China features among the bottom 3 countries (50th), with only Germany (52nd) and Japan (51st) ranking even worse. Although nine out of ten expats (91%) are happy with the cashless payment options (vs. 84% globally), China places last worldwide in the Digital Life Subcategory (52nd), due to its highly restricted access to online services (such as social media). In fact, 69% of expats are unhappy with this factor, compared to only 7% globally. Additionally, 28% of expats have trouble getting high-speed internet access at home (vs. 11% globally). "I am having a hard time getting in touch with family and friends. It is hard to navigate the internet situation," says a Jamaican expat. This goes together with China's 51st rank for the ability of expats to openly express themselves and their opinions, only ahead of Kuwait (52nd). "There is no individual freedom," shares an expat from France. "Everything is top-down regulation."
Tough Daily Life
What is more, China also ranks poorly in the Admin Topics (48th) and Language (46th) Subcategories. While 68% find it hard to learn the local language(s) (vs. 38% globally), 47% at least say that it is easy to live there without speaking them (vs. 51% globally). In terms of Admin Topics, expats find it hard to open a local bank account (41% vs. 21% globally) and say that it was difficult to get a visa when they moved there (42% vs. 24% globally). Lastly, 51% find it hard to deal with the local bureaucracy/authorities, compared to 39% globally.
Further Reading
Download
Press Contact
Want to take a look
at other years' results?
Check out the Expat Insider 2021!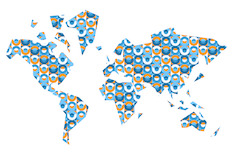 Selected Countries
Selected Cities