Cape Town
Cape Town Is Great for Making Friends but Not for Your Career
Cape Town ranks in a mediocre 32nd place out of 50 cities in the Expat City Ranking 2022. However, it is far ahead of Johannesburg, the world's worst city for expats in 2022.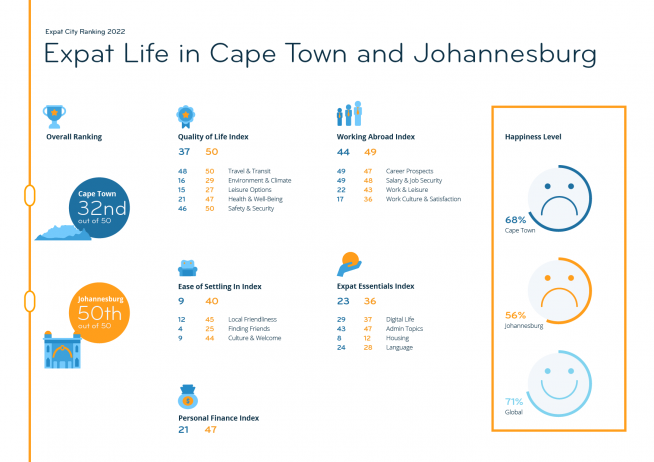 Cape Town even makes it into the top 10 of the Ease of Settling In Index (9th). Expats describe the local residents as generally friendly (74% happy vs. 66% globally) and find it easy to make friends with them (50% vs. 42% globally). In fact, expats in Cape Town are happiest with their social life (1st): 64% rate this factor positively (vs. 56% globally), and 42% are even completely satisfied (vs. 23% globally).
It might help with making friends that Cape Town ranks 15th in the Leisure Options Subcategory. Expats are particularly satisfied with the opportunities for recreational sports (85% happy vs. 75% globally), as well as the culinary variety and dining options (87% vs. 77% globally). "I have made great friends and like being outdoors here," shares a British expat. In fact, the climate and weather (9th) and the natural environment (6th) are two more factors with ratings among the top 10. However, in the end, Cape Town only ranks 37th in the Quality of Life Index. This is mainly due to expats' dissatisfaction with Travel & Transit (48th) and Safety & Security (46th). They are unhappy with the availability of public transportation (47th), and 39% do not find it easy or safe to get around on foot and/or bicycle (vs. 13% globally). What is more, 38% are worried about their personal safety in general, which is more than four times the global average (9%).
In the Expat Essential Index (23rd), Cape Town ranks among the worst cities in the Admin Topics Subcategory (43rd) but among the best in the Housing Subcategory (8th). In fact, expats describe housing as both affordable (41% happy vs. 39% globally) and easy to find (72% vs. 54% globally).
Lastly, Cape Town ranks 44th in the Working Abroad Index, even landing in second-to-last place worldwide in both the Career Prospects (49th) and the Salary & Job Security (49th) Subcategories. Close to half the expats (46%) are unhappy with the local job market (vs. 27% globally), and 20% say that moving to Cape Town has not improved their career prospects (vs. 18% globally). Additionally, they worry about their job security (33% unhappy vs. 20% globally) and rate the state of the economy negatively (51% vs. 17% globally).
Further Reading
Download
Press Contact
Want to take a look
at other years' results?
Check out the Expat Insider 2021!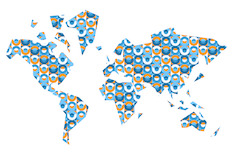 Selected Countries
Selected Cities