Basel
Expats in Basel Are Satisfied with Their Finances, Jobs & the Quality of Life
Basel is the best rated out of the four Swiss cities featured in the Expat City Ranking and even lands in the top 10 overall.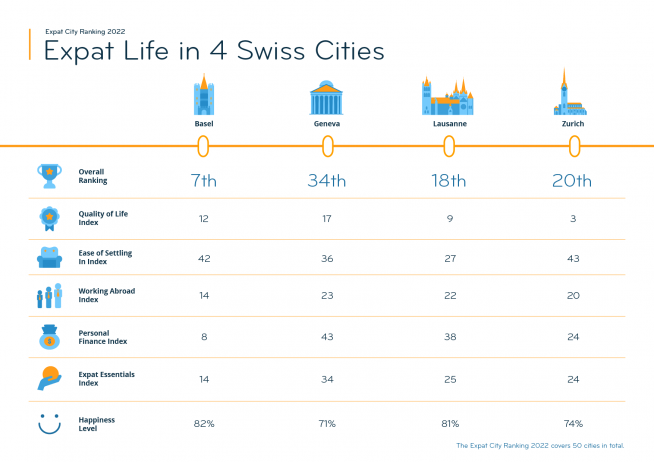 Basel places 7th out of 50 cities in 2022. It does best in the Personal Finance Index (8th), ranking second worldwide for both expats' satisfaction with their financial situation (80% happy vs. 60% globally) and them feeling that their disposable household income is enough to lead a comfortable life abroad (68% have more than enough vs. 45% globally). Basel also lands in a good 14th place in the Expat Essentials Index, which is mainly due to its strong performance in the Admin Topics (7th) and Digital Life (12th) Subcategories. Expats are particularly satisfied with the ease of opening a local bank account (76% happy vs. 64% globally), getting high-speed internet access at home (88% vs. 79% globally), and the unrestricted access to online services (94% vs. 82% globally).
Basel also performs well in the Quality of Life Index (12th), particularly for Environment & Climate (2nd), Safety & Security (4th), and Travel & Transit (8th). "The environment is great, and you can enjoy outdoor life around the year. It is easy to get around the country and abroad with public transportation or by car," shares an expat from Venezuela. In fact, most expats rate the urban environment (90% happy vs. 67% globally), natural environment (98% vs. 83% globally), and air quality (90% vs. 65% globally) positively. They also feel safe in Basel (98% vs. 81% globally), are happy with the availability of public transportation (96% vs. 73% globally), and find it easy and safe to get around on foot and/or by bicycle (92% vs. 77% globally). On the downside, Basel lands in the bottom 3 in the Leisure Options Subcategory (48th). One in five expats (20%) is unhappy with both the culture and nightlife (vs. 16% globally) and the culinary variety and dining options (vs. 12% globally) — the city even ranks last worldwide (50th) for the latter factor.
In the Working Abroad Index (14th), Basel ranks first in the Salary & Job Security Subcategory, and 79% of expats feel paid fairly for their work (vs. 62% globally). More than four in five (81%) also agree that moving there has improved their career prospects, compared to 60% globally. In the end, Basel is the city with the highest level of overall job satisfaction (1st): 86% rate this factor positively (vs. 64% globally).
The Ease of Settling In Index (42nd) is the only real lowlight about life in Basel: 30% of expats describe the local residents as generally unfriendly (vs. 17% globally), and 27% find it hard to get used to the local culture (vs. 19% globally). Maybe this helps to explain why 58% also find it hard to make local friends (vs. 37% globally) — 24% even find it extremely hard (vs. 14% globally).
Further Reading
Download
Press Contact
Want to take a look
at other years' results?
Check out the Expat Insider 2021!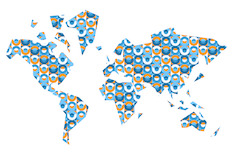 Selected Countries
Selected Cities