Barcelona
The Best Leisure Options but Few Career Prospects in Barcelona
Barcelona lags slightly behind the other two Spanish cities featured in the ranking, but it certainly doesn't have to hide.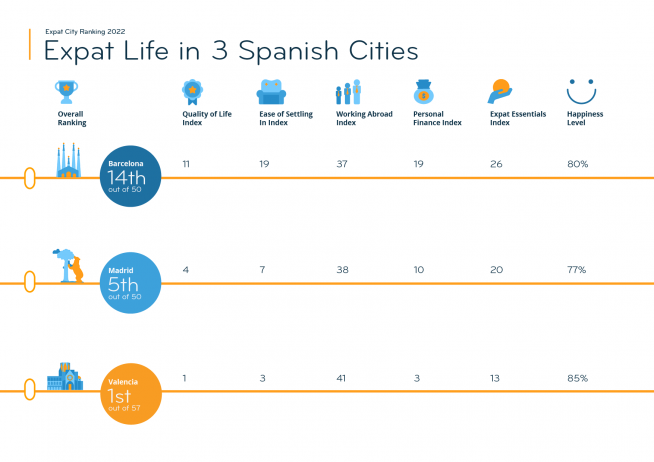 Among the Spanish destinations in the Expat City Ranking, Barcelona is the only one not featured in the global top 10. It still lands in an above-average 14th place.
Though Barcelona narrowly misses out on the top 10 in the Quality of Life Index (11th), it does best worldwide for Leisure Options (1st). Expats appreciate the city's culinary variety and dining options (97% happy vs. 77% globally), its culture and nightlife (93% vs. 67% globally), as well as the opportunities for recreational sports (91% vs. 75% globally). "I love the culture, the climate, the sea, and the quality of the food," says an expat from Macedonia. However, in comparison with Valencia (9th) and Madrid (22nd), Barcelona performs worse in the Safety & Security Subcategory (32nd): 78% of expats do feel safe there, but that is slightly less than the global average of 81%.
Barcelona scores lower in the Ease of Settling In and Personal Finance Indices than Madrid and Valencia as well. It ranks 19th in both. Nevertheless, 54% rate the cost of living positively (vs. 45% globally), and 78% find it easy to get used to the local culture (vs. 62% globally). But Barcelona gets slightly less outstanding results for Local Friendliness (22nd). For example, two in three expats (67%) describe the local population as generally friendly towards foreign residents, just about the same as the global average of 65%.
In the Expat Essentials Index, Barcelona comes in a slightly below-average 26th place. Local housing seems still affordable (21st), but less so than in Madrid (14th) and Valencia (1st). Again, the Working Abroad Index (37th) is the biggest issue for expats, though. For example, 30% of expats believe that moving to Barcelona has not improved their career prospects (vs. 18% globally), and 22% do not feel paid fairly for their work (vs. 20% globally). "It is impossible to earn a competitive salary here," a respondent from Panama complains.
Further Reading
Download
Press Contact
Want to take a look
at other years' results?
Check out the Expat Insider 2021!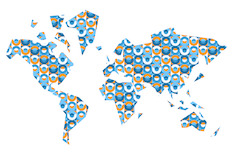 Selected Countries
Selected Cities