Bangkok
Bangkok Offers a Friendly Atmosphere & Low Cost of Living
Bangkok ranks 6th out of 50 cities in the Expat City Ranking 2022, performing best for personal finance and worst for working abroad and quality of life.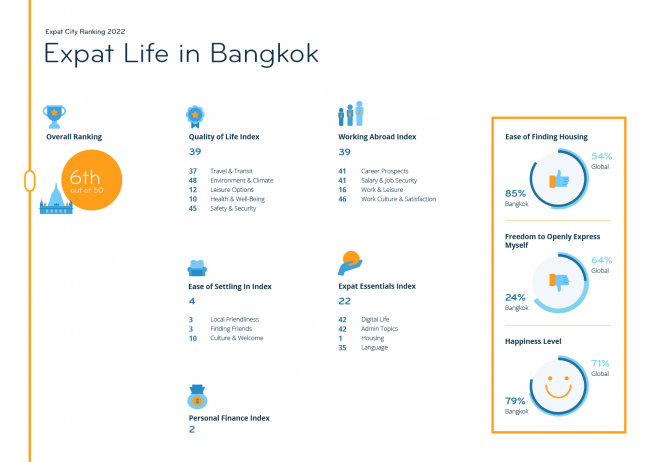 Bangkok ranks 6th out of 50 cities in the Expat City Ranking 2022 and 2nd worldwide in the Personal Finance Index. Expats are not only happy with the general cost of living (69% vs. 45% globally), but affordability is also a highlight in the Expat Essentials Index (22nd). Housing is both affordable (70% happy vs. 39% globally) and easy to find (85% vs. 54% globally), with Bangkok landing in first place in the Housing Subcategory. On the other hand, expats rank the city 42nd in both the Digital Life and the Admin Topics Subcategories. For example, more than two in five (42%) are unhappy with the availability of government services online (vs. 21% globally). "It is all paperwork, for everything," shares a Chilean expat. Bangkok comes in 49th for this factor, only ahead of Rome (50th).
The Working Abroad Index (39th) is another lowlight, where Bangkok lands among the bottom 10 in the Salary & Job Security (41st), Career Prospects (41st), and Work Culture & Satisfaction (46th) Subcategories. Over one in three expats (35%) are unhappy with the local job market (vs. 27% globally), and 46% feel that the local business culture does not promote flat hierarchies or independent work (vs. 28% globally). Luckily, respondents seem to have an easier time in their private life. They describe the local residents as generally friendly (88% vs. 66% globally) and are happy with their social life (73% vs. 56% globally). When asked what he likes most about life in Bangkok, a British expat cites the "Thais' culture, friendliness, and attitude to living". It may not be a surprise then that 78% feel at home in Bangkok (vs. 62% globally) and the city ranks fourth in the Ease of Settling In Index.
Lastly, Bangkok comes 39th in the Quality of Life Index, ranking among the worst destinations worldwide for Safety & Security (45th) and Environment & Climate (48th). Expats are unhappy with the air quality (67% vs. 19% globally), as well as the urban environment (38% vs. 17% globally), and 43% agree that the government does not support environmentally friendly policies (vs. 18% globally). Regarding their safety, 36% of expats are unhappy with the political stability (vs. 15% globally), and 43% feel that they cannot openly express themselves and their opinions (vs. 18% globally).
Further Reading
Download
Press Contact
Want to take a look
at other years' results?
Check out the Expat Insider 2021!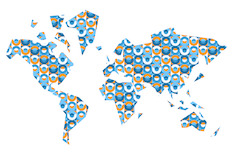 Selected Countries
Selected Cities