Mexico Report
La Vida Perfecta: Mexico and the Happiest Expats in the World
Once again achieving noteworthy results in 2018, Mexico holds the top rank for multiple factors, even scoring first for personal happiness and second for leisure and cost of living.
Mexico ranks 1st out of 68 countries for happiness.
Parents voice concerns over education and, to a lesser degree, childcare.
The Mexican population is the friendliest in the world.
More than half (52%) may stay in Mexico forever.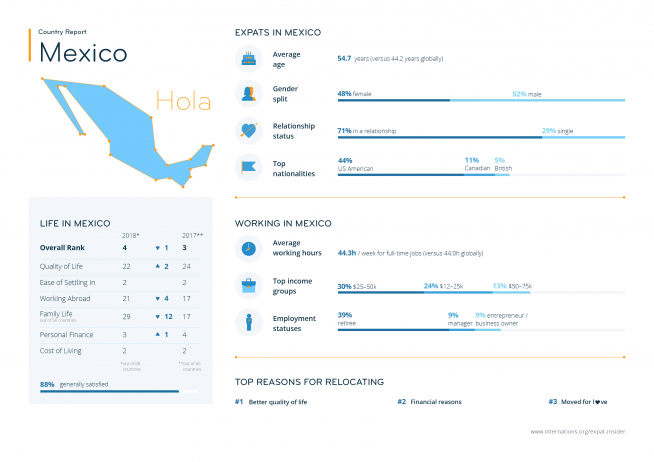 Unbeatably Happy in Mexico
Perhaps it is due to the fact that nearly two out of five expats living in Mexico (39%) are retirees or that 20% have moved there mainly for a better quality of life (e.g. weather and climate) — in any case: expats in Mexico are the happiest in the world, with the country ranking 1st out of 68 for personal happiness. Ratings in the Expat Insider 2018 survey similarly point to a favorable climate and a wide range of leisure activities, with fewer than 1% of respondents giving these factors very negative reviews.
Expats have likewise little to complain about when it comes to their health and well-being. Although Mexico ranks 22nd out of 68 in the Health & Well-Being subcategory, only 9% of expats in Mexico are dissatisfied with the quality of medical care, and over three-quarters (77%) report that healthcare is affordable. A Canadian expat appreciates that "I can lead a very healthy lifestyle here (nutrition, freedom from stress, and exercise). I feel good in Mexico." In fact, expats feel so good in Mexico that more than half (52%) say they may stay forever.
I don't feel completely safe in Mexico.
In the Safety & Security subcategory, however, Mexico receives many more mixed reviews, with political concerns at center stage. Only 9% rate the country's political stability as very good, compared to a global average of 30%, and just 8% considered the political situation a potential benefit before moving (vs. 29% worldwide). "I don't feel completely safe," an expat from the US says.
From gang violence to countrywide drug abuse to frequent crime, Mexico's reputation for safety is not the best. In fact, about one in five expats (21%) are worried about their personal safety. "The government's inability to deal with corruption and cartel violence effectively makes it feel like a constant threat to our ability to live here long term," writes one US American respondent in the country. Despite these concerns, 66% of the respondents consider Mexico generally peaceful.
No Such Thing as a Stranger: Easy to Feel at Home
Settling in is not difficult for most expats in Mexico: only 6% report low satisfaction with feeling at home in the local culture, and 85% agree that it is easy to settle down. More than four in five expats (83%) also agree that getting used to the local culture is easy, with only 4% believing they will never feel at home in Mexico.
I like the warmth of the people, their capacity to enjoy life, and their good humor.
The Mexican population is ranked as the friendliest in the world, with an impressive 64% of the respondents saying that the local residents couldn't be any friendlier. More than half (56%) also say that the Mexicans' attitude towards foreign residents is very friendly, and with regard to finding friends, Mexico similarly tops the global charts. A Spanish respondent in Mexico points out how they "like the warmth of the people, their capacity to enjoy life, and their good humor".
The language barrier is also of minimal concern to expats, as 66% say learning the local language is easy, and as many as 96% already speak Spanish to some extent.
A Leisurely Life Makes for Leisurely Work?
Working abroad in Mexico comes with ups and downs, though it ranks — for the most part — quite well in comparison to other countries (21st out of 68 destinations). Only 7% of the respondents working in Mexico are not satisfied at all with their career prospects, and at 73%, their overall job satisfaction maintains a largely positive rating.
The state of the economy, in an ongoing phase of reconstruction due to steady economic growth and changes in political leadership, receives only 56% positive ratings, compared to a global average of 64%. Just 13% of expats consider it to be booming, whereas one in four expats worldwide rates the local economy as very good. Nevertheless: Only 10% of expats considered the Mexican economy a potential disadvantage before moving, and 67% rate their work-life balance favorably.
Average Family Life and Mixed Views on Education
Despite leisurely living and friendly neighbors, Mexico doesn't do that well among expat families. Regarding the availability of childcare and education, it ranks 25th out of 50 countries. Childcare options are a particular concern: 36% of expat parents in Mexico don't think they are easily available.
In addition, two in five expat parents say that education isn't easy to afford in Mexico. Nearly three in five (59%) choose local private schools for their children, which may contribute to reported high costs. However, 86% of parents report friendly attitudes towards families with children, and family life in general receives 80% satisfactory ratings.
Not a Care in the World: A Salary That Works for You
If a high quality of life and the ease of settling in are not incentive enough, moving to Mexico as an expat has many benefits, including financial ones: Mexico ranks 2nd out of 68 in the Cost of Living Index and 3rd in the Personal Finance Index.
Only 11% of expats in Mexico say that their disposable household income is generally not enough to cover all their living expenses, while 17% think they have a lot more than what they need. Moreover, only 2% considered the cost of living a potential disadvantage before moving.
Further Reading
Download
Press Contact
Selected Countries
Selected Cities