Ukrainians Abroad
Ukrainian Expats: Seeking a Better Life Abroad
Highly educated and competent in languages, Ukrainian expats are more than capable when it comes to making their fortunes abroad.
With the ongoing crisis in their home country, it is no surprise that over a third of the Ukrainians (34% vs. the worldwide 23%) list a better quality of life as one factor behind their relocation. Likely for the same reason, 13% of them mention political, safety, or religious issues leading to the decision to leave the motherland.
Overall, Ukrainian expats' most important reasons for moving abroad are nevertheless being sent there by an employer (14%) or finding a job there on their own (14%). The percentage of Ukrainians planning to stay in a foreign country forever is somewhat higher than the global average (28% vs. 25%), though.
Expat Statistics 2015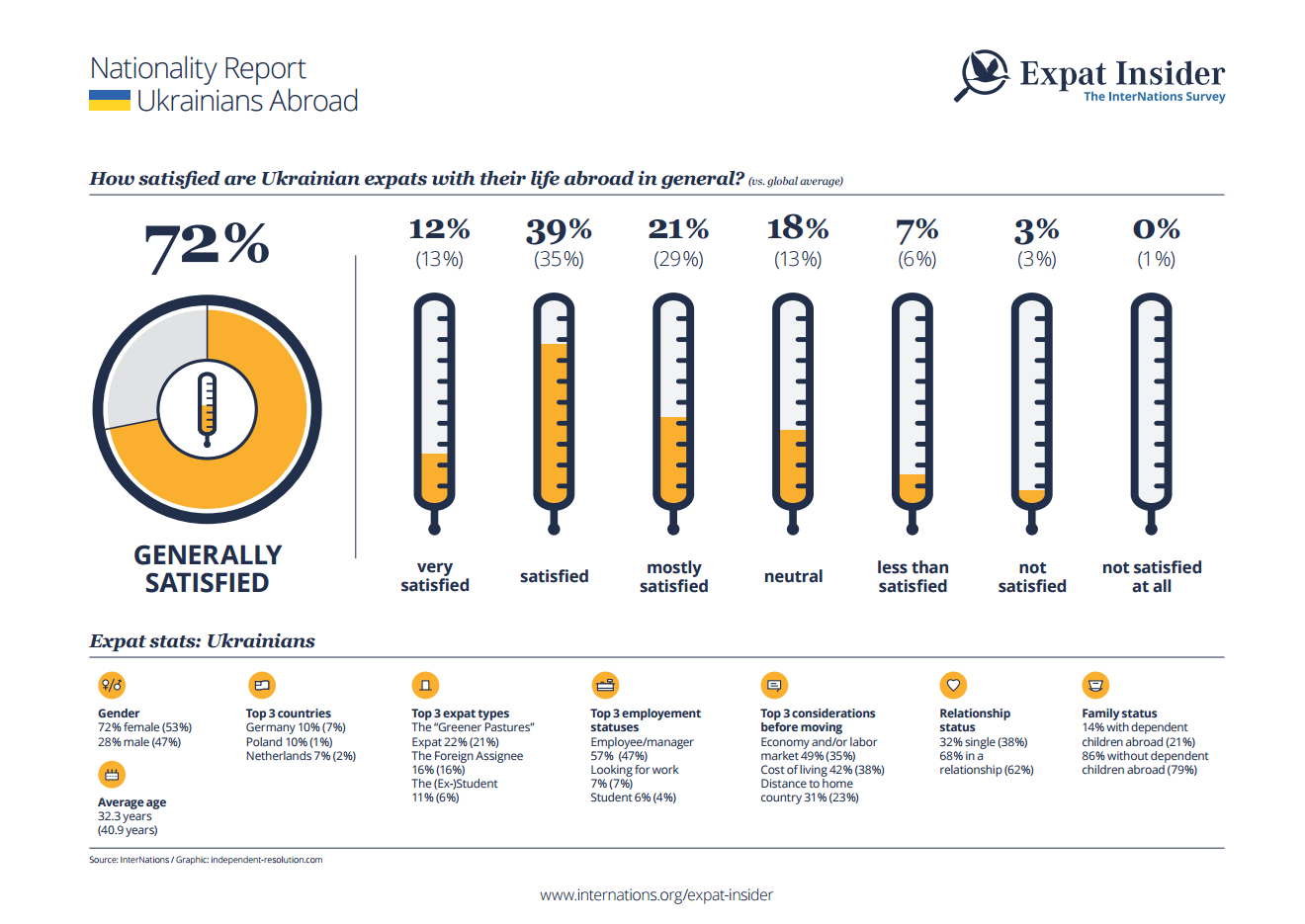 Embed this image on your website:
Climbing Up the Language Ladder
Ukrainians either have a natural aptitude for languages or they have been studying particularly diligently, since their linguistic knowledge seems to be well above the global average. While on average 30% of expats say they can speak four or more languages (including their mother tongue), among the expats from Ukraine the percentage is twice as high with 60%. More than half of them (56%) are also able to speak the tongue of their host country at least fairly well. Worldwide, 48% of survey respondents can say the same.
Academic Accomplishments
The expats from Ukraine often have plenty of schooling under their belts, since 72% say they have a postgraduate degree - such as a Master's degree or PhD - something achieved by an average of 48% worldwide. This education may certainly come in handy in the most popular working sector for Ukrainians: close to double the overall average work in IT (18% vs. 10%).
Being educated does not automatically mean high income, though: three in five Ukrainians (61%) describe their annual gross household income as less than 50,000 USD, while only 49% of all respondents say so. Still, 79% of the expats from Ukraine mention that their income is currently higher than it would be back home, with 37% even saying that it is a lot higher.
International Relationships
According to the survey results, Ukrainian women outnumber their male counterparts by almost three to one (72% female vs. 28% male). Overall, Ukrainians are less commonly single than the average would suggest, with over two-thirds (68%) saying they are in a committed relationship. In 30% of the cases their partner comes neither from Ukraine nor the current country of residence but from a third nation, while another 30% report that their beloved is from their current host country. The proportion of Ukrainians with dependent kids abroad, on the other hand, is with 14% notably lower than the global average of 21%.
Going with the Flow
Ukrainians seem to prefer the company of fellow expats over hanging out with the local population of their host countries; 43% report that their friends and acquaintances are mainly other expatriates, while only 12% say their social circles consist mostly of locals.
Work is the most convenient place to socialize for Ukrainian expats; 71% say they meet new people through their jobs, which worldwide 64% of expats echo. Ukrainians are also frequent attenders of expat events, as almost half of them (49%) mention these as a place to make friends, compared to only 37% who say the same globally.
Further Reading
Download
Press Contact
Related Topics
Want to take a look
at other years' results?
Check out the Expat Insider 2022!