Turkey Report
Turkey: A Tough Destination
As welcoming as the community in Turkey is, the country presents a challenge for those seeking work and moving there with children.
Friendly People, Challenging Culture
Expats relocating to Turkey are welcomed to a community that is considered generally friendly by 77% of the survey respondents in the country. Seven in ten (71%) also confirm the friendly attitude towards foreign residents, and 64% find making new friends overall straightforward, which is mostly on par with the global average of 63%.
Making friends seems to be the easier part, though, since only 55% say it is overall simple to get used to the local culture and just 45% regard settling down in this country easy. Another factor that appears to be problematic is the Turkish language. Three out of five consider learning the local language difficult, and 57% confirm that it is hard to live in Turkey without speaking it - landing Turkey a disappointing 58th place out of 64 countries in the Language subcategory of the Ease of Settling In Index.
Expat Statistics 2015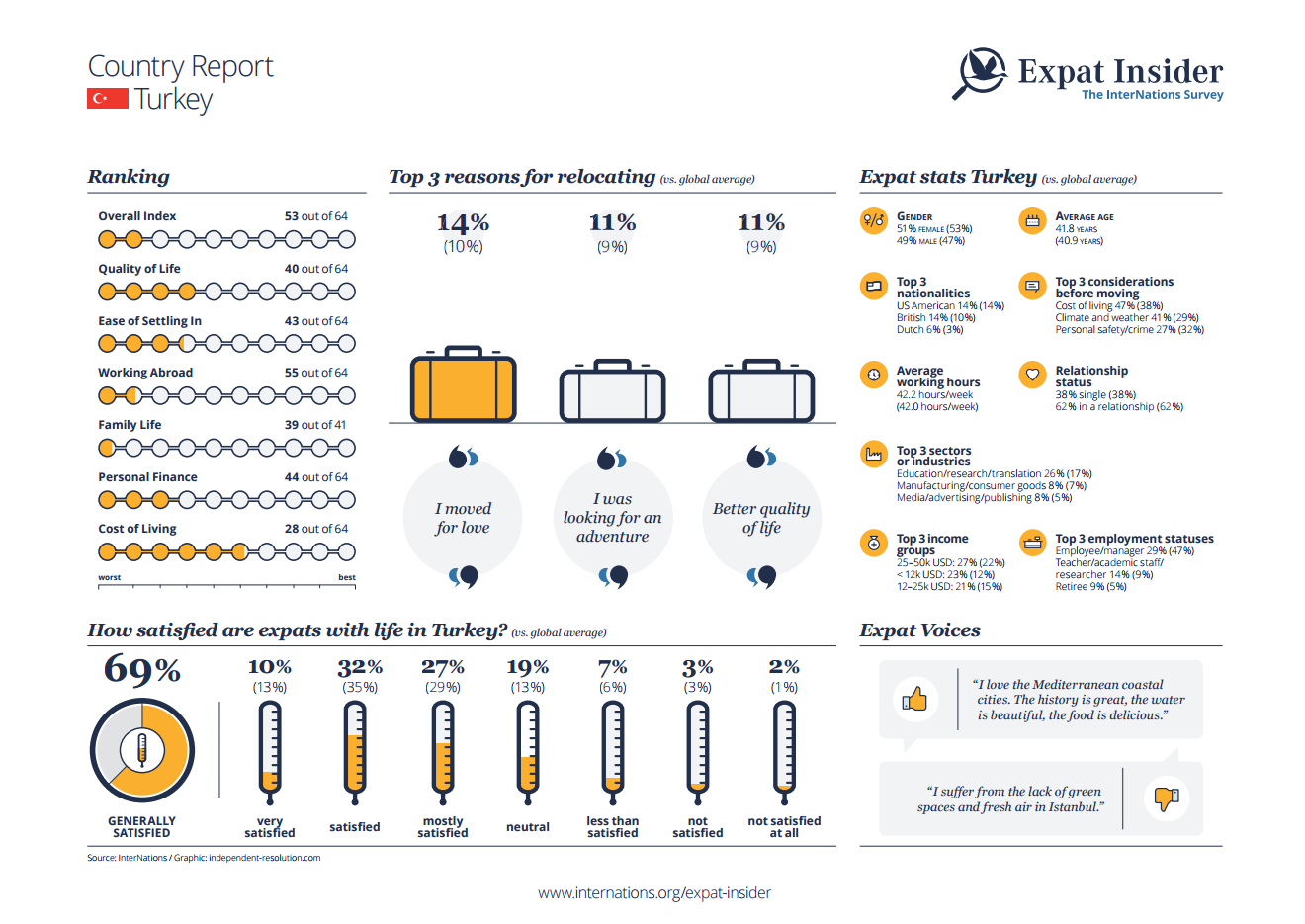 Embed this image on your website:
Stable Weather but Political Instability
The opportunity to travel is enjoyed by 84% of the expats in Turkey, which goes hand in hand with 73% who are generally satisfied with the local transportation infrastructure. In addition, the climate and weather are appreciated by four-fifths of the respondents (79%), whereas the quality of the environment is only approved of by a little over half (53%). The available leisure options are liked by 63% of the expats in Turkey, and three-quarters say they are generally happy with their life right now.
However, a quarter of the survey participants in Turkey (26%) don't consider the country particularly peaceful, and 45% regard it as politically unstable (globally, only 16% say the same for their respective country of residence). Still, personal safety is rated positively by seven out of ten expats (69%) and 61% approve of the quality of medical care.
Work Can Be Problematic
In the Working Abroad Index, Turkey is positioned at the 55th place, its worst ranking in any of the main indices. Only a little over half the expatriates (51%) are overall satisfied with their job, whereas globally 64% say the same for their respective country. One in three respondents (32%) doesn't find their career prospects in Turkey appealing. Job security presents another challenge, with only 44% approving of it and not even half (48%) rating the state of the economy positively, while worldwide 65% favor the state of their respective host country's economy.
In the Work-Life Balance subcategory, Turkey lands at almost the end of the scale at 61st place. Reasons for this include that 40% are dissatisfied with their working hours (42.2 hours/week on average) and 29% criticize their work-life balance overall.
Regarding money, three out of five expatriates in Turkey are content with their financial situation and the cost of living is favored by more than half (52%). However, one-fourth still feels that their disposable household income isn't enough for their life in Turkey, which is almost on par with the global average of 23%.
A Challenge for Expat Families
Having children imposes additional costs for expats. As for childcare, 38% of expat parents in Turkey criticize the availability of childcare options and more than half (53%) find them difficult to afford. With regard to education, 51% of expat parents don't consider the availability of options sufficient, and three-fifths (61%) find it expensive to pay for. Furthermore, only 49% of expatriates with kids approve of the quality of education, while worldwide 65% think it's generally fine in their respective host country.
While the friendly attitude towards families with children is rated positively by 81% of the expats in Turkey, only about six-tenths of parents (62%) are happy with their children's health and safety (global average: 76%) and two-thirds are overall satisfied with their children's well-being (global average: 81%). In fact, 7% of parents in Turkey actually say they are not at all satisfied with this factor.
Last but not least, looking at the available leisure activities for kids, only 35% rate them positively, which is half of the corresponding worldwide average of 70%. Altogether, Turkey thus lands the 39th place out of 41 countries in the Family Life Index, only beating Brazil and Saudi Arabia - 62% of expat parents say they are overall satisfied with their family life in general in Turkey, against 81% worldwide.
Further Reading
Download
Press Contact
Related Topics
Want to take a look
at other years' results?
Check out the Expat Insider 2022!