The Swiss Abroad
The World Is the Swiss Expats' Oyster
Expats from Switzerland are willing to sacrifice some of their income in order to enjoy an adventurous life abroad.
The Swiss apparently do not find their motherland to be a particularly exciting country, since the most common (although not the most important) reason for their relocation is the search for an adventure or a personal challenge (mentioned by 28%). In addition, 24% of the Swiss report that they specifically wanted to live in the country they currently reside in, and according to a further 22% they simply enjoy living abroad.
Many Swiss expats have previous experience with life abroad. Almost a quarter (24%) has lived in four or more countries before, excluding Switzerland and their current host country; globally, only 16% of participants can say the same. Planned lengths of stay do not deviate as much (e.g. 27% Swiss vs. 25% overall plan to possibly stay forever). However, in contrast to the worldwide trend, stays of 3–5 years are somewhat more popular with the Swiss than those of over five years (20% and 10%, respectively).
Luckily, the Swiss passport seems to open many doors, as an exceptionally high percentage of the Swiss expats (59%) mention that getting a visa for their host country was very easy, an opinion only 41% of their global peers share.
Expat Statistics 2015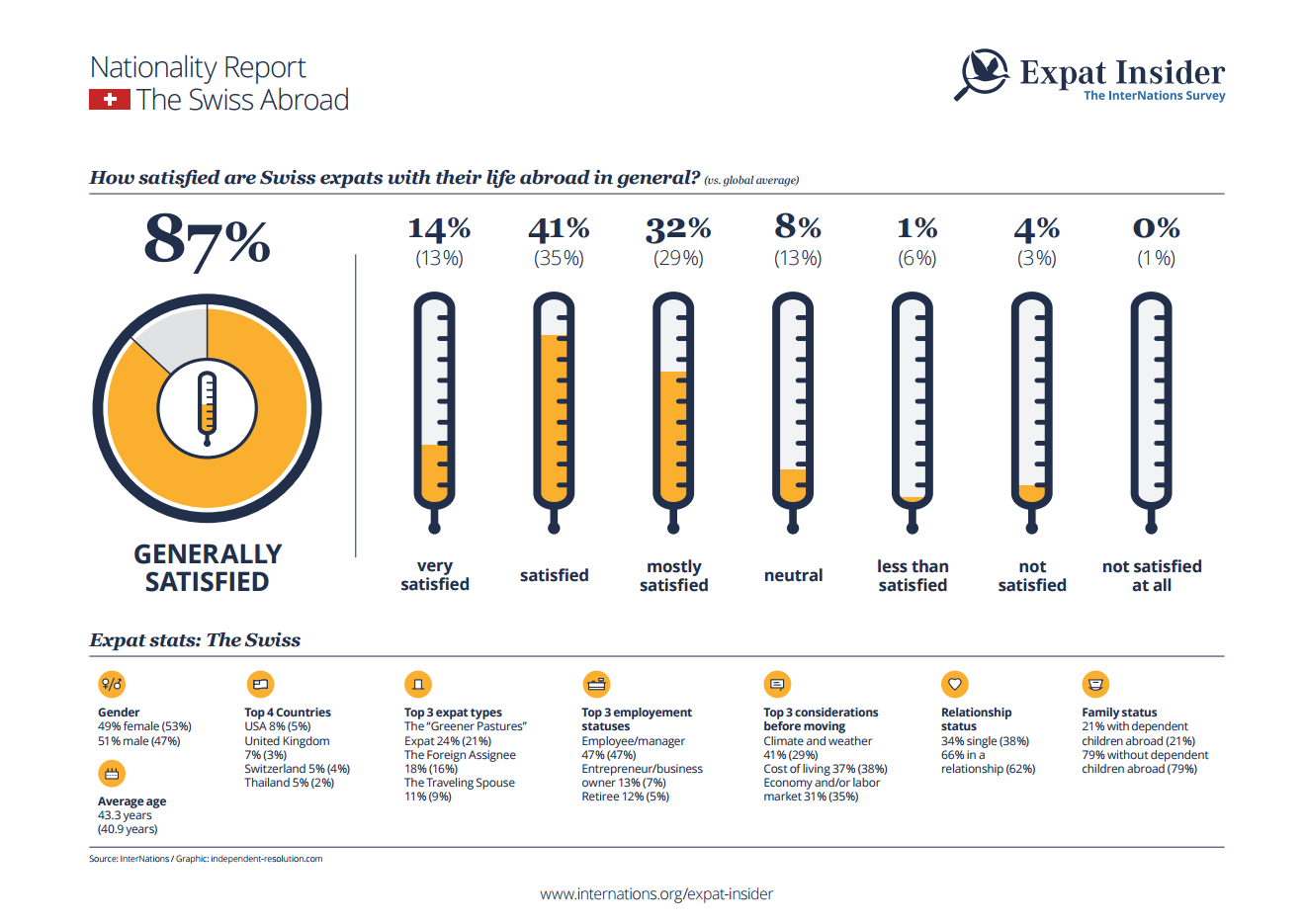 Embed this image on your website:
Knack for Languages
As Switzerland is a multilingual country with four official tongues, it's no wonder that its citizens excel at languages. Indeed, almost two-thirds (65%) say they know four or more languages (including their mother tongue), something only 30% of the expats worldwide have achieved.
Swiss expatriates do not seem to have much trouble speaking the local language of their host country, either. Less than a third (32%) are not able to speak it or speak it only a little. Learning the local tongue in their various host countries is, comparatively, not such a big problem for the Swiss expats either, as 48% found it more or less easy. Around the globe only 37% agree on this matter.
Money Isn't Everything
Swiss expats consist mostly of employees and managers (47%), with above-average percentages of entrepreneurs and business owners (13%), as well as retirees (12%). Overall, their educational level doesn't deviate much from the worldwide average: globally, 83% of expats possess some sort of university degree; among the Swiss the respective percentage is 80%. Commercial, technical, or vocational training, on the other hand, is much more common among Swiss expats (14% vs. a global 7%).
More than half of the Swiss abroad (57%) currently have a lower income than they would have back home - which is not big news considering Switzerland's famously high salaries. That being said, the Swiss do not primarily move abroad to pursue a career, with less than a third (30%) citing work-related reasons as their main motivation. They do, however, show more entrepreneurialism than the average: 12% mention starting a business as one of their reasons for relocation, slightly less than twice the worldwide 7%.
Of Friends and Soul Mates
Swiss expats tend to find love in their host countries rather than in their motherland: 39% say their partner comes from the nation they currently reside in. A further 26% of partners hail from a country other than Switzerland or the respective host country, leaving only 36% of the non-single Swiss expats with Swiss partners.
According to the survey results, Swiss expats are also relatively happy with their relationships, with almost half (48%) being completely satisfied with this aspect of their lives. Around the globe, only 40% of the respondents are as fortunate.
Making friends with the local population in their host countries seems to be rather easy for the Swiss, too, as 23% would describe their friends as such rather than other expats. Friends (62%) and work (60%) occupy the top two spots for meeting new people, but the Swiss also seem to be an exceptionally active folk, with 28% saying they make new acquaintances through sports (vs. 19% worldwide).
Altogether, the vast majority of Swiss expatriates (86%) is generally pleased with their lives abroad, with 30% going so far as to say they are very happy. Only Norwegians have a higher percentage here.
Further Reading
Download
Press Contact
Related Topics
Want to take a look
at other years' results?
Check out the Expat Insider 2022!