The Chinese Abroad
Chinese Expats Stay in School
Young, multilingual, and well-educated, the Chinese survey respondents move abroad to work or to further their education.
The Young Dragons
Surprisingly, almost six out of seven Chinese survey respondents (84%) are women. They are nearly nine years younger than the global average, and many are still students. Almost half (47%) are single and only 8% have children. The most important reason for the Chinese respondents to move abroad is education, as one out of six (17%) reports. In comparison, the worldwide average of people moving for their education is only 5%.
The top expat types are the Greener Pastures Expat (18%) in search of a better quality of life, the (Ex-)Student (17%) in pursuit of an international education, and the Foreign Assignee (17%) sent by their employer. The biggest concern for the Chinese expats when moving abroad is their personal safety, as almost half of the respondents (47%) considered it prior to moving, and afterwards almost three-quarters (73%) say they are generally satisfied with it.
Expat Statistics 2015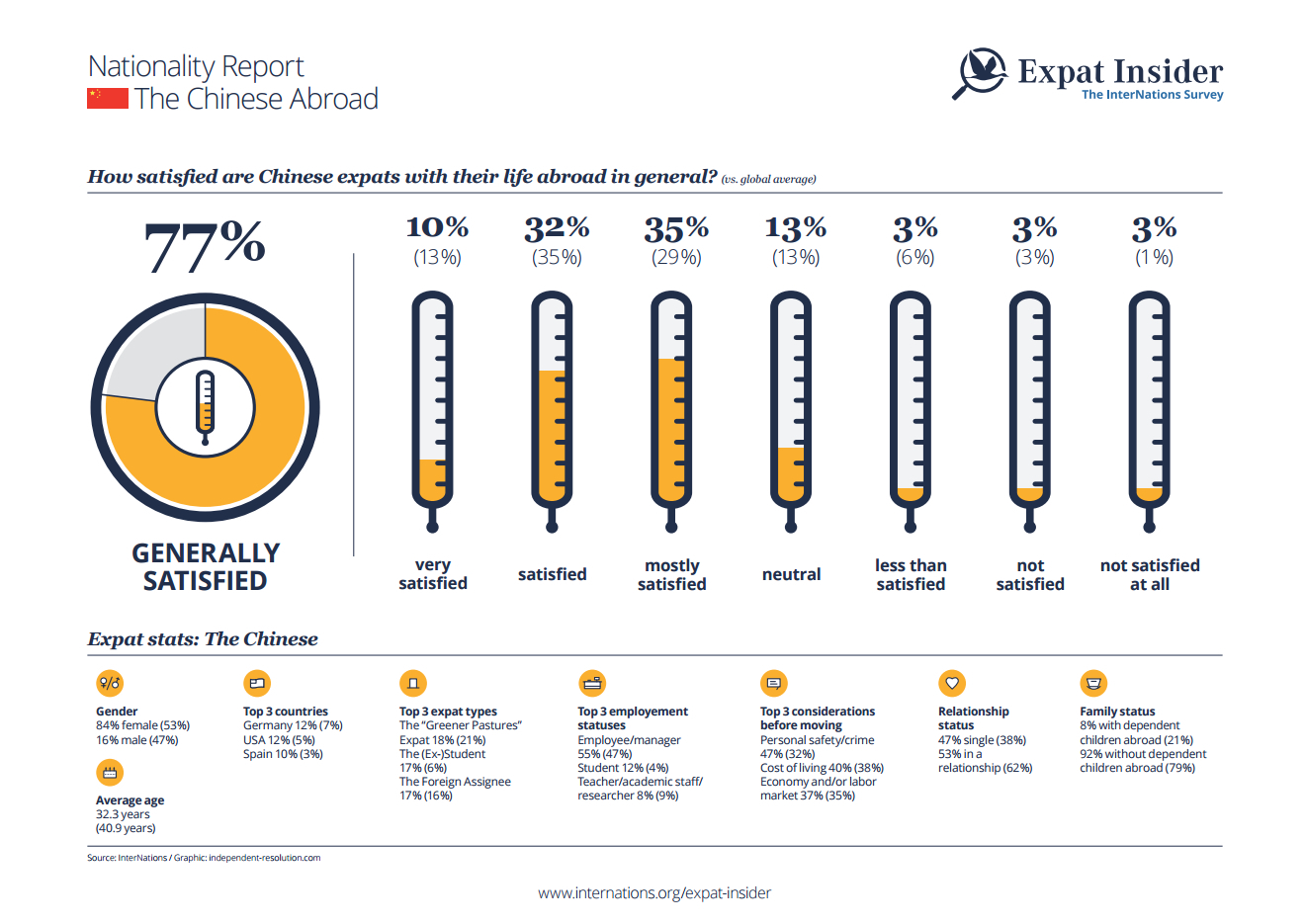 Embed this image on your website:
Education vs. Experience
After getting an education and looking for a personal challenge, work is the most important reason why Chinese expats move abroad. Out of the respondents, 13% were sent abroad by their employer, and 12% found work abroad themselves. Over nine out of ten (91%) said they are working full-time.
Over half of those surveyed (55%) stated that they are employees or managers. When asked about their seniority in the company, roughly three out of eight (37%) say they have less than two years of professional experience. This is not surprising, as Chinese expats are on average nine years younger than the survey participants in general.
According to the survey results, the Chinese place a high value on education, as 94% of those surveyed have a college or university degree, compared to the worldwide average of 83%. Furthermore, a larger percentage of the Chinese expats are currently students (12%) than the global average (4%). Language studies are a part of a well-rounded education, and the Chinese participants seem to be adept at speaking languages other than their mother tongue.
The Great Language Barrier?
None of the Chinese expats surveyed said they only speak one language, and almost half of them (47%) speak three. These results differ significantly from the global averages of 12% and 31%, respectively. No matter how many languages you speak, while you are living abroad, it is the local language that counts, though.
The Chinese seem to have a slightly better grasp of it than the global average of expats, as almost five out of nine (55%) speak the local language fairly well or very well, compared to less than half globally (48%). Moreover, the average of respondents not speaking the local language at all is lower for the Chinese survey participants (7% vs. 12% in general). Nevertheless, the Chinese expats report that the language barrier is a problem for them. Almost two out of five (39%) agree with this statement on some level.
The Chinese Connection
Less likely than the average to have only expat friends (27% vs. 34%), the Chinese respondents still seem to enjoy the company of their compatriots. Three out of ten (30%) say their expat friends abroad mostly come from China, whereas globally only about one in six expats (18%) socializes mostly with other people from their own country of origin.
Chinese expatriates generally meet new people through their friends (67%), work (62%), and expat events (43%). Since many are students, an important way of socializing and meeting new people is through their education, as two in five report. Globally, the biggest venue for getting to know new people is work (64%), and only 15% of all respondents make friends at school.
Further Reading
Download
Press Contact
Related Topics
Want to take a look
at other years' results?
Check out the Expat Insider 2022!