Thailand Report
Thailand: Bliss Beneath Palm Trees
Besides countless beaches and paradise islands, Thailand offers a number of attractive features for expats who appreciate a pleasant climate and affordable living costs.
Indeed, over a third of the participants in Thailand (36%) list the better quality of life as a reason for relocating. And it seems Thailand does not disappoint in this matter: it ranks fourth in the Personal Happiness subcategory.
Thailand is also the country of choice for an exceptionally high share of retirees (23% versus 5% worldwide). A vast majority of participants (75%) found it easy to settle in the country and 88% of those surveyed give the local friendliness a positive rating. These attributes - together with the comparatively inexpensive way of life - are likely one reason for the country's popularity among retirees.
Expat Statistics 2015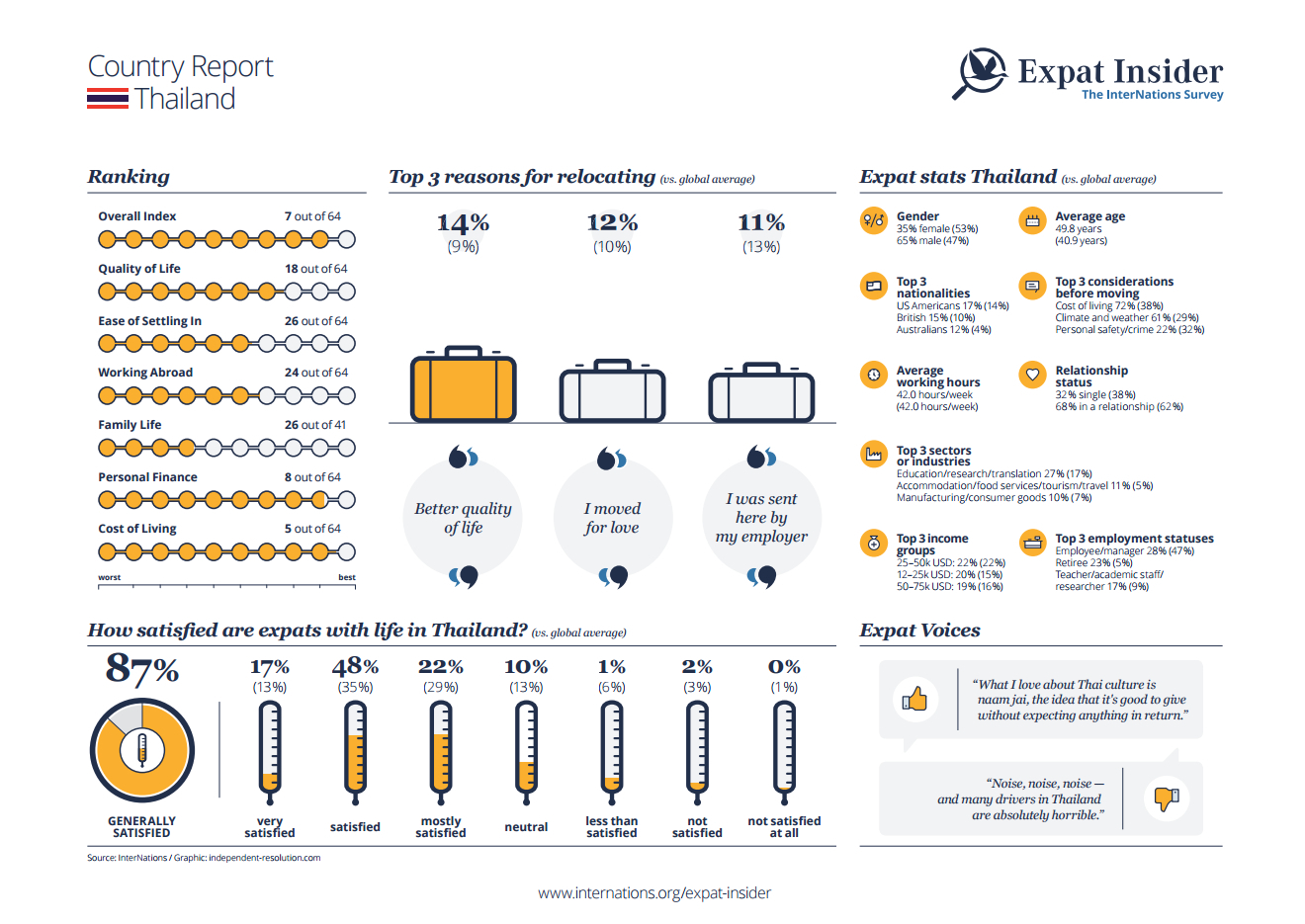 Embed this image on your website:
Cost-Efficient Life
The survey reveals that Thailand's cost of living is, at least from an expat's perspective, among the lowest in the world, as the country is ranked the fifth best when it comes to the affordability of life. Only 4% of participants are for example unhappy with the affordability of housing, and 88% consider their disposable income to be enough or even more than enough for their daily lives - even though incomes in Thailand are not astronomical. Over half of the respondents (52%) are found in the lower income groups of up to 50,000 USD per year in terms of gross household income. Similarly, an expat's income in Thailand is often lower than it would be back home, according to 46% of survey participants.
On the other hand, expats are generally satisfied with the affordability of healthcare, so getting bitten by a bloodthirsty shark while scuba diving should not be a financial disaster, at least. Only 15% of those surveyed find the costs of medical care to be too high, which is a good number given that globally over a quarter say the same (26%).
The Art of (Not) Working
Globally almost half of the expats (47%) state that they are currently an employee or a manager, whereas this percentage is only 28% in Thailand. Instead, almost a fourth of the respondents in Thailand (23%) are retirees.
Another notable group of expats in Thailand is formed by teachers, academic staff, and researchers. These professions make up for a total of 17% of Thailand's expatriate community, almost twice as much as the global average (9%). Therefore it's not a surprise that the largest sector is that of education, research, and translation, employing 27% of the expatriates
As an important source of national income in Thailand, tourism employs a good amount of locals as well as expats. Over one-tenth of the participants (11% compared to 5% worldwide) report that the industry they work for is accommodation, food services, tourism, or travel.
Families Are Welcome
Expat parents in Thailand do not have to be millionaires in order to afford childcare, as more than half of the participants (55%) are happy with its affordability, while globally only 42% of their peers share this opinion. Education, on the other hand, is found to be a tad pricier; just 36% give a positive rating for the costs of their children's education, which does not quite match the worldwide average (41%). Children's general well-being gets a positive score from 83% of the participants, close to the global average of 81%.
Family life in general receives a somewhat similar rating, with 88% of those surveyed in Thailand happy with it. This is again a few percentages above the global average of 81%, implying that there are worse places to live with a family than Thailand.
Medical care also gets a good rating from expats, as in addition to the aforementioned affordability it is also considered to be of high quality. Less than one-tenth of expats (8%) are unhappy with this factor and 42% of the respondents in Thailand even find it to be very good. Around the globe only 21% share this opinion on their host country's healthcare system. Again, this might be one of the reasons behind Thailand's appeal to retirees.
Political (In)Stability and Environmental Issues
Thailand has plenty of room for improvement when it comes to the political stability in the country, though; over half of those surveyed (53%) give this factor a negative score. This is definitely a poor result as political conditions in the respective host countries are considered to be unstable by only 16% of participants worldwide.
The somewhat poor economy of the country - only slightly over a half of the respondents (52%) give a positive rating - might also be a concern for those considering a career in Thailand, with the less-than-ideal political conditions possibly not the best basis for a prospering economy. Around the world, expats generally are happier (65%) with the economies of their countries of residence.
Thailand cannot really boast about its environmental achievements, either. Less than half of expatriates (48%) are happy with the quality of the environment (e.g. water and air). Worldwide, 64% of the participants give their respective host country a favorable score in this regard.
Further Reading
Download
Press Contact
Related Topics