Russia Report
Russia: Not Only Vodka and Caviar
Ranking 60th out of 64 countries, Russia is not among the respondents' favorite destinations. The language barrier, lack of security, and bad weather make expat living in Russia difficult.
The Wild, Wild East?
Over a quarter of the expats surveyed (27%) say their top reason for relocating to Russia was being sent there by their employer; globally the average is only 13%. Roughly one in ten respondents moved to Russia because they were looking for adventure and a personal challenge (11%), and according to the survey results, life in Russia abounds with challenges indeed.
Russia ranks 52nd out of 64 countries in the Quality of Life Index, which is one of its better scores in the survey. Improving this ranking is Russia's score in the Leisure Options subcategory, where it comes in 31st. Over seven out of ten expats feel positive about the leisure options available in Russia (71%).
With its vast territory, Russia offers generally good opportunities for travel, as two-thirds of the survey participants agree. Getting around should not be a problem either, as the transport infrastructure is rated favorably by another two-thirds of the expatriates.
However, Russia gets bad grades in the Health, Safety & Well-Being subcategory, where it ranks 62nd worldwide. Political stability and peacefulness are rated very good by only 9% and 12% of expatriates, respectively. In comparison, the global averages for these factors are more than three times as high, with 34% and 39%.
Due to safety issues, but also for environmental reasons, it might sometimes seem tempting to stay indoors. Only about three in ten expats rate the climate and weather (29%) and the quality of the environment (27%) positively.
Expat Statistics 2015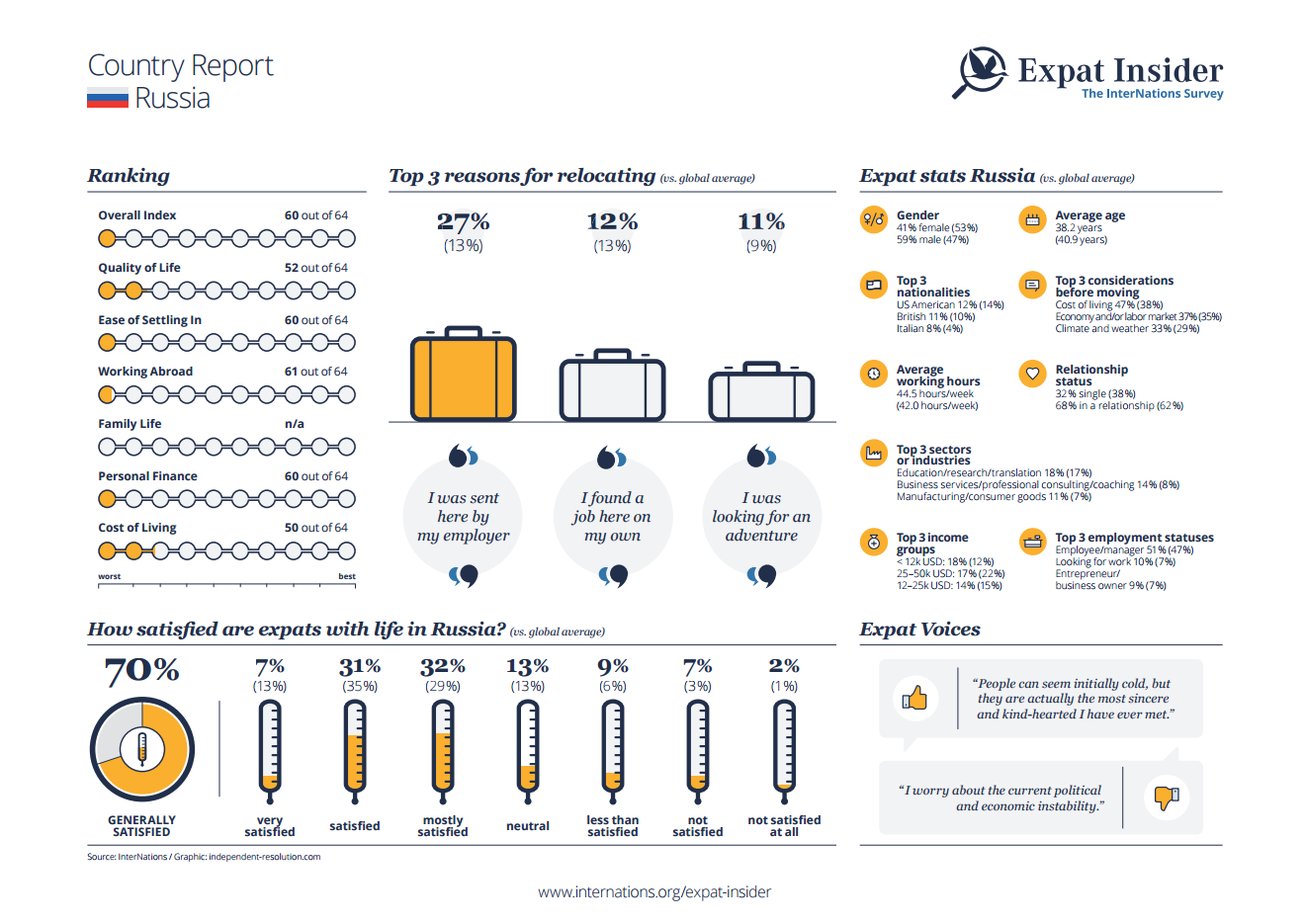 Embed this image on your website:
Comrades Forever
Ranking 60th in the Ease of Settling In Index, Russia does not seem to be the most hospitable place for new arrivals. The population is slow to warm up to newcomers, but when they do, you will probably be friends for life. Over three in ten expats have a problem with the general friendliness of the population (31%), but over half of the respondents say making local friends is easy (52%).
The Russian language seems to be the hardest part about settling in, as Russia finishes last in the global Language subcategory. Fewer than one in five expatriates says that learning Russian is easy (19%), and another 75% generally agree that it is very difficult to live in Russia without learning it.
If settling in is hard, the respondents are not very likely to tough it out, either. Only one in ten considers staying in their new host country possibly forever, compared to one-quarter of the respondents worldwide.
For a Fistful of Rubles
Expats in Russia work a lot. They clock in a respectable 44.5 hours per week, two and a half hours more than the global average. Those in full-time positions even spend an impressive 47.3 hours per week at work, which makes Russia one of the ten destinations with the longest working hours around the globe. No wonder that quite a few respondents seem generally dissatisfied with their work-life balance (25%, as compared to 20% globally).
However, the hard work appears to be paying off. Among those survey respondents who identify as employees or managers, 23% have a top management position - more than twice as many as among the global survey population (11%). Not quite six out of ten respondents agree (57%) that they have improved their income by moving. When it comes to absolute household incomes, nearly one-third of expats in Russia (32%) belong to the top income groups with a gross annual income of 100,000 USD or more. Only 22% of all participants worldwide can say the same.
Further Reading
Download
Press Contact
Related Topics
Want to take a look
at other years' results?
Check out the Expat Insider 2022!