Netherlands Report
Netherlands: Scoring in Education, Work, and Life
Expats in the Netherlands benefit from promising jobs and education options, as well as leisure and travel opportunities.
Gaining a Foothold
In the Netherlands, 68% of expatriates consider the population generally friendly, and 67% enjoy the friendliness of the local population towards foreign residents, which is mostly on par with the global average. Making new friends in general is considered easy by 55%, whereas only about one-third (34%) regard finding local friends straightforward, landing the Netherlands on a disappointing 53rd place in the Finding Friends subcategory of the Ease of Settling In Index. And indeed, 43% of expats have mostly other expats as friends, while only 11% say that their friends are predominantly local residents.
There is good and bad news for non-Dutch speakers: while four in seven (57%) find learning the local language hard, 64% don't think it's difficult to live in the Netherlands without speaking the language. Furthermore, three-fifths (59%) consider getting used to the Dutch culture overall easy, and 57% even claim to be feeling at home in it.
Expat Statistics 2015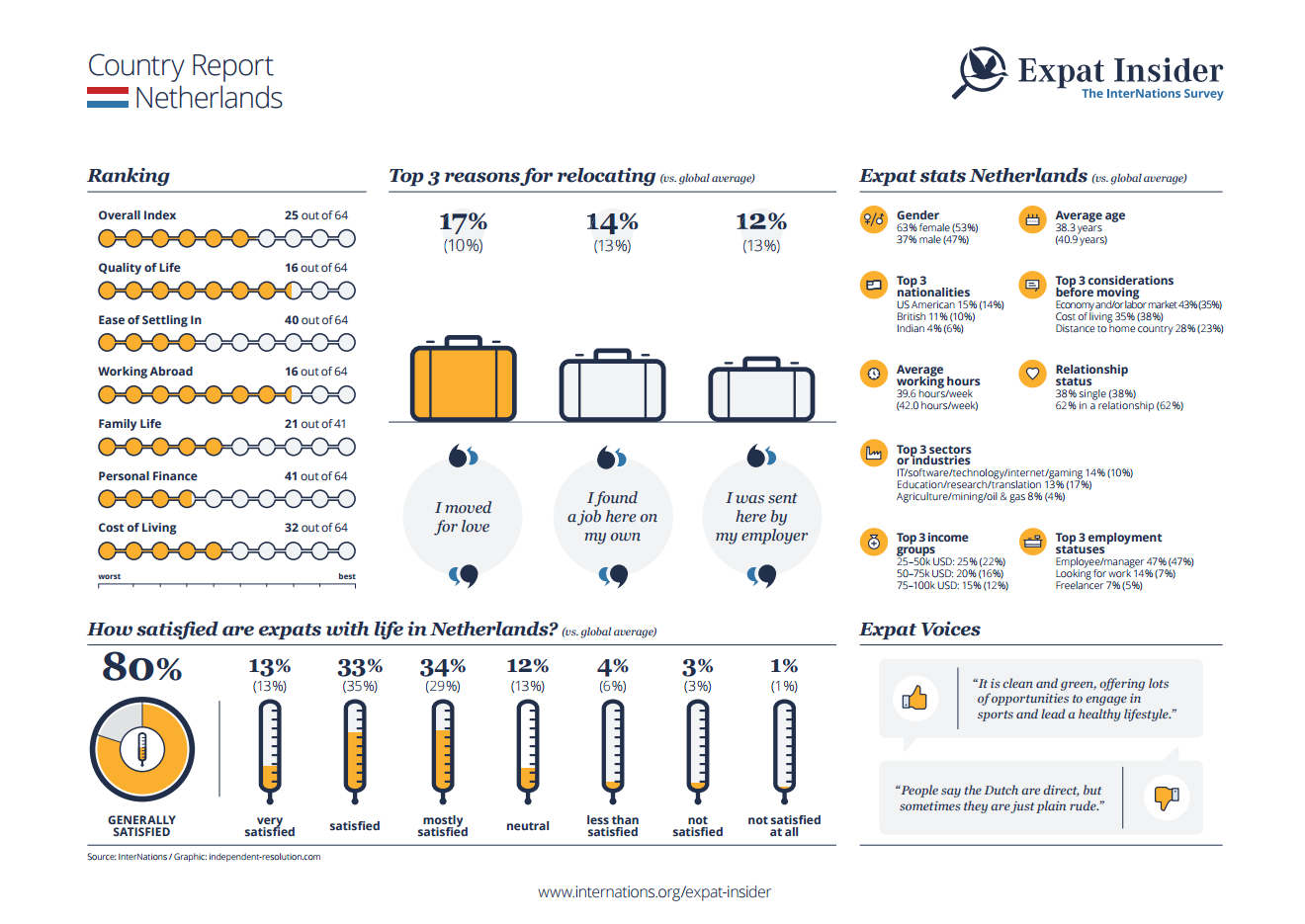 Embed this image on your website:
To Travel Is to Live
Since love is the top motivator for a move to the Netherlands (17% state this as their most important reason), it is fortunate that 78% are generally happy in their relationship, 41% even quoting complete satisfaction. Personal safety, political stability, and peacefulness, too, are all considered positive by the vast majority of survey participants in the Netherlands (94%, 92%, and 93%, respectively).
Even though more than half the respondents (52%) are not fond of the Dutch weather and climate, available leisure activities are regarded positively by 85%. Luckily, 70% of expats are also content with their work-life balance and 92% appreciate the opportunity to travel. In addition, over nine-tenths (92%) favor the transportation infrastructure in the Netherlands. In fact, the country is ranked 8th out of 64 countries in the Travel & Transport subcategory of the Quality of Life Index.
Getting Down To Business
The Netherlands is ranked 16th in the Working Abroad Index. Two-thirds of respondents there are overall satisfied with their jobs and 57% appreciate their career prospects, which is mostly on par with the respective global averages (64% and 56%). Nearly three in five respondents (58%) are further satisfied with their job security, and 84% regard the state of the economy positively (globally, only 65% do so for their respective host country).
In the Personal Finance Index, the Netherlands is positioned at the 41st place - 65% are content with their financial situation, which is the same as the global average. Only half the expats approve of the cost of living, and one-quarter even goes so far as to say that their disposable household income isn't enough to get by. In addition, 50% find the affordability of healthcare appropriate, while three-fifths are overall satisfied with its quality.
Ever Considered a Dutch Education?
To continue with expenses, childcare is considered costly by 56% of expat parents in the Netherlands - 32% even consider it very hard to afford - whereas education is only regarded as expensive by approximately one-fourth (26%). Around the globe, 42% of expat parents disapprove of the education costs in their respective host country.
Three out of five expat parents are generally satisfied with the childcare options, but only 37% consider them numerous and easy to get. Regarding education, the Netherlands ranks 11th out of 41 for its options and only 16% are generally dissatisfied with their availability. In addition, the quality of education is considered very high, with only 2% of expat parents who don't find it satisfactory.
Altogether, 79% enjoy their family life in general in the Netherlands. Six in seven expat parents (86%) rate their children's well-being positively, and a similar percentage (87%) approves of their children's health and safety. Last but not least, three-fourths of respondents (74%) consider the attitude of the Dutch towards families with children overall friendly.
Further Reading
Download
Press Contact
Related Topics
Want to take a look
at other years' results?
Check out the Expat Insider 2022!