Housing Costs and Availability
Make Yourself at Home: Housing Costs and Availability
Ecuador is the country with the most affordable housing, but when it comes to availability of housing, Thailand takes the cake. Most expats in Nigeria live in company housing.
Housing for Penny-Pinchers and Big Spenders
Ecuador, Thailand, and Hungary make it to the top three of our single factor ranking for affordable housing. Worldwide, 41% are satisfied with the housing costs in their host country. The top three countries of this ranking exceed this percentage by far: 89% of survey respondents in Ecuador, 83% in Thailand, and 80% in Hungary are satisfied with the affordability of housing. Ecuador receives no negative ratings for this factor and 43% even rate the housing costs very good.
Hong Kong, Mozambique, and Luxembourg can be found at the bottom end of the scale. In fact, Hong Kong receives 88%, Mozambique 81%, and Luxembourg another 81% of negative answers, much more than the global average of 42%. In fact, 54% of survey respondents even rate the cost of housing in Hong Kong "very bad" and not a single person finds it "very good". The results of the Expat Insider 2014 survey were similar: Hong Kong had the highest percentage of expats giving the worst possible rating for affordable housing.
According to the Demographia International Housing Affordability Survey, Hong Kong has one of the least affordable housing markets, with median home prices being 17 times the median pre-tax household income. In Mozambique, it is mostly the influx of expats which is causing rental prices to rise significantly.
Housing Costs 2015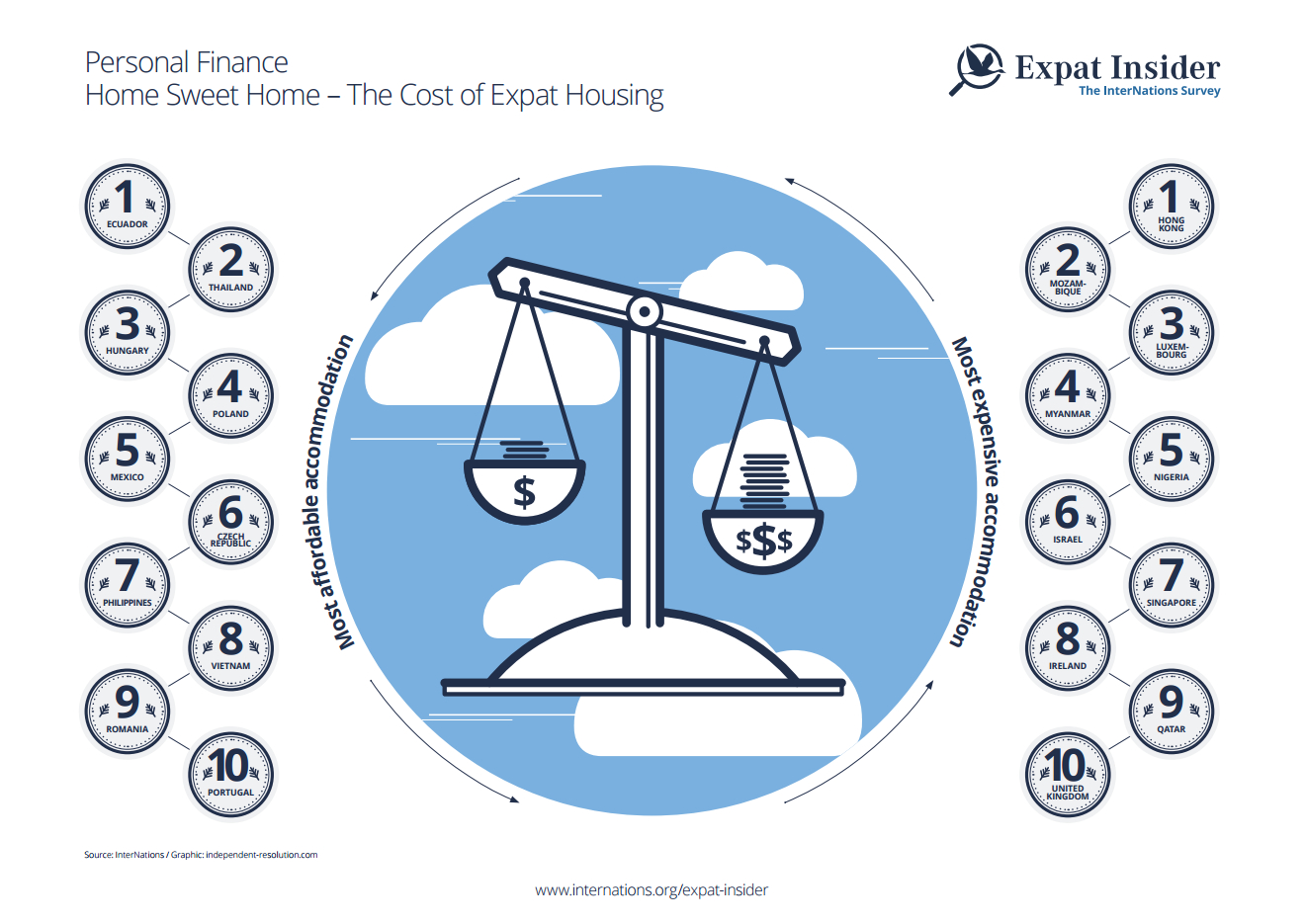 Embed this image on your website:
Where Housing Is Easily Available
All in all, 60% of all survey respondents worldwide find it relatively easy to find accommodation in their host country. In Thailand, a whopping 93% are satisfied with the availability of housing. In fact, 56% even rate it very good, a percentage beaten only by Cyprus with 60%. Ecuador also is an easy place to find a home with 79% positive responses, and the same is true for Hungary with 71%. Thus, the top three countries for affordable housing are also places where it is easy for expats to find a house or apartment.
On the other hand, the countries with the costliest housing markets are also among those where expat housing is hard to find. In fact, 47% of survey respondents are dissatisfied with the availability of housing in Luxembourg. In Mozambique and Hong Kong, 59% and 30%, respectively, give a negative rating. However, if only the worst ratings for this factor are considered, other countries, such as Sweden, with 30%, and Denmark, with 24%, have far higher percentages of expats who judge housing to be very difficult to find than the countries mentioned above.
Relocation Support: With a Little Help from My Employer
It turns out that 33% of expats who were sent abroad by their company, recruited from abroad, or moved for a job they found on their own, received some support with the housing search from their employer. This is especially the case in particularly expensive housing markets like Hong Kong, where 42% say that they had help. However, in Luxembourg (27%), Mozambique (24%), and Nigeria (18%), less than the global average received help in finding accommodation.
Globally, 34% of respondents even had housing provided by the company they work for. In Nigeria, an impressive 85% live in company housing, followed by 44% in Mozambique and 25% in Hong Kong. However, it is unclear whether this living situation is a temporary arrangement or if respondents live there long-term.
If this factor is analyzed according to expat type, it turns out that Foreign Assignees benefit most from their employer's support with the housing search, 45% altogether. In fact, 42% even had housing provided by their company. However, only 30% of Foreign Recruitees have help with finding accommodation (less than the global average of 33%) and only 34% are provided with housing. Finally, only 28% of Traveling Spouses received support through their partner's employer, and only one out of five (20%) got to live in company-provided housing.
Further Reading
Download
Press Contact
Selected Countries
Selected Cities
Want to take a look
at other years' results?
Check out the Expat Insider 2022!