Germany Report
Germany: Safe Jobs, Happy Families
Germany is a great country to work in and raise a family, but difficulties in finding local friends and learning the language make settling in hard.
Quality of Life: Made in Germany
Germany ranks ninth in the Quality of Life Index, mainly thanks to its great transport infrastructure, healthcare, and safety. Also, almost eight out of nine expats (89%) feel positive about the quality of the natural environment. However, survey respondents also rain on Germany's parade, figuratively speaking: three out of eight respondents (37%) aren't happy with the weather, compared to only 22% globally.
Two-thirds of expats living in Germany (67%) say that the transport infrastructure is very good, which is twice as high as the global average (33%). The infrastructure leads to plenty of travel opportunities, according to those 93% of the respondents who rate them positively. These factors put Germany sixth in the Travel & Transport subcategory.
Healthcare is excellent, according to the vast majority of survey respondents, earning Germany the third rank worldwide as far as the quality of medical care is concerned. Over eight in ten expats (85%) rate the quality of healthcare favorably, compared to 60% globally. Moreover, 72% of expats in Germany agree that local healthcare is affordable, whereas only 55% of their peers around the world would say the same.
For those looking for peace and quiet, Germany is the place to be, with only 1% or less having anything negative to say about personal safety, political stability, or peacefulness in the country. Globally, the respective averages are 11%, 16%, and 10%. Decades of political stability have indeed allowed Germany to become the economic powerhouse of Europe.
Expat Statistics 2015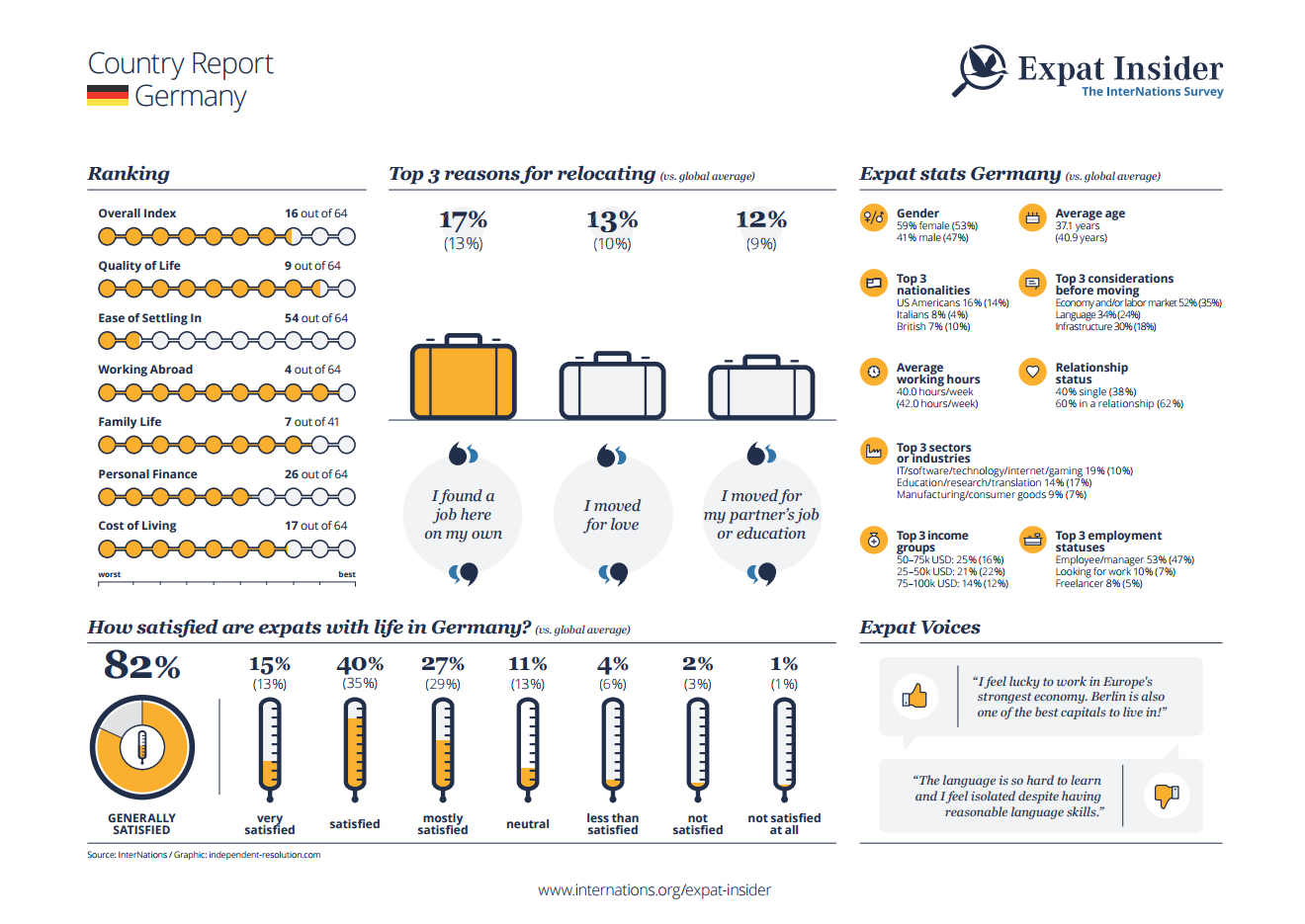 Embed this image on your website:
Germany: The Land of Job Opportunities?
As Germany is known for its strong economy, it might not be that surprising that the country is doing great in the Working Abroad Index: it claims the fourth place this year. High job security and good career prospects boost the ranking, although mediocre ratings for work-life balance bring down the average somewhat. Nonetheless, almost seven in ten expats (69%) are generally happy with their 40-hour workweek, which is indeed two hours shorter than the global average. Looking at those in full-time jobs only, the average 42.7 hours spent on the job every week are also below the global average of 44.9 hours.
Furthermore, almost two-thirds of expats in Germany (65%) feel positive about their career prospects. However, as far as their career paths are concerned, the local participants differ slightly from the global survey population: among employees and managers in Germany, respondents seem to favor the role of senior employee or expert (51%) rather than management positions (27%), when compared to their global counterparts (41% and 38%, respectively).
Germany ranks second after Luxembourg in the Job Security subcategory, as 96% of respondents rate the state of the economy positively and 73% say the same about their own job security. Expats with families will be happy to know that their children's education and medical care in Germany are also safe as houses.
Excellence in Education
Ranking seventh in the global Family Life Index, Germany is a great destination for expats who'd like to bring their kids along. The quality of education is ranked 4th out of 41 countries worldwide, and only 7% of the respondents with kids rated it negatively, compared to 19% around the globe. Seven in ten respondents consider education easy to afford in Germany, in contrast to only four out of ten (41%) globally.
Almost three in five expat parents (59%) are completely satisfied with the health and safety of their kids, and one in three respondents is completely satisfied with the local education options for their children. The respective averages around the world are just 33% and 22%.
Expat families take advantage of the quality options for schools and childcare, as 44% send their children to local daycare facilities and 46% to a German state school. The respective averages worldwide are just 26% and 30%. It should not come as a surprise that expat kids in Germany speak the local language better than their global peers, with 43% speaking it very well, as compared to 34%.
A Less Than Cordial Welcome?
The German language, however, is one of the issues that make feeling at home quite difficult, as Germany ranks 54th out of 64 destinations in the Ease of Settling In Index. While three in five survey participants do not consider learning German easy, less than half of the expats around the world (46%) echo this statement about the local language in their host country. In addition to the difficulty of learning the language, it is also rather hard to get by without speaking any German, as over half of the respondents (52%) agree.
The local residents do not make settling in any easier: only 12% of the respondents would describe the German population in general as very friendly while the global average is almost three times as high (30%). Another 11% only think that their German neighbors are very friendly towards foreign residents - on a global scale, more than double the respondents (24%) would say the same about people in their host country. It follows that over half of the expats surveyed (51%) do not agree that making local friends in Germany is easy, whereas less than two-fifths (38%) of the global survey population share their opinion.
Further Reading
Download
Press Contact
Related Topics
Want to take a look
at other years' results?
Check out the Expat Insider 2022!