Expat Household Incomes
Expat Household Incomes: Winners & Losers
Many expats have a higher household income than the local average, but that is not true for all. Destination, nationality, and expat type make a huge difference.
The Expat Perks – Making More than the Local Average
Three out of five survey respondents (60%) say their household income is higher than the local average in their country of residence, while about one in four (23%) earns the same. Only 16% believe that they earn less than the local average. The responses from women are slightly more negative. Only 55% of female survey participants say that their household income is more than the local average, compared to two-thirds of male respondents.
Of course, the results vary by country. In Myanmar (64%), the Philippines (60%), Vietnam (60%), Indonesia (60%), and India (59%) the household income of survey respondents exceeds the local average by far. This is not a surprise, considering that these are all developing countries or emerging markets and the average income is rather low. The average monthly wage in the Philippines (202 USD) and India (162 USD), for instance, is a lot lower than the median weekly earnings of a full-time employee in the USA (826 USD), according to CNN's Global Wage Calculator. However, at least one in ten expats says they earn a lot less than the local residents in Denmark (13%), Sweden (12%), Kuwait (11%), Finland (11%), and Greece (10%).
Expat Incomes 2015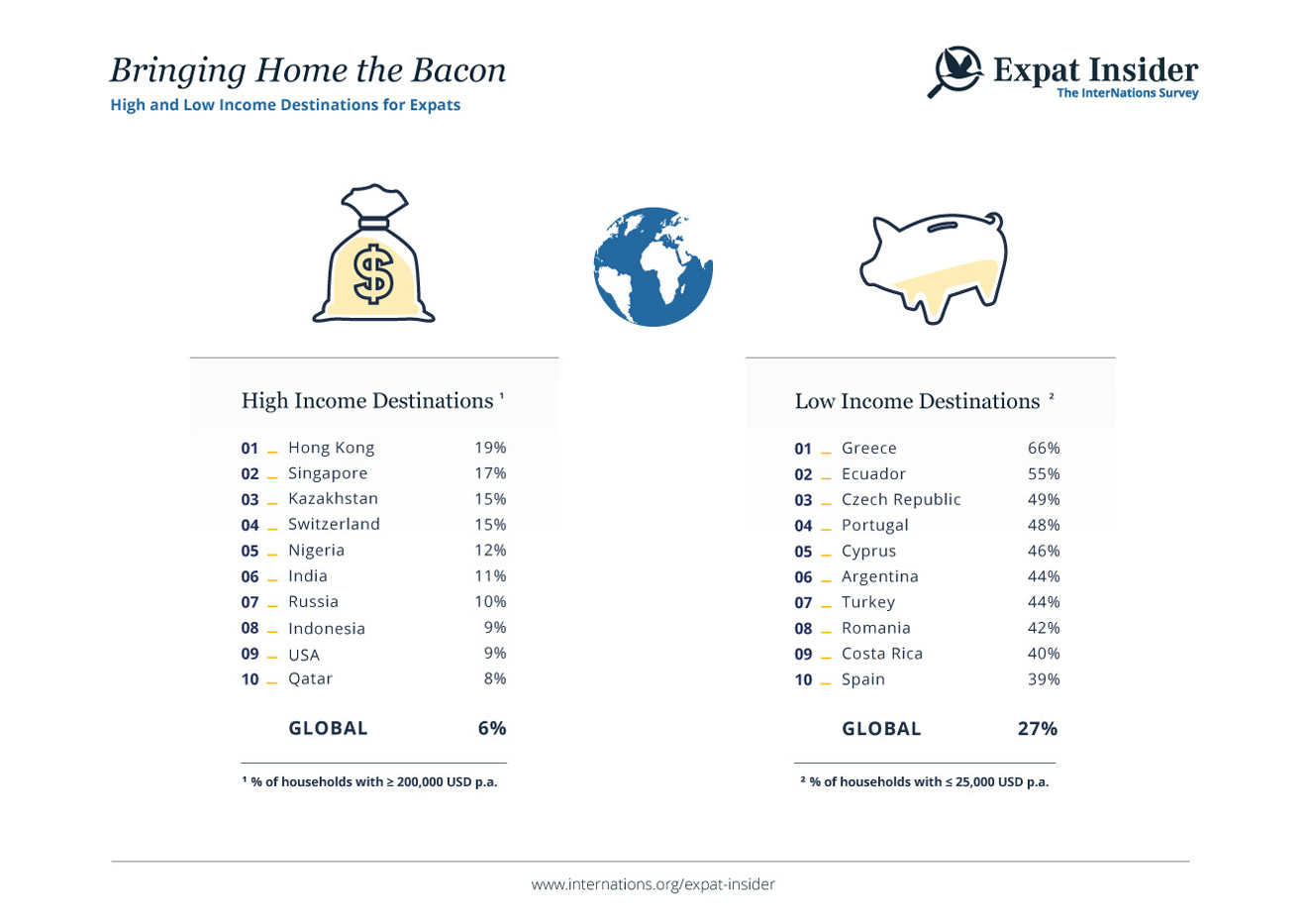 Embed this image on your website:
Nationalities with the Highest Household Income
Another aspect which influences whether expats improve their income through a move abroad is their country of origin. On average, Bulgarians (56%), Filipinos (52%), Hungarians (44%), Romanians (40%), and Egyptians (38%) earn much more in their country of residence than they did back home. However, the percentages of expats with these nationalities and a gross yearly household income of more than 100,000 USD are still far below the global average of 23%.
When asked specifically whether their household income is a lot higher than the local average, Austrians (43%), Danes (39%), Swiss expats (39%), Swedes (38%), and Australians (36%) stand out with high levels of agreement.
On the other hand, the Swiss (28%) and Australians (22%) are also among those who now earn much less than they would at home. However, for both nationalities, at least one-third of respondents still belong to the top income groups, with a household income of more than 100,000 USD.
Nationalities whose household income is far below the local average include Iranians (16%), Zimbabweans (12%), Kenyans (10%), Bulgarians (10%), and Serbians (9%). Still, a little less than half of all Kenyans (48%) say they earn more than they did at home. The same is true for 66% of Zimbabweans, 78% of Iranians and Bulgarians, and a whopping 81% of Serbians.
Expat Types that "Take the Cake"
Unsurprisingly, Foreign Assignees, Career Expats, and Foreign Recruitees - all expat types who moved predominantly for their career - often get the most out of a move abroad. All in all, 62% of Foreign Assignees, 65% of Career Expats, and 70% of Foreign Recruitees now earn more than they did in their home country.
On the other hand, only 40% of Traveling Spouses improved their income after relocating, less than the overall average of 56%. That this group is worse off is also reflected in the fact that 36% say that they have a lower income now. The global average is 27%.
Things look different with regard to the yearly household income, though. In fact, 6% of Traveling Spouses can be found in the very highest income group of over 250,000 USD, and 36% are represented in the top income groups (with more than 100,000 USD annually). This is also due to the fact that the annual household income also takes their partner's or spouse's income into account. This is why a Traveling Spouse with a lower personal income might still live off a generous yearly household income.
Romantics, most of whom were primarily motivated to move abroad by love, are typically worse off. All in all, 44% of them earn less than they did before their move, and only 37% consider their income higher than back home.
On the other hand, 64% of (Ex-)Students say that their income is higher than it used to be, with 34% even going so far as to say that it is a lot higher. When it comes to the gross household income, however, slightly less than half of them (46%) get less than 25,000 USD a year. In fact, 23% of (Ex-)Students even find themselves in the lowest income group, with less than 12,000 USD per year.
Further Reading
Download
Press Contact
Selected Countries
Selected Cities
Want to take a look
at other years' results?
Check out the Expat Insider 2022!