Canadians Abroad
Canadian Expats Find Friends All Over the World
Although Canadians abroad tend to speak few languages, they are very well educated and great at making an international group of friends.
Canadians abroad are an adventurous people, with 35% saying they are going abroad to look for a personal challenge, whereas globally only 26% consider this one of the reasons for their move. For about one-quarter (26%) it's their first longer stay outside Canada and another 26% like their expat life so much that they are considering staying abroad possibly forever.
Expat Statistics 2015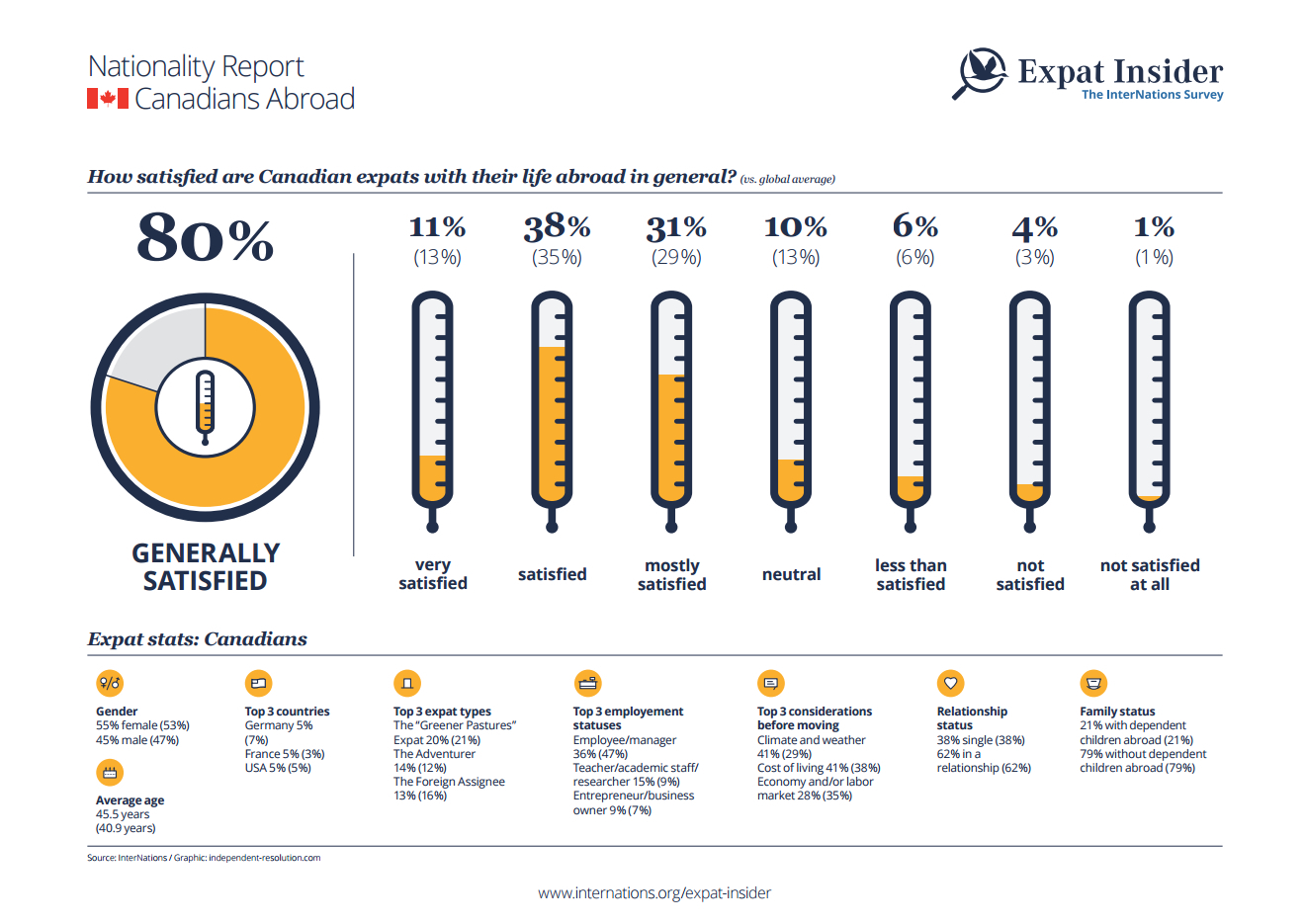 Embed this image on your website:
Who Are Your Friends?
Expats from Canada meet most of their friends at work (58%), through other friends (57%) and at expat events (39%). Almost half of the Canadian respondents (49%) say their group of friends is fairly mixed, while about one-fifth (21%) have mostly local residents as friends. Three out of ten are predominantly friends with other expats.
Of the latter, only 4% have mostly fellow Canadians as friends, whereas half claim that their friends abroad are from mostly other countries, but share the same language (worldwide only 24% say the same about their friends). Just one in ten Canadian expatriates (11%) has mostly expat friends from other countries and cultures that speak a different language, too (global average: 23%).
Lovebirds Abroad
Canadian expatriates sure enjoy mingling with other expats, but 62% are also in a committed relationship. Since most of the Canadian survey participants (14%) state love as the most important reason for moving abroad, it's not surprising that 43% of their partners originate from the country they are currently living in (global average: 32%).
Did love lead to happiness, though? Four out of five (79%) are overall happy in their relationship, and 43% even say they're completely satisfied. On the other hand, 44% of the Canadian singles generally agree that the expat lifestyle makes having a relationship difficult.
Spreading the Language, eh?
A factor that makes expat life less difficult is the ability to speak the local language. For 56% of the Canadian expatriates the language barrier doesn't cause any problems - for 15% the local language is even the same as back home - whereas 27% do have some trouble with the local language.
About one-quarter of the Canadian respondents (26%) speak only their native language, though - a large percentage compared to the global rate of 12%. Apart from that, 36% know one additional language and 24% speak three languages (the global averages are 26% and 31%, respectively). Only 22% think about the language in their destination prior to their move and 1% name improving their language skills as their main reason to move abroad. A little over half the Canadian expats (52%) speak the language of their current country of residence a little or fairly well, and circa one in five (21%) knows it very well.
Education Calls for Jobs
Of all Canadian expats, 28% left their home country for work-related reasons, twice as many as those who solely left for love. An additional 10% moved away from home for their partner's job or education.
Generally, Canadians abroad are very well educated - 42% have a Bachelor's degree and 39% even a Master's degree or a PhD. The largest percentage of Canadians abroad works as employees and managers (36%); 15% are teachers, academic staff or researchers, and 9% own their own business or are entrepreneurs. A conspicuously large percentage compared to the global average works only part-time (21% vs. 14%) and for 64% the income is either the same as or lower than back home.
Further Reading
Download
Press Contact
Related Topics
Want to take a look
at other years' results?
Check out the Expat Insider 2022!