Austria Report
Safe & Sound in Austria
Known for schnitzels, mountains, and bodybuilders turned governors, Austria has excellent rankings in the Quality of Life, Working Abroad, and Family Life Indices, but settling in isn't easy.
Safety First
Austria ranks third in the Quality of Life Index, behind Singapore and Ecuador. This ranking is boosted by the Health, Safety & Well-Being subcategory, where Austria claims the first place. It seems to be an exceptionally peaceful country, as the majority of respondents rate peacefulness (97%), political stability (95%), and their personal safety (98%) positively. Accidents can happen, though, but no need to worry: the quality of healthcare is said to be generally good by over five out of six expats (84%), and medical care is considered affordable by four out of five.
Clean mountain air is appreciated by most of the expatriates living in Austria (95%), who rate the quality of the environment positively. From hiking to skiing, available leisure activities are quite good, too, or so say over nine out of ten respondents (92%).
Austria's location in Central Europe makes it perfect for international travel, and the majority of expats (94%) praise the opportunities this provides. Location in relation to home also matters, as the biggest factor considered by expats before moving was the distance to their home country, as roughly three out of eight expats (38%) thought about it. Traveling within the country is also easy, as 97% rate the transport infrastructure in Austria positively.
In spite of all these advantages, the expats in Austria do not seem to be happy, though; the ranking in the Personal Happiness subcategory is only 42nd out of 64. This could also be due to difficulties in settling down.
Expat Statistics 2015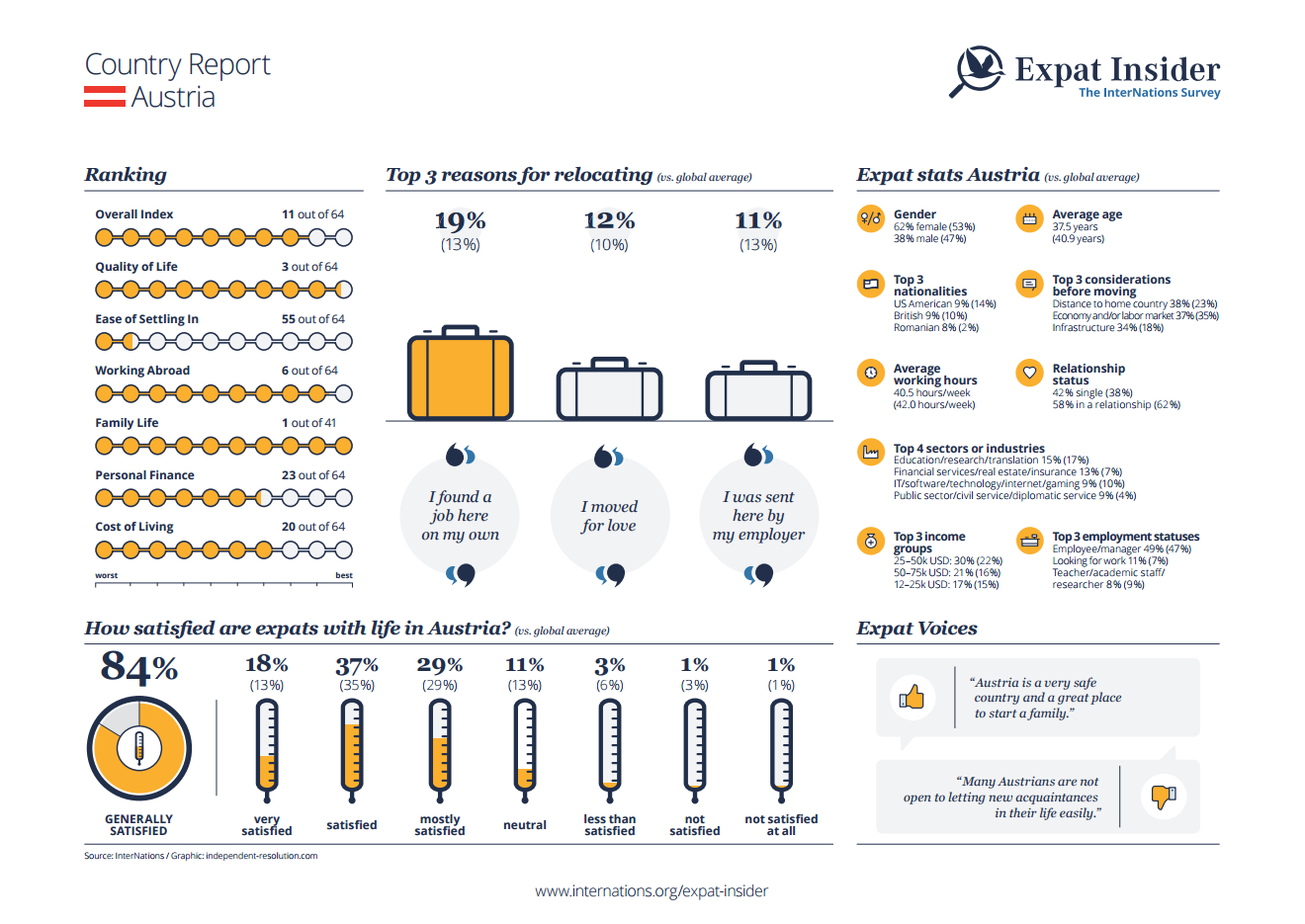 Embed this image on your website:
An Icy Welcome?
Austria is not an easy place to get settled, say the respondents. Although it comes out on top or at least ranks in the upper third in the other indices, the country's worst ranking is its 55th place in the Ease of Settling In Index. This means that getting used to the local culture, finding friends, and learning the language is considered quite difficult.
The friendliness of the local population is found to be lacking by almost a quarter of expats (24%), and their attitude towards foreign residents is reported to be unfriendly by almost one-third of those surveyed (31%). These results are almost twice as high as the global averages, 14% and 16%, respectively.
Since the locals warm up to newcomers slowly, it follows that making friends is generally difficult as well, as over half of the respondents (52%) say. Maybe some of the awkwardness is due to the language barrier: almost half of those surveyed (49%) report it is rather difficult to live in Austria without knowing German, and only about one-quarter (27%) feels positive about the ease of learning it.
Don't Worry about Getting Terminated
Austria claims sixth place in the Working Abroad Index, with good ranks for work-life balance and job security, but it seems a bit lacking in career options. The expats in Austria also feel safe in their jobs due to the overall state of the economy, which is perceived to be strong by 94% of the respondents.
The respondents work 40.5 hours per week on average, and almost seven in ten (69%) are generally satisfied with the amount of time they spend at work. Austria ranks ninth in the Work-Life Balance subcategory and over two-thirds of the participants (68%) rate their work-life balance positively. Even if you do happen to work a lot, finding a place to take care of your children should not be a problem.
Family Matters
Austria is an excellent place for expatriates to raise a family. Ranked first in the Family Life Index, it has the best availability and options for childcare and children's education. Costs of childcare and education, as well as the quality of education, are ranked second best in the world, after Sweden or Finland, respectively. Expats who consider bringing along their family to Austria will be happy to hear that all of the respondents are generally satisfied with their children's well-being, and 98% rate their children's health and safety positively.
Further Reading
Download
Press Contact
Related Topics